Trends in the Distribution of Student Affairs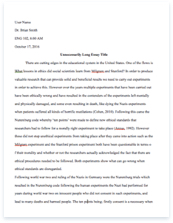 The whole doc is available only for registered users
A limited time offer! Get a custom sample essay written according to your requirements urgent 3h delivery guaranteed
Order Now
Currently, there are a number of trends happening in the division of student affairs in the university/ college level. The top three trends here comprise of: increased pressure on students so that they may find purpose and meaning; focus on placement and job careers; and new technologies that redefine the way students interact. To start with, students as of late are working under pressure so that they may find meaning and purpose. Those who think that the only main purpose of students being in school is finding a job later by far miss the point. Students need to be taken through the process of finding purpose and meaning of being in school. Purpose refers to the end goal of the career we are pursuing. Meaning is what helps us understand the people we are and by this we will be in a position to best choose that we will find fulfilling in meeting our career goals.
Learning in a college is mainly about the goals we have set. Some of the goals that students may have when in school include choosing the major to focus on, being able to achieve good results, being able to learn up to graduate school, and finally get the kind of a job you have been looking for. Working towards achieving these goals operates alongside helping our colleagues explore things that will make their lives have some meaning. According to Henderson-King & Mitchell, (2011), life spent in the colleges/ universities is a form of transition that comes along with special challenges. Students live under pressure of living in order to meet the expectations of their friends, and tension between responsibility and freedom while comparing their situation with the lives of their peers. This search for meaning for the value of life and the resulting pressure is what leads them in to alcohol and drug abuse, unsafe sexual behaviors, depression as well as other related mental issues. The division of affairs of students is positioned ideally in order to help students establish both purpose and meaning of their lives as they transition from school to the outside world ready to start their own lives Henderson-King & Mitchell, (2011).
Focus on job placement and careers has been another trending issues in the division of student affairs. Even though it may seem related to the idea of seeking to establish value in life, the increasing concern about job placement and getting employed after college/ university education is very powerful to a point that it has made it one of the current trending issues. Parents and students have the expectation that universities or colleges acts as a partner in order to help students establish a clear path in their careers. In recent years, there have a gap between the performance of colleges/ universities and the expectations of students on the issue of career placement. The department of careers in colleges/ universities hence has little help to their students. As a result of this trend, universities and colleges are now making efforts to revamp career services thus redefining the roles they play in career planning of students. Examples of some changes that have been made include guiding first year students on careers from the day they join the school, career mentoring initiatives by the school alumni, and efforts aiming at offering career support for first- generation and low- income students.
The third top trend has been new technologies that have helped define the way students interact with each other. The introduction of new technologies is reshaping the expectations of students for the things that happen both outside and inside the classroom setting. This has been the introduction of online learning and the way students, staff and the faculty connect. Students have started to use their smartphones and other devices in performing some of the activities that used to be done in the offices. There is an increase in the number of transactional services carried out online and this has improved access to the services and also reduce the costs involved. Such connections have created a sense of community through which students are in a position to interact with various systems of the university online.
There are other many other issues that have been trending in the division of student affairs in colleges/ universities. My search has settled on the above three trending issues as they have the greatest influenced on the interactions among students.
Drug and Substance Abuse
According to Baingana, a large number of students in the colleges/ universities today have ended up in drug and substance abuse. The trend has resulted from the pressure that students are put in when trying to find value in life. Despite the fact that a lot of attention has been on the abuse of drugs in colleges, very little is known on the levels of drug abuse in the colleges. Consumption of hard drugs such as heroin and marijuana among the students has been increasing at an alarming rate. The high rate of abuse is attributed to a number of factors in which majority of them are aligned to the realization of value of life. While in school, students go through a lot of stress, and a buildup of this ends up influencing students to the abuse of drugs.
Some of the factors that make students become stressed include high demands to perform academically, social obligations, internships, part time jobs. To them, turning to drugs is an attempt to cope with stress. Course load is another factor that forces college students into drugs. A significant number of college students are currently taking drugs such as stimulants as they help the stay awake for long hours in order to study and be able to finish their assignments before they are due. Even though some of are not hard, taking them is harmful as they do not have prescriptions from qualified physicians. There is also another percentage of students who take drugs for curiosity reasons. It is in the college where students are attempting new things in life at both personal and professional levels. In this process of exploring new things in life, some of them edge towards drug experimentation. Lastly, peer pressure is another reason as to why large numbers of students have turned to alcohol and drug abuse. College students whose friends are experimenting with performance enhancing and recreational drugs are at risk of getting involved in such behaviors.
Abuse of drugs among college students comes along with various effects that affect their life at school. Decreased academic performance is one of the signs noted in a student abusing alcohol and drugs. Abuse of substances makes students lower their grades as they are no longer in a position to learn in the way they should and hence will not be able to perform to the best of their abilities. A student who is high on substances finds it difficult to concentrate in studies like the other students. Such a lack of concentration makes them miss on important points taught in class. In addition, substance abuse might make them stay in bed and miss exams. In the long run, the overall academic performance of such students goes down.
Abuse of substances affects a student both physically and psychologically. Overdosing on alcohol and drugs can literally kill a person in some incidents. On average, about 2,000 students at an age ranging between 18 and 24 years die annually as a result of injuries related to alcohol abuse. Substance abuse may as well affect the state of health of a person. They may damage body organs, alter one's perceptions and cause brain dysfunction, affect senses and emotions placing a person at the risk of making unnecessary or dangerous decisions that may lead to death. Students who use drugs in small amounts while in college/ university may develop a problem of addiction at later stages in life. Addiction is a problem that cannot be controlled with ease.
The problem of alcohol and substance abuse is an important topic on matters concerning student's affairs as it produces a great influence on their academic performance. It is an issue of concern that needs immediate attention to address it. Dealing with the problem of drug and substance abuse will result into an environment that is favorable for the learning process to be successful.
Related Topics