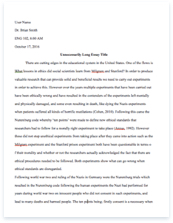 The whole doc is available only for registered users
Pages: 4
Word count: 881
Category: Life
A limited time offer! Get a custom sample essay written according to your requirements urgent 3h delivery guaranteed
Order Now
Iva Toguri D'Aquino (July 4, 1916 – September 26, 2006) was the daughter of two Japanese immigrants. After growing up in California and receiving a bachelor's degree at UCLA, D'Aquino traveled to Japan and remained there during World War II, serving as a radio announcer on Radio Tokyo's segment Zero Hour, which attempted to demoralize American troops in the South Pacific. Upon conclusion of the war, D'Aqunio was tried for eight counts of treason, one of which the jury found her guilty. Despite a prison sentence of ten years and a hefty fine, D'Aqunio did not cease fighting for her United States citizenship and eventually earned a presidential pardon.
Iva Toguri was born in California as the daughter of two Japanese immigrants. Cultural enrichment was the main wish of Toguri's parents, who believed in the equal opportunity and fluid social order in the United States. Her parents struggled to become citizens and wanted their children to be aware of the "good fortune of being a native born American". The Toguri family embraced the idea of the American Dream, defined by James Truslow Adams as believing in a land of full life for all, "with opportunity for each according to ability or achievement". Early dedication to this belief illustrates the emphasis placed on loyalty in Toguri's life; at a young age, American loyalty was engrained as a part of Toguri's identity. Claiming her title as a well-rounded individual, Toguri was an athlete, a musician, and a focused scholar. Aspiring to practice medicine, she attended the University of California at Los Angeles, where she graduated with a degree in Zoology in 1940.
Shortly after her graduation from UCLA, Iva decided to postpone her graduate studies to aid her ailing aunt in Japan. This unexpected mission left Iva traveling to Japan without a valid United States passport. Iva struggled to obtain a passport while in Japan and due to a lack of proper documentation, was unable to return to the United States after the Japanese attack on Pearl Harbor. Stuck in a foreign, enemy territory with little money, Toguri found work at Domei Tsushin Sha, a Japanese national news agency. Here, she met her husband Felippe D'Aquino and adopted his last name. Searching for additional income, D'Aquino accepted a position as a typist for the broadcasting company Radio Tokyo. She was assigned to a program called Zero Hour, a short radio segment consisting of "jazz recordings interspersed with news segments, largely about disasters back in the States".
While the Japanese government intended for the propaganda of Zero Hour to weaken the morale of United States troops in the Pacific, Toguri and others had another idea. English-speaking employees used the Japanese language barrier to their advantage, convincing supervisors that the scripts should be written by Americans. Double meanings, purposeful placements, and frequent sarcasm scattered throughout shows provided a source of power for the announcers. This power allowed D'Aquino to provide comfort to Americans and is an example of her support for her homeland despite her foreign presence. The female presence on Zero Hour was coined "Tokyo Rose" by listeners, though Iva was never directly named during her messages. She continued working broadcasting for Radio Tokyo throughout the war while gaining attention around the globe.
Upon the surrender of Japan and the conclusion of the Second World War, many were curious about the mysterious figure Tokyo Rose. Recordings of Zero Hour had been destroyed, and hard, factual evidence was a rare find. In fact, multiple lawyers assigned to the prosecution of D'Aquino "strongly recommended a dismissal of charges after initially reviewing the case," because of slim evidence. American soldiers were returning home and reporting tales of an announcer demoralizing the troops and broadcasting specific details of the war effort. After a period of continued investigation, accusation, and public pressure, the United States Department of Justice arrested D'Aquino in August 1948 for "treasonable conduct," with judicial proceedings beginning almost a year later on July 5, 1949. Ultimately, the jury found D'Aquino guilty of one of the eight charges of treason against her.
The court decided she was guilty of "speak into a microphone concerning a loss of ships," resulting in a sentence of ten years in prison and a $10,000 fine. Iva Toguri D'Aquino was only the seventh person in United States history to be convicted of treason. After serving six years and two months of her ten-year service, D'Aquino was released from prison. D'Aquino received a pardon and restoration of citizenship from President Gerald Ford on January 19, 1977, after unsuccessfully petitioning for a pardon from Presidents Dwight Eisenhower and Lyndon B. Johnson.
Despite her attempts to aid American forces in the South Pacific, D'Aquino was labeled as a traitor and convicted of the nation's highest crime. Although the United States waged a personal war against Iva Toguri D'Aquino, her desire to remain a loyal citizen reflects her interpretation of the American Dream. The appreciation of America by her parents built a strong foundation for national loyalty in D'Aquino's life. D'Aquino, regarding her American citizenship, emphasized that "'you don't realize the importance or significance of such a thing until you lose it'". Although it can be argued that the traditional American Dream failed D'Aquino, she ironically remained loyal to the American ideals and standards that were an important part of her upbringing.
Related Topics