To what extent may attitudes predict behaviour?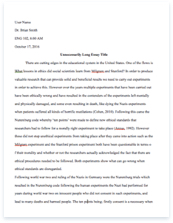 The whole doc is available only for registered users
A limited time offer! Get a custom sample essay written according to your requirements urgent 3h delivery guaranteed
Order Now
Why do people act in different ways? Some are kind, some are mean. Some do good, while other mean only harm. Some of them are aggressors, while others are peace holders. Some of them are positively prejudiced rather than others who almost always have a negative outlook of life and its diversities. Some of them feel a sense of sympathy towards an object or a subject, while others dislike it. Exploring and understanding behaviour and all of its features has been a life-long ambition for many scholars and professors over the centuries. But their major concern was to establish what particularly the essence of the component preceding behaviour is, whether there is something that lies beneath the way we respond to a particular situation or stimulus.
There are many theories whose aim is to explain behaviour – biological, cognitive, social. One of the most influential ones, though, is said to be the social theory of attitudes. The most punctual definition of attitude is that its matter is to express one's feelings and thoughts about an object or a subject, which can later alter, depending on time, emotions, persuasion, etc. Although many scientists have disputed the fact that there is a strong correlation between our attitude towards something and the way we act to show it , some plausible researches and experiments have been conducted on how the opposite is proved. In 1974, Kelley and Mirer, for instance, dissected a couple of surveys related to the four political campaigns for choosing a president during a twelve years period of time. What they actually realized by the time they have finished their studies was that 85 per cent of the voters have been quite consistent in their attitude regarding their choice of candidate or a party, despite the fact that the survey was conducted in a two months' time preceding the day of the actual voting.
Another closely related study to that of Kelley and Mirer examined a large number of Taiwanese women, joined in a holy, whether they have the willingness to have more children than they already have. In three years' time, results show that 64 per cent of those who said they felt the gladness of having a child and would definitely be happy to become mothers again actually had a live birth, whereas only 19 per cent of those who rejected by saying 'No' indeed had a child. According to Eagly and Chaiken (1998), those attitudes which are stored in our memory can be effortlessly accessed and therefore rapidly evinced. Moreover, as they exercise a relatively strong impact on behaviour they are considered to create a better attitude-behaviour consistency. Another concept that relates to what extent an attitude can predict out overt actions is that of strong and weak attitudes, according to which the stronger the attitude is, the more impact it is going to have on our actions.
Although a lot of evidence supports the theory that attitudes may be the best predictors of our actions, the arguments in favor of the opposite view should not be underestimated but taken into account as they tend to be of equal relevance as those mentioned previously. In order to prove that this discrepancy can occur between the level of intolerant attitudes and the level of tolerant behaviour, LaPiere (1934) travelled around the USA accompanied by a Chinese student and his wife with an aim of finding accommodation. In the beginning of their 10,000 mile sightseeing trip, they were expecting to come across issues of rejection towards the Chinese couple as at that time the United States was strongly prejudiced against Orientals. Unexpectedly, things didn't turn out to have such a negative outcome so from all of the hotels, restaurants, caravan parks and tourist houses, there was only one place that refused to entertain them. A couple of months later, LaPiere decided to send questionnaires to all of the accommodations, asking whether they would accept people of the Chinese race in their establishment. Surprisingly, 92 per cent of the 128 which replied were unyielding in their negative response, only one single per cent answered they would be happy to open the door for them and the rest were uncertain, saying that it depends upon the occasion.
Despite the fact that LaPieres' study of attitudes was not scientifically designed, it shows facts that are in support of the theory that attitudes may not be the most accurate predictors of behaviour. During the end of the 1952s a similar case to that of LaPiere's was found by Kutner, Wilkins, and Yarrow. When entering eleven different restaurants a group of two white women and one black woman experienced no problems with the service of the staff, but when they called to make a reservation including the presence of black women they were refused by six. Another critical view is that of Zuwerink and Devine's theory (1996) which sticks to the assumption that people can be quite obstinate and seem to defend their own position when it comes to arguing with other people.
However, we may become susceptible to factors whose aim is to alter our attitude towards someone or something without even possessing the knowledge of that and end up being persuaded just in the opposite. Furthermore, the larger amount of time goes by between attitude measurement and behaviour assessment, the higher the possibility for an attitude to change is. Therefore, correlation between these two concepts tends to be higher when they are measured at the same time. Icek Ajzen and Martin Fishbein's theory of planned behaviour (1991) suggests that the influence attitudes have on behaviour is quite limited as there are some other determinants such as subjective norms which represent other people's thoughts on what we are supposed to do.
It is still unclear to what extent attitudes can be defined as the best predictors of overt behaviour. It is quite evident that many scientists have presented strong theories in order to support or reject this view. This is most probably the reason why this controversy whether attitudes are the most reliable source for predicting behaviour or there are some other crucial components underlying our actions is not even close to its end. However, it is certain to a great level that attitudes are one of the most crucial parts in forming overt actions.
References
Jonathan L.Freedman, David O. Sears and J. Merill Carlsmith. (Fourth edition). Attitudes and Attitude Change. (Pp. 429-435). Prentice-Hall, Inc., Englewood Cliffs, New Jersey. Michael A. Hogg and Graham M. Vaughan. "Social Psychology". (Sixth edition). Attitudes. (Pp. 153-163). Pearson: Prentice hall. Miles Hewstone and Wolfgang Stroebe. (Third edition). Attitudes. (Pp. 270-275). Blackwell.
Related Topics