Three Characteristics of Effective Work Groups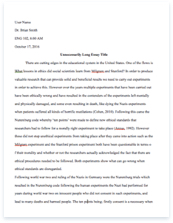 The whole doc is available only for registered users
A limited time offer! Get a custom sample essay written according to your requirements urgent 3h delivery guaranteed
Order Now
The three characteristics that will be discussed in this essay are motivation, communication and leadership. This essay will relate to relevant theories and theorist that have an association to any of the characteristics. The factors will be discussed in detail to portray how they can be used efficiently to create an effective work group and also how organisations will benefit from the outcomes of each individual in the team.
Groups are a crucial feature of any company or organisation. If an organisation is to function effectively it requires collaboration and co-operation among its members by working together in a group based activity. Mullins, J defined groups as 'any number of people who interact with one another are psychologically aware of one another; and perceive themselves to be a group'. An effective group is a group of individuals that frequently work together towards attaining a common goal.
Each individual in a group is influential to another in many ways as every person wants to reach maximum success for their personal satisfaction and the organisation. The individuals in a group will look forward to accomplishing every commission they are assigned and also often look forward to working together again In future. There are various ways of defining a group. Charles Handy (1993:150) defines group as 'any collection of people who perceive themselves to be a group'. However this definition is of inadequate use when considering effective or ineffective groups within an organisation.
Teams have been used and studied under many names and organisational programs such as, self-directed teams, self-managing teams, participative management and various other labels. Although the terms 'groups' and 'teams' are often used interchangeably, they are not the same thing. A "group" is usually referred to as a number of people or objects that are put together or considered as a unit, whereas "team" is usually referred to a number of people or animals who do something together as a group.
In organisations teams and groups are pretty much diverse in terms of their meaning. A "group" is usually two or more individuals who interact one another such that each individual influences and is influenced by each other person. Individuals that are often interacting and influencing each other does not necessarily need to have a common goal. The compilation of persons who happen to report to the same supervisor or manager in an organisation can also be called a "work group". Each group member may be satisfying their own personal needs and pay little concern to common organisational objectives. In a team all membersare committed to a common goal. This is where groups and teams differ within an organisation.
Groups come together for many different reasons are not formed overnight. The formations of these groups vary as greatly as the groups themselves and are developed over a long period of time. Organizations are built upon structured groups of mutually dependent people, persistent on completing a common objective or assignment. Understanding these groups and the dynamics which are found within them can be recognized through a variation of theories.
Tuckman identified that there were five critical stages to the sequence of group development and relationships: forming, storming, norming and performing and adjourning.
Forming – is the introduction of the groups and bringing together new individuals as team members. Although at first there is likely to be extensive anxiety as members attempt to generate impression, to find out who the other people are, and are keen to establish their personal identities in the group. In addition to this anxiety there is a possibility of a lack of focus and clarity around the purpose of the group and insecurity about the task. This anxiety exposes hesitant behaviour from an individual and can also lead to scapegoating outside the group.
Storming – as the individuals get to know other members of the group better, Leadership roles are tested, determined and perhaps re-determined. This is a period where disagreements, frustration and potential confrontation are expressed. This may lead to conflict and hostility, however out of conflict; there could be a good outcome. The potential reasons of conflict are because members are confident to challenge each other. The storming stage is vital as there is an increase in positive energy and activity, which can lead to significant changes in creativity and innovation.
Norming – in this sage the members are able to control any conflict or hostility and work as a team and developing their own norms of acceptable behaviour. The norming stage is crucial as it establishes the needs of each individual so they can co-operate, plan and agree standards of performance and accomplish the purpose of the group.
Performing – during this stage the groups are more focused on their goals, decisions are made and solutions are agreed upon. They will have created a structure and cohesiveness to work effectively as a team. The team can now contemplate on the attainment of its objectives and ensure the task performance is as it's most effective.
Adjourning – this stage refers to the disbanding of the group because of the objectives being accomplished to a satisfactory level or because members are leaving and individuals in the group feel a sense of loss, and their return to autonomy is characterised by sorrow and apprehension. However in prior to closure, it is vital that the group members reflect on upon their individual performances and their time together. This is a great source of learning for both the individuals concerned and the organisation.
Leadership can be defined as 'leaders, on the other hand, aim to influence and guide others into pursuing particular objectives or visions of the future and to stimulate them into wanting to follow'. (Brooks, Ian). Leadership expresses the authority of one individual over others. It engrosses both sides of human experience which consist of actions and influences based on motive and logic as well those based on inspiration and passion. In order for every organisation to be successful, it requires effective leadership. The leader must be able to fully utilise the skills of staff in order to achieve the aims and goals of the organisation. This necessarily doesn't apply to only large firms, but also small or private companies. Leadership is associated with motivation, interpersonal behaviour and the process of communication. It is important for every organisation to have a good leadership which involves the effective process of delegation and empowerment. Effective leadership is a two way process that influences the individual as well as the organisational performance.
Leadership is always present in any group that is engaged in a task. The functional approach views leadership as how the leader's behaviour and attitudes affects and is affected by the group or followers. John Adair (1979) introduced a general theory on the functional approach to leadership which has ideas on action-cantered leadership. His theory focuses on what leaders actually do in an organisation. He looks at the leadership functions in relation to the need of the work groups. These needs can be seen as three overlapping needs. Task need – to achieve the common task, the team maintenance needs – to be held together or maintain themselves as a team and the individual needs – the needs which individuals bring with them to the group.
The task needs requires the individuals from the work groups in an organisation to come together and get the task done as it cannot be done by one person alone. The task has needs that need fulfilling pressure of accomplishing the task if they are prevented from completing it. The team maintenance needs are already present as each group member are maintaining their spirits and building up cohesiveness of the groups as a working unit. The individual needs involves the physical and psychological needs such as, attending to personal problems, recognition through praise and status, and a sense of feeling of doing something worthwhile.
Due to the rapid growth of competitiveness between organisations in recent times writers on management had to pay attention on how leaders transform organisations. This has led to creating a division between two fundamental forms of leadership: transactional or transformational. Transformational leadership is a process of implementing new ideas and provoking higher levels of motivation and commitment amongst the followers. There is a greater emphasis put on generating a vision for the organisation and creating a sense of justice, loyalty and trust. Transformational leadership is about transforming the performance of individuals within an organisation.
Transactional leadership is concerned with managing in comparative stability and works through creating clear structures for individuals and emphasises on the goals and objectives, work tasks and outcomes, and organisational rewards and punishments.
Motivation is a significant aspect in an individual, group and organisation. It plays an important role in determining whether an organisation will succeed or not. In broad terms, 'motivation can be considered to compromise an individuals effort and persistence and the direction of that effort'. In simple from motivation is the will to perform. (Brooks, Ian). According to Mullins, L J, a person's behaviour is determined by what motivates them. Their performance is a product if both ability level and motivation.
Performance = function (ability motivation)When studying motivation it is improbable to forget the classic theory of Maslow's hierarchy of needs. Maslow and his theory of individual development and motivation suggested that people are motivated by a set of internal needs. He proposed that human needs are arranged in a sequence of levels, a hierarchy of importance. In an organisation different individual have different needs therefore managers can draw a sketch of individual needs using Maslow's hierarchy of needs; however they must bear in mind that the theory does not fully appreciate individual differences and thus must be able to establish and apply different motivational needs to satisfy the individual.
Maslow identified five motivating factors ranging from the lowest level of psychological needs, to the highest order need of self-actualisation. Individuals are motivated at their level of need and once satisfied, moving towards the next highest order need becomes a motivational drive for the individual. The five needs Maslow identified, psychological needs – including hunger, thirst, sleep), safety needs – (security and protection from danger), social needs – (belonging, acceptance, social life, friendship and love), self esteem – (self-respect, achievement, status and recognition) and lastly self-actualisation – (growth, accomplishment, personal development).
It is self evident that communication is central to the existence of organisations and personal life. Managers and leaders must be effective communicators, successful at getting their message across and drawing the best out of people. Communication skills in all forms are vital to every organisation and to an individual, including non-verbal communication and these need to be worked and improved on to make sure individuals understand one another.
Communication facilitates the expression of information, plans or emotions. It is vital for any organisation to create a vision in the workplace and involves collaboration, breaking down of barriers, and understanding non-verbal indications. This can be achieved through effective communication through leadership. Without effective communicators there is a possibility of misunderstandings occurring, putting the workplace in a defenceless situation to collapse. The leadership role in any organisation is the key to effective communication. Leaders who effectively communicate their vision and mission of the organisation to its followers are frequently successful.
In conclusion it is essential for every organisation to maintain an effective communication and leadership in a group or team and motivate individuals to bring out the best in them so it is beneficial for the organisation. To be able to communicate effectively as a leader is crucial for the organisation as this will increase cohesiveness within the group members and avoid any misunderstanding and conflicts that could occur, so individuals can work together in achieving the aims and objectives for the organisation.
Motivation plays a huge role in the success for any organisation. If an individual was not motivated then they would not be able to put their utmost effort into what they are capable of offering to an organisation. Therefore it is crucial for leaders and managers to pay attention to individual needs, so they are satisfied with the organisation. It is important for the managers of the organisation to choose a suitable and highly motivated leader so they can direct the team members effectively.
References
Mullins. L.J (2007) Management and organisational behaviour. Eigth edition, Essex, Pearson Education LimitedBrooks. I (2009) Organisational
Behaviour- individuals, groups and organisation. Fourth edition. Essex, Pearson Education LimitedAdair. J (1934) The John Adaire handbook of Management and Leadership.
Wilson. E (2001) Organizational Behaviour Reassessed. The impact of gender.
Gorman. P (2004) Motivation and EmotionGriffin. R, W and Moorhead. G (2007) Organizational Behavior: Managing People and Organizations 9th Edition.
Related Topics