The Value of General Education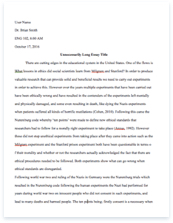 The whole doc is available only for registered users
A limited time offer! Get a custom sample essay written according to your requirements urgent 3h delivery guaranteed
Order Now
Many years ago, I answered hastily with teenage arrogance, the questions we are being asked to think about for this post.
Why do I have to take general education courses?
How will the courses in the arts and sciences help me?
What value will they bring to my college degree?
As a teenage know-it-all, I chose to obtain an associate degree. I reasoned an associate degree was the quickest way to a career without taking classes that didn't matter. Four classes away from completing my bachelor's degree, I now believe general education courses are as important as the core curriculum. My core classes taught tactical skills needed for the profession, but my general education courses provided the soft skills required to get along with others and do any job well.
When I returned to pursue my bachelor's degree, I was no more excited to take chemistry than I was decades earlier. However, I've grown over the years and realize general knowledge is essential to a successful life and career. I even enjoyed my Modern Living through Chemistry class. I learned quite a bit about preservatives in modern day, processed foods and will use that information to maintain a healthier lifestyle. I recognized that while I'm no math savant, math classes have taught me how to think critically, analyze problems with a limited fact set, and chose the best course of action.
English courses taught me preparedness, structure, and provided the skills needed for effective written and verbal communication. In humanities classes, I learned about foreign cultures and global issues. The humanities have become more important as my career increasingly involves interacting with individuals all over the world. I have four classes remaining to fulfill my degree requirement and two are general education. Instead of thinking the courses will be a waste of my time, I'm excited. I'm thinking of taking psychology courses because exploring the root of actions will help me have a better understanding of myself and others.
I place high value on the knowledge gained in general education courses. I am not alone. In a 2013 study completed by the Association of American Colleges and Universities (AACU), close to 93 percent of respondents expressed "a demonstrated capacity to think critically, communicate clearly, and solve complex problems is more important than [a candidate's] undergraduate major" ( (Hart Research Associates, 2013).
Hart Research Associates (2013, April 10). IT TAKES MORE THAN A MJOR: Employer Priorities for College
Learning and Student Success.
Retrieved from https://www.aacu.org/sites/default/files/files/LEAP/2013_EmployerSurvey.pdf
Related Topics