The Story of a War Hero Who Never Touched a Gun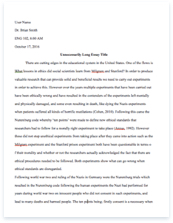 The whole doc is available only for registered users
Pages: 5
Word count: 1068
Category: Honor
A limited time offer! Get a custom sample essay written according to your requirements urgent 3h delivery guaranteed
Order Now
It's hard to imagine, but there was once a soldier who received the nation's highest military award, the Medal of Honor, without ever touching a gun. This soldier was Desmond Doss and he was both a war hero and "conscientious objector" during World War II. Although he wanted to desperately help the war effort, his religious beliefs prevented him from carrying a weapon. It is difficult to imagine the adversity he faced when signing up to participate in a major world war, yet refusing to carry a gun. Doss struggled to find a way to serve his country despite tremendous obstacles along the way. His story is one of bravery, perseverance and fortitude.
Doss played an important and active role in World War II, especially at the Battle of Okinawa. The Allies were fighting the Japanese and trying to gain control over the Maeda Escarpment, also known as Hacksaw Ridge. Hacksaw Ridge was being brutally fought over and was located on top of a 400-foot vertical cliff ("Battle of Okinawa"). The Allies wanted control of the island to use as a base to attacking the Japanese mainland. One critical moment in the battle was when Japanese soldiers launched a surprise attack, and the American commanding officers ordered everyone to retreat immediately. However, Desmond Doss did not retreat. Doss acted quickly and began aiding his fallen comrades. Michael Telzrow says, "Exposed to enemy fire, Doss could only attribute his survival to divine intervention. By the time he was finished, a blood-soaked Desmond Doss had saved at least 75 men, although his commanders thought it was closer to 100." (37). Even after saving the day, Doss remained humble. He wouldn't allow his officers to claim it was 100 men when he himself only thought it was 75. He felt that his actions were the result of some higher authority.
Even though Doss committed this act of tremendous bravery, he had to first overcome tremendous adversities. Desmond Doss was born in Lynchburg, Virginia where he was a member of the Seventh Day Adventist Church. Faith was a very important part of Doss's life growing up. Doss's mother was devout, but his father was an alcoholic. There was one particular incident that had a profound effect on Doss's life. His father had gotten into a bad fight with his uncle and pulled out a gun. Doss's mother somehow managed to get the gun away from him, and she gave it to Desmond to hide. After this traumatic episode, Doss swore to never touch a gun again for the rest of his life (Natalia Grobler). Doss's devotion to his religion played a huge part in forming his character. He raised on conservative principles, such as never eating meat, smoking, drinking, or even cursing. Another important aspect of his faith was nonviolence. His mother and his faith both played an important role in Doss remaining a "conscientious objector" even while in the military.
Army training is obviously very rigorous, both mentally and physically. Doss's experience was made even more grueling because he signed up for the military with the intention of being an Army combat medic, but was assigned to an infantry rifle company instead. The men at this assignment were brutal and harsh. His fellow soldiers would constantly ridicule Doss for not touching a gun. In "Wonder Man of Okinawa", it states, "During training and stateside assignments, Doss faced continual harassment over his religious beliefs. He was mocked at prayer and ridiculed for refusing to carry a weapon". The other soldiers felt Doss was worthless without a gun and wouldn't contribute to helping them in any way while fighting in the actual war. Even the commanding officers gave Doss an incredibly hard time. They would use tactics such as intimidation and threats to try and get Doss to quit, but he stuck to his principles and remained. On one occasion, his commanding officers even tried to have him court-martialed by arguing that Doss disobeyed a direct order to hold a gun ("Desmond Doss: The Real Story."). However, Doss fought through the adversity while remaining committed to serving his country and his God. And thankfully he did, because he saved 75 men's lives on Hacksaw Ridge and the Battle of Okinawa was an instrumental victory for the Allies.
Even though the role of an Army medic is often times disregarded, Doss used his skills and determination to save dozens of lives despite not carrying a gun. His medic training was vital to keeping many numerous servicemen alive particularly at the Battle of Okinawa. He used life-saving medical techniques that he learned while training as a medic. In "Recollections of a World War II Combat Medic", Bernard Rice mentions the methods he learned as a medic that were most likely synonymous to Doss's training. He says, "As we trained to save the lives of wounded, injured, and sick, however, I began to accept the role. We learned which injury to treat first and how to stop the flow of blood, how to sew and protect damaged tissue, and how to administer morphine and blood plasma." Treating the wounded was the reason ultimately Doss received the Medal of Honor. This is awarded to individuals who distinguished themselves while in combat with an enemy of the United States.
Desmond Doss was the first "conscientious objector" to receive the Medal of Honor. He risked his own life to save the lives of dozens of wounded servicemen even under the threat of enemy fire. While his story has become more well known in recent years, Doss is still an unsung hero. He is one of few people who do extraordinary things in desperate times with little recognition. Army medics play an important role in any war and they constantly put their lives on the line to save others. They prioritize their comrades' needs over their own, which is a quality of a true hero. In "Medical Heroes" Hillier writes and sheds a light on the actions medical heroes do to help win the war. Specifically, he recalls one time Doss showed true selflessness saying, "Desmond T. Doss…crawled off a litter (stretcher) when wounded himself to aid a more seriously injured man." That kind of bravery and courage is truly inspiring. Although being a soldier means risking your own life for your country, what Desmond Doss did during the battle of Okinawa for his comrades went far above any military duty, it was true heroism.
Related Topics