The six key elements of organizational structure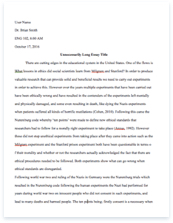 The whole doc is available only for registered users
A limited time offer! Get a custom sample essay written according to your requirements urgent 3h delivery guaranteed
Order Now
1. Work specialization- Dividing work activities into separate job activity to increase work output. 2. Departmentalization – How jobs are grouped together. Five common forms are: a. Functional-jobs grouped according to function
b. Geographical-jobs grouped according to geographical regions c. Product-jobs grouped by product lines
d. Process-jobs grouped on the basis of product or customer flow e. Customer-jobs grouped on the basis of specific & unique customers with common needs 3. Chain of Command-clarifies who reports to whom
4. Span of Control-how many employees a manager can efficiently and effectively manage 5. Centralization and Decentralization – the degree to which decision making takes place 6. Formalization-how standardized an organization's jobs are and how employee behavior is guided by rules & procedures
My company is the Newspaper In Education (NIE). The NIE is a partnership consisting of newspapers, sponsors, teachers, students, and The Press Enterprise committed to the youth of their communities. The Press Enterprise absorbs all NIE administrative costs and offers newspapers to schools at a special education rate. To supplement the newspapers the NIE team assists teachers by providing curriculum guides, workshops, tours, supplemental programs and special events such as Spelling Bee and other competitions. Since organization structure for all the individual companies involved would be way too large, here is their group organizational structure
Last week I identified three things that work in my company. They were:
* The Marketing Plan
* The NIE Advisory Board
* The NIE brochures, newsletters & web site
The strategy that seems to be working very well for the NIE is their Marketing Plan. The Newspaper Association of America puts out a guide for NIE programs that is a brilliant Start-up and Marketing Plan that can be utilized and adapted by any size newspaper. It is very well thought out and detailed. It is available for newspapers that are considering starting a NIE program in their city. The first thing the NIE Marketing Plan does is outline what needs to be done. Secondly they give contact information so the prospect knows that they can get help whenever they need it. Next they provide additional contacts available and detail how simple it is to join the NIE for free.
They provide websites that are available and helpful to new and veteran NIE participants: An extremely valuable resource for both new or veteran NIE professionals is our web site, www.naafoundation.org. On our site you will find a wealth of information. On the home page you will find information about our latest products and services, all available to you at no charge. While on the home page, click on the tabs in the blue bar near the top of the page. Be sure to click on "Events" to learn about things happening at the national and state level that will be of interest to your NIE professional. Also check the "Awards/Grants" tab to learn what is available.
Click on "Newspapers In Education" for a world of information and resources. The main page gives information about our latest initiatives. The right column offers many resources. The top block links to our latest publications.
The NIE Resources section provides links to many resources. Be sure to check the "NIE Reports & Publications" link to see a complete list of research reports, curriculum guides and in-paper features, all available to download at no cost. These can help you deliver great curriculum to teachers in your area and can help you in writing grants and developing promotional materials.
The link "NIE Web Sites & Resources" takes you to hot links to hundreds of NIE web sites at individual newspapers that will provide you with great ideas for developing your own site. The Vendor link takes you to the web sites of many commercial vendors providing products and services to NIE. There is also a comprehensive listing of other useful Internet resources for your program.1
The NIE Marketing Plan goes on to lay a marketing foundation for almost every possible marketing need a newspaper may have to create a successful NIE Program. The document is 125 pages long, that's too long to go into a lot of detail. However, a brief synopsis of The Table of Contents2 that follows is: (I) Understanding the Educational Services Program. This section provides an explanation and history of the NIE. (II) The Who, Where, and Why of an Educational Services Program. This section deals with the answers to those questions. (III) Getting Down to Business.
This sections deals with start-up, Literacy, Marketing to schools, Getting Acquainted, NIE Circulation, NIE Order Form, the ABC's of ABC, NIE Sponsorships, Accounting & Budgeting. (IV) Reaching out. This section deals with PR. (V) Special Times, Special Projects. This section deals with all the extra benefits & programs that the NIE helps newspapers put on. Finally the section talks about how to conduct and use research and how to evaluate your NIE program. (VI) This section is the Appendix containing resources. And if a new or veteran newspaper still needs help after finishing all this information, they have all the contact information they need to get additional help.
A strategy that could use some help is the News Tribune NIE website. It was the first NIE website that I used and it was very minimalistic. The News Tribune has talented artists and webmasters; it is very hard to understand why their NIE site doesn't have more information, links and graphics. Perhaps their NIE program is so strong that they don't need to attract teachers and sponsors by their NIE website. Whatever the case may be, this site could really use an upgrade and a makeover. Check it out and see what you think: nie.thenewstribune.com
The simple local organizational structure of the NIE that I am using helps to reinforce all parties concerned through communication and cooperation. This organizational structure is circular in it's' dynamics. Lines of communication travel both ways between all parties concerned. There is a wise saying, "If it ain't broke – don't fix it". I don't see anything that needs to be improved in this model. As long as the communication is open and honest and provides effective feedback, than everything should continue to work, be strong and effective.
Related Topics