The Silent Violence: Sexual Harassment Abuse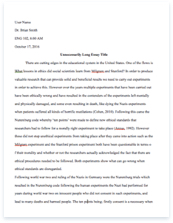 The whole doc is available only for registered users
A limited time offer! Get a custom sample essay written according to your requirements urgent 3h delivery guaranteed
Order Now
Sexual harassment abuse has been an issue since the beginning of the human race. Even since the start of civilization, one of the most common themes among nations is the rape and pillage of an enemy. Even though we as a society no longer rape or pillage, there are still many examples of this truly horrendous crime. One of the most famous, being the Harvey Weinstein case that was brought to light in around October of 2017. Since the case, many both men and women have come out about their experiences with sexual assault and harassment. It seems that we hear about sexual conduct accusations constantly now. One of the biggest questions that many people have now is why did all these people not come out earlier about these crimes?
Although the stigma around abuse and harassment has decreased dramatically since the early 1900s and even the earlier 2000s, we as people are still not willing or comfortable enough to confront the major issue right in front of us.
Before I continue with many of horrendous facts based on a truly terrible crime, let us define what sexual abuse and harassment are (yes they are different). Sexual harassment and sexual abuse are both major issues both nationally and internationally. It is calculated by RAINN(the rape, abuse, and incest national network) that every 98 seconds someone is sexually assaulted in the United States. RAINN also calculates that ⅙ out of every American woman will have fallen victim to either a successful or attempted rape in her lifetime. Sexual harassment as defined by EEOC, or the United States Equal employment opportunity commission, is "unwelcome sexual advances, requests for sexual favors, and other verbal or physical harassment of a sexual nature" whereas sexual abuse is defined by the EEOC as "undesired sexual behavior by one person upon another. It is often perpetrated using force or by taking advantage of another. When force is immediate, of short duration, or infrequent, it is called sexual assault".
Now to get to the question at hand, why did all of these victims not come out earlier. The short answer to that question is the stigma, but what does that mean? It means that they felt immense pressure from society that they could not bring it up. This pressure is most likely caused by the lack of understanding and openness that we as people have towards victims of sexual abuse. To bring this into perspective, let's say that you are robbed by someone. After you get robbed you are traumatized immensely and you want to go tell someone. The issue with this is that in this make-believe society, no one wants to hear what you have to say and getting robbed is an extremely taboo topic. This is because robbery, again in this make-believe society, is an extremely sensitive topic. At this point, after the robbery, you know that if you bring this forwards you have a great possibility of getting scrutinized and doubted, so you do not feel like you can report it. Now obviously merely getting something stolen from you is not as big of an issue as sexual harassment or abuse, but the analogy is clear enough for you to realize the immense pain and suffering that some of the victims have to go through even though their entire lives.
The worst part about these situations is severe after effects that plague the victims even years after the event has occurred. Some of the alarming data points out of this situation are that 94% of women who are raped experience PTSD and13% of women that are raped attempt suicide according to RAINN. Another startling set of data is the number of people that suffer from drug use after they have been assaulted. Assault victims are 3.4 times more likely to use marijuana, 6 times more likely to use cocaine, and 10 times more likely to use other major substances.
Many of these issues would be either solved or decreased if we were comfortable with sharing and hearing about this issue. These people turn to drugs and suicide because of the feeling of being alone in a world that chooses to not hear them.
Luckily, ever since the Weinstein case, many people have been able to muster up the courage to reveal what has happened to them. This is largely due to the feeling of strength in numbers. In fact, since 2017, the amount of cases that have been filed and completed has drastically increased more than it has ever. We as a society are getting more and more comfortable with the idea of sharing about this unfortunate topic, which in turn makes it easier for the victims to share their stories.
Even though we as a society are becoming more sensitive to these topics, we still need to improve how we act in these situations. We hear stories on the news about high profile cases with big names, but what about your average man or woman in the workplace who don't feel comfortable enough to share with their boss or a trusted colleague that one of their friends or fellow worker makes constant sexual advances toward them. What we can do as a society is open up about these issues more often. We should teach these topics in schools and in the workplace so that it is more socially acceptable to come out about all these issues. Hopefully, in light of all these cases that have come up, we as a society will be able to hear those who are so desperately, but quietly calling out for help.
Related Topics