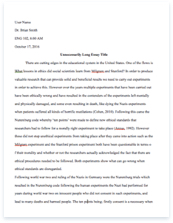 The whole doc is available only for registered users
A limited time offer! Get a custom sample essay written according to your requirements urgent 3h delivery guaranteed
Order Now
1. Introduction
The purpose of marketing is about providing the right product, in the right place, at the right price, and at the right time. When it comes to practice, the company is faced by a set of uncontrollable variables that collectively shape its markets, its resources and the competitive climate, and that pose challenges and opportunities which may determine the success or failure of a company. (Adcock et al, 1998)
McDonald's is the world's No.1 fast-food company by sales, with more than 30,000 of its flagship restaurants serving burgers and fries in 120 countries, about 8 new restaurants open everyday. (https://www.research.reuters.co.uk ) However, in January 2003 McDonald's recorded its quarterly loss of $343.8m, first time in 48-year history.
This report will be focused on the marketing aspect of McDonald's in USA I will analyse the reasons for the company's poor performance by researching and examining the current marketplace, undertaking a SWOT analysis, evaluating the current segmentation, targeting and positioning. Furthermore, some recommendations will be given in order to improve its performance.
2. Marketing Environment Analysis
It is important that an organization considers its environment before beginning the marketing process. In fact, environmental analysis should be continuous and feed all aspects of planning.
In order take advantage of emerging opportunities, and to minimize potential threats, McDonald's needs to monitor the market environment and decide rational responses to changes in the environment. (Adcock et al, 1998)
2.1 Industry Situation
The fast food industry in USA has taken leaps and bounds over past several years. Although enjoyed by many, it is also linked to obesity and other health problems. The majority of fast food is saturated with fat, as many of the items are fried in grease.
Many of the fast food chains in the USA tended to offer many product lines very similar in concept to those of their rivals, presumably in a bid to avoid the problem of one member of a party objecting to them as a choice of venue because they didn't have what that person wanted. More recently this trend seems to have eased somewhat, as evidenced by the rapid growth over the last few years of the Mexican fast food specialist chains such as Taco Bell. Furthermore, most of the fast food chains are forced to focus on nutrition and health due to consumer's increasing concerns and change of lifestyles.
2.2 Macro-environment Analysis:
Macro-environment includes all factors that can influence an organization, but that are out of their direct control. It is continuously changing, and McDonald's needs to determine its opportunities and threats, and be flexible to adapt. (Lancaster and Massingham, 1999)
The macro-environment consists of political, economic, social-cultural and technological factors. Identifying PEST influences is a useful way of summarizing the external environment in which McDonald's operates. However, it must be followed up by consideration of how the company should respond to these influences.
PEST Analysis
2.3 Micro-environment Analysis
Micro-environment is the more company-specific forces reflecting the nature of the business, its suppliers, marketing intermediaries, buyers, competitors and its publics. (Dibb et al 2001)
Suppliers within the McDonald's System play a critical role. McDonald's suppliers in the U.S. operate over 40 distribution centers; provide a diverse range of products and services for our restaurants. It has numerous independent suppliers, the Company works closely with McDonald's suppliers to encourage innovation, assure best practices and drive continuous improvement. It is crucial that the suppliers reflect the diversity of McDonald's customers. The more diverse customers become, the more important it is that the company should have diverse suppliers through growing existing supplier base in order to channel wealth back into those supplier communities.
In terms of product development, independent suppliers also conduct research activities for the benefit of the McDonald's System, which includes franchisees and suppliers, as well as the Company, its subsidiaries and joint ventures.
"Customers are central to the marketing concept." (Dibb et al, 2001: P61) Every month more than 90 percent of American children eat at McDonald's; the average American eats three hamburgers and four orders of French fries every week. Customer satisfaction is very important to McDonald's, it has a direct impact on the company strategies. Thus marketers must understand, anticipate and satisfy the changing requirements, needs and perceptions of customers.
The micro-environment also includes publics – banks, shareholders or financial analysts, media – which does or could impact on McDonald's business ability to satisfy its target customers and achieve its corporate objectives.(Kotler, 1999) Furthermore, as a mature market, McDonald's is facing many competitors, the detailed analysis of competitors will be discussed later on.
2.4 Porter's Five Forces
Michael E. Porter has developed a framework, the "five forces" model that analyses market structures as means to determine market attractiveness. The model tends to focus on the single, stand alone, business or SBU (Strategic Business Unit) rather than a single product or range of products. Porter's Five Forces model, pictured below, considers several elements from both the macro and micro environments in its construction.
Figure 1 Porter's Five Forces
2.5 Competitor Analysis:
Competitor analysis is an important part of the strategic planning process. It has several important roles in strategic planning:
* To help management understand their competitive advantages/disadvantages relative to competitors
* To generate understanding of competitors' past, present and future strategies
* To provide an informed basis to develop strategies to achieve competitive advantage in the future
* To help forecast the returns that may be made from future investments
McDonald's compete with international, national, regional and local retailers of food products; this includes restaurants, coffee shops, convenience food stores, supermarkets, etc. The American fast-food market has become increasingly competitive as rivals such as Burger King, Wendy's and Taco Bell fight to maintain their market share.
Taco Bell: There is a rapid growth over the last few years of the Mexican fast food specialist chains such as Taco Bell. According to an article in USA Today 13-Sep-02, in response to static sales Burger King and McDonald's are introducing 99-cent value menus, a move made by Taco Bell and Wendy's over ten years ago.
Wendy's offer various pre-prepared salads, baked potatoes with various choices of fillings, and pitas again with a choice of filling. Some Wendy's locations also have an excellent serve yourself salad bar.
Subway: As all subs are made up to order, you can specify exactly which ingredients you do or do not want
Burger King: the direct competitors which offer very similar product lines, one of the significant differences is the customised burger, "Have It Your Way".
3. SWOT Analysis
SWOT analysis will be used to auditing the overall strategic position of McDonald's and its environment. It is an important foundation for any marketing plan, helping to produce realistic and meaningful recommendations. However, it is worth pointing out that SWOT analysis can be subjective; accordingly, SWOT analysis is best used as a guide and not a prescription.
SWOT Analysis
Moreover, interest-rate changes, currency fluctuation, change of population age structure, changes of government police and legislations, can be either opportunities or threats.
4. Marketing Planning:
"There are three stages to carrying out market segmentation: segmentation, targeting and positioning." (Dibb et al, 2001: P209)
4.1 Segmentation
Market Segmentation is the identification of portions of the market that are different from one another. Segmentation allows the firm to better satisfy the needs of its potential customers. There are three board groups of consumer segmentation criteria: behavioural, psychographic and profile variables. (Jobber, 2001) Figure 2 shows the major segmentation variables used in consumer markets.
Figure 2 Segmenting consumer markets (Jobber, 2001:P188)
4.2 Targeting
Targeting is the process of selecting one or more market segments and then developing a product and offer which is aimed specifically at those segments. (Adcock, 1998) It is a key element in marketing strategy.
When evaluating market segments, McDonald's should examine two board issues: market attractiveness and the company's capability of competing in the segment. The Company identifies and develops sites that offer convenience to customers and provide for long-term sales and profit potential. Analyzing relevant data including traffic and walking patterns, census data, and school enrollments to ensure long-term occupancy rights and helps control related costs. (http://www.sec.gov/…/d10k405.txt)
McDonald's uses multi-segment approach to target a variety of different segments with a series of differentiated products. For the first time in its 50-year history, it is unveiling a worldwide marketing campaign, dubbed "i'm lovin' it," that all 118 of its participating countries, ranging from Brazil to Iceland, will take up, customizing language and content for their specific markets.
Promotional alliances with Disney provide the toys together with "happy meal" have certainly helped McDonald's younger target segments, not only this; McDonald's also has the play land for them. Because every month more than 90 percent of American children eat at McDonald's, the company decided focusing on children and young people. Computer stations are set up in some states targets Internet-inclined customers. All locations offer a "senior coffee" at a low price for people age 60 or over. They also provide drive-through for people who have car. Furthermore, McDonald's has joined forces with major oil brands and independents in the USA to develop "co-branded" facilities.
In terms of products, McDonald's is switching to cooking oil that reduces saturated fats and trans-fatty acids, it says, without sacrificing taste. The company also introduced the meal-sized salad for women and vegetarians. McDonald's also sells a variety of other products during limited-time promotions.
4.3 Positioning
Marketing, promotional and public relations activities are designed to nurture this brand image and differentiate the Company from competitors. Marketing and promotional efforts focus on value, food taste and the customer experience. In addition, the Company is focused on being a leader in the area of social responsibility (e.g. Animal Welfare, Ronald McDonald House).
There are four keys to successful positioning: Clarity, Consistency, Credibility and Competitiveness. "I'm loving it" is an example of clarity of statement. Value for money and quality of the food is the consistency that McDonald's need to keep. Social responsibility is the differential advantage that the company chose to be credible in the minds of consumers. Kotler (1999) suggests that in order to achieve competitive advantage, companies need to be involved with the whole marketing offering, both inside and outside the organization. McDonald's offer different kind of food towards different kind of segments in order to create competitive advantages.
McDonald's continues to focus on growing market share by increasing comparable sales with an emphasis on improving customer satisfaction through quality, service, cleanliness and value as well as strategic restaurant development. Developing technology to improve service and food quality and enhancements to older facilities in order to achieve higher levels of customer satisfaction
"We're thinking about the long-term," Cantalupo told reporters. "We're now focused on a lot of innovation – equipment, services and marketing." (http://www.usatoday.com/…/3-07-31-mcdonalds_x.htm)
A useful tool for determining the position of a brand in the marketplace is the perceptual map. This is a visual representation of consumer perceptions of the brand and its competitors using attributes that are important to consumers. (Jobber, 2001)
Wide product range
McDonald's
Burger King Wendy
Low Price High Price
KFC Subway
TacoBell PizzaHut
Narrow product range
Figure 3 Perceptual Map for McDonald's
5. Conclusion and Recommendation
To conclude, as one of the leading retailer of the USA fast food industry, this report analyzed the weaknesses which are the possible explanation of why McDonald's has its financial loss. By doing PEST and SWOT analysis, the company should now be able to remain the strengths, avoid or improve their weaknesses. Evaluation of the current segmentation, targeting and positioning are also analysed. After the financial loss, the company created a set of strategies to improve the sales and now the company seems going to the right direction now. It is very difficult to give any general recommendations since personal preferences vary so much. There are some recommendations for McDonald's to consider.
In terms of market shares, there are about 515,000 restaurants that generate $303 billion in annual sales In the U.S. McDonald's only accounts for 2.5% of those restaurants and 6.6% of the sales. (http://www.sec.gov/…/d10k405.txt) On the one hand, it is difficult for McDonald's to increase market share sharply in such mature market, on the other hand, it means there is still opportunities in such a big market for McDonald's to explore.
In the United States, its largest market, it has struggled with declining service, increased competition and changing tastes from consumers seeking more sophisticated food. An increasing problem with many fast food restaurants throughout the US is extremely slow service. The problem of slow service is one that the fast food industry needs to address rapidly and radically.Setting up a new system for speeding up the service is essential, the company could consider technology development in term of till, cooking machine, etc.
Gail Woodward-Lopez, associate director of the Center for Weight and Health at the University of California at Berkeley says," Serving nutritious foods must be given a priority in our culture, just like providing safe buildings."
The food industry needs to be held accountable for its marketing, labeling, and advertising practices, however, and it should especially be held accountable for targeting children in its advertising. The status quo continues, with rising insurance and health care costs, the price of the status quo is enormous; the company must take great notice to this.
To promote mass production and profits, the industry must keep labour and material costs low, most of the staff in McDonald's are part-time with minimum wage and no benefit, this could result in unstable quality of services.
Company is driven by customer demand. In general restaurants in the USA do not cater for vegetarians as obviously as those in Britain. For example, restaurant menus do not tend to feature items suitable for vegetarians. McDonald's in Britain has a "Veggie Burger" on its menu, which is not the case in the USA. More fruit and vegetables and low-fat milk at fast-food places are needed. McDonald's marketing mix needs to be also accordingly developed.
Related Topics