The Positive Impact Technology Has on Students in K-12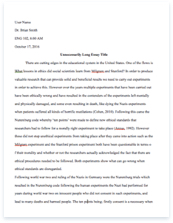 The whole doc is available only for registered users
A limited time offer! Get a custom sample essay written according to your requirements urgent 3h delivery guaranteed
Order Now
Computers are placed throughout grocery stores, gas stations, movie theaters and even restaurants; however, students today have an advantage with computer technology because of the wide array of abilities that computer technology can provide to students' academic and personal lives. Although computers can make people's lives stress-free, technology also helps make knowledge fun and easy, which creates a whole new world of learning for students. Educators can provide students with a wide variety of tools that can expand their learning experience; therefore, students obtain an education filled with knowledge and skills that will provide them with the ability to take care of their everyday needs and responsibilities. Computer technology offers students a variety of ways to communicate, create, explore and entertain; moreover, the positive impact computer technology has on students in kindergarten through twelfth grade is something that can enhance and improve students education and prepare them for their future endeavors.
As a matter of fact, computer technology in the classroom enhances students' learning ability to develop the necessary skills to thrive inside and outside the classroom through the advanced technology such as visual aids, hands-on activities, and a variety of computer software to enhance students learning experience. When teaching about different countries, teachers can share with students different geographical areas such as real time data showing exact locations with vivid pictures and images rather than just a color coded map in a book. Moreover, they can share with their students how to do algebra equations step by step through videos, so the students can review and repeat as many times as necessary to master the proper technique. As a matter of fact, teachers can connect globally with other classrooms around the world to share and learn with other students. In "The Teacher's Laptop as a Hub for Learning in the Classroom," authors Judy M. Parr and Lorrae Ward state that "There is sufficient evidence (e.g., Crooks, Harrison, Farrington-Flint, Thomas, and Underwood, 2010) to suggest that, in certain contexts, it is possible for ICT to be integrated in ways that help prepare students for the 21st century" (55).
At any rate, Information and Communications Technology is where technology and communication come together to enable others to communicate through the Internet, phone lines, media, and audio. For example, the newest hardware and software is designed specifically to help educators teach their students in a way designed for today's world. Therefore, by educators bringing their laptops home with them, they become familiar with the newest hardware and software before sharing it with their class. As a matter of fact, teachers that have access to their own laptops are able to really integrate the technology into their lesson plans. Specifically, technology allows teachers the ability to plan the daily lessons, set achievement objectives, and even assess the students' abilities. At any rate, having this type of technology gives teachers an edge more than ever before because they are able to develop new ways to engage their students in the learning process. This type of teaching helps teachers share with students presentations that provide charts and graphs, photos and images that entice and encourage students to want to engage in the process of learning. According to authors Judy M. Parr and Lorrae Ward, The key underpinning philosophy was that teaching is empowered when the learner is more engaged and independent.
There was also a belief that students were more likely to "complete technology learning task [than a traditional paper and pencil one] because they can view their work, review their work, and be more involved in the process." This school recognized that they were at a point where technology was seen as a "tool to make teaching more powerful" (61). Furthermore, teaching students' knowledge is no longer the only thing that educators must teach their students; specifically, they must teach their students how to obtain information for the learning process. In "Developing an Educational Performance Indicator for New Millennium Learners," authors Myunghee Kang, Heeok Heo, II-Hyun Jo, Jongho Shin, and Jeonghee Seo suggest that, "Knowledge acquisition has evolved from declarative knowledge, which is "knowing what," to procedural knowledge, which is "knowing how" (158). Specifically, educators need to be able to teach their students the basic facts and then how to perform tasks with those basic facts; therefore, the students' gain a vast array of abilities that they can take with them and utilize throughout their lives.
Nevertheless, students can improve their education through computer technology because it makes learning fun and engages the students to improve and gain new skills. Specifically, technology enables students to obtain knowledge and gain valuable tools to help them through their school years and throughout their lives. However, technology alone is not the only way for students to develop their knowledge; it is through their educators where they gain the ability to learn how to navigate and use technology to their benefit. As a matter of fact, in "Engaging Middle School Students with Technology: Using Real-Time Data to Test Predictions in Aquatic Ecosystems," author Lisa G. Adams acknowledges that Technology allows us to bring the babbling brooks, raging rivers, serene lakes, fluctuating tidal creeks, dynamic estuaries, and ocean basins into our classrooms, whether they are 1 mile or 1,000 miles away from our schools. Data can stream live or be downloaded at the touch of a keypad, and students can ask questions that relate to their watershed or explore deep ocean basins using RTD. These meaningful learning experiences that use genuine data sets to answer student-generated questions provide students with a higher level of understanding of the complicated nature of aquatic systems, which is essential for the next generation when dealing with major environmental issues facing our aquatic ecosystems (37).
Furthermore, these students were able to use the tools provided by the teacher to help them understand the ecosystem. Moreover, utilizing this type of technology to help them with data and research engages them to want to learn more and continue to strive to make changes in the world. In fact, Studies have shown that using RTD not only adds relevancy to their learning experience but also engages students in scientific investigations (Parsons 2006; Adams and Matsumoto 2009). A better understanding and appreciation of our environment will help build a scientifically literate generation, which is crucial for our society to successfully deal with the environmental issues we face (Adams 32). Learning through various types of computer items such as IPADs, computers, laptops, etc. helps students learn in a fun and enjoyable way. This type of technology creates an entertaining way to make learning fun because it engages them on a different level. Students learn what the teacher is teaching them; however, in a fun type of way that a student is more likely to retain and remember. Students love to play games, and when the teachers incorporate them as a fun way to learn, it becomes exciting and drives the student even more to continue to strive to do better.
Also, games generally have different levels to master; therefore, students may want to conquer the next level of the game providing them with more information and knowledge. This also is a great self-esteem builder because the better they get at the game, they become more confident and knowledgeable. Consequently, making education fun enables students to retain what they have learned and makes the learning process more memorable. Also, students begin to develop an excitement that keeps them interested while still learning. Specifically, students are able to gain access to all types of information right at their fingertips, so they can learn about anything they want and continue their desire to learn. Nonetheless, students gain preparation for their future through their education because teachers share with their students how to navigate and discover anything they want to learn about through technology.
Although students have a wide variety of tools that can help engage them in their studies, being able to properly utilize these types of tools needs to be learned through their educators. Educators can provide students with access to a variety of tools to guide them on their journey of learning; specifically, students learn how to properly research and use a search engine for scholarly journals, abstracts, and information that provides correct and factual information rather than commercialized data, which could be incorrect and not accurate. Therefore, students take what they have learned from their educators and are able to incorporate that into their daily work and personal lives. For example, in "The next 25 years?: future scenarios and future directions for education and technology," authors K. Facer and R. Sanford state that "Today's so-called 'digital natives' will, like their parents before them, need to learn to use new technological environments throughout their lives. Substantial changes to distribution of educational resources across the lifecourse will need to be envisaged as this cohort will be required to work (and learn) later in life" (84).
Therefore, keeping up with the constant changes in technology, is a necessity for all ages, for all types of careers, and teachers can provide students with the ability and desire to continue their learning. Still, in "Thinking Inside The Box," author Jennifer Demski shares that "WE ARE SIXTEEN: The module, designed by iSchool teachers, explores global and anthropological perspectives on what it means to be 16 years old. Students hold video conferences with teens around the world and, this year; students are collecting footage on Flip cameras for a documentary they are collaborating on" (25). As a result, these students learn to collaborate with other students from around the world; therefore, teaching them how to work together, which provides a great way to meet others, understand other people, and the way they think. Consequently, this provides students with social skills along with working together to get a task done. It also provides a sense of team work, which creates an enthusiasm and desire to do a good job.
However, with technology comes the accessibility to cheat on essays, homework assignments, and tests because everything is available on the Internet from purchasing answers, writing papers, and copying information without properly citing the original author's work. As a matter of fact, in "A Whole Lot of Cheating' Going On," author Mark Clayton suggests that But what alarms some campus officials the most is the Internet's proven potential for explosive growth in negative areas such as pornography – and the possibility that plagiarism could be next. Web sites sporting names like "Cheater.com" and "School Sucks" offer tools for rampant plagiarism checker for teachers at the click of a mouse. "Download your workload" the latter site suggests, boasting more than 1 million term-paper downloads (200). Consequently, teachers need to explain and share with their students that this type of behavior is unethical and they will face consequences for such actions. Although the Internet does enable students to gain access to an abundance of material, students need to be properly taught the proper etiquette, when it comes to using any information they obtain from the Internet.
Teachers and schools provide information to students about plagiarism and the actions that will be taken if they commit plagiarism. They also share with students that a student can commit plagiarism without intent, but show their students the proper techniques to avoid plagiarism. Students need to be aware of the rules and procedures that their school has in place, so that they may follow the technology etiquette. This type of knowledge will help in their daily lives as well because it will show them that they have to be conscious of what they obtain and how they obtain it from the Internet, which helps them make better choices. Students are able to process the material they search for and are able to decipher what is factual and correct versus incorrect and not factual. Today computers are everywhere and learning how to properly use them enables students to enhance, improve, and prepare for today and their future endeavors. Furthermore, students gain the ability to learn various ways to gain access to a wide variety of information to help them with their research, projects, and overall knowledge of anything they would like to learn.
Technology provides students with the power to facilitate any type of task they seek from home improvement, to creating a new meal, and redecorating a room. Students can connect all over the world to learn about different geographic locations, cultures, and ethnicities, which enables them to make decisions that could one day make their lives better and more productive. Subsequently, students today have an advantage over most students of yesterday because they have a vast array of information that could help determine what type of field they would like to study, where they would like to travel, and where they may want to live. Technology is constantly changing and providing so many new ways of doing everything in our daily lives and provides the ability to continue to strive to make things better. Students who use technology to gain access to knowledge open new worlds of information to them. Specifically, teachers provide their students the power to do anything they can imagine and dream through the use of technology. Moreover, students today have so much more power and knowledge right at their fingertips than ever before; therefore, educators should be at the forefront teaching their students the right way to gain this knowledge and retain this for their future.
Works Cited
Adams, Lisa G. "Engaging Middle School Students with Technology: Using Real-Time Data to Test Predictions in Aquatic Ecosystems." Science Scope 34.9 July (2011): 32-38. ERIC. Web. 19 Mar. 2012. <http://www.nsta.org/publications/browse_journals.aspx?action=issue&thetype=all&id=10.2505/3/ss11_034_09> Clayton, Mark "A Whole Lot of Cheating' Going On." The Presence of Others: Voices and Images That Call for Response. Ed. Andrea A. Lunsford and John J. Ruszkiewicz. 5th ed. Boston: Bedford/St. Martin's, 2008. 198-203. Print. Demski, Jennifer. "Thinking Inside The Box." T H E Journal 39.1 Jan. (2012): 20-25. Academic Search Premier. Web. 19 Mar. 2012. <http://libproxy.atlantic.edu:2051/login.aspx?direct=true&db=aph&A
Related Topics