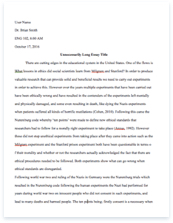 The whole doc is available only for registered users
A limited time offer! Get a custom sample essay written according to your requirements urgent 3h delivery guaranteed
Order Now
"They may have salt, sugar, and fat on their side, but we, ultimately, have the power to make choices. After all, we decide what to buy". Salt Sugar Fat by Michael Moss depicts how large food corporations produce and market products that appeal to consumers to gain hefty profits. Moss concludes that we as consumers have the freedom and personal responsibility to buy healthy foods. However, Salt Sugar Fat provides examples of multiple issues that make it difficult for consumers to make healthy food decisions in the US. The use of research to make formulations that elicit "addictive" physical responses in consumers coupled with the inadequate dietary guidelines provided by the USDA has fueled the obesity epidemic in the US. This raises ethical issues about the role of food corporations in hindering the consumer's ability to make autonomous decisions about what they consume.
In America's capitalist economy, food corporations do not have the obligation to produce food that is healthy for consumers. Their main focus is to make products that are appealing to the consumer, safe to consume, and profitable for the company. Southworth, a food scientist for Kraft, calls it a "marketing and profit thing"(4). In addition, companies have been able to dodge some of the criticism regarding the obesity crisis by putting the onus of food choice solely on the consumers. During a conversation, John Ruff, a senior vice president of Kraft, admits that company only had one goal: "You're looking for the product that people like best"(5). No one was asking questions like whether processed foods with certain amounts of added fat and sugar were too addictive.
The processed food industry has been able to manipulate the "surreptitious" nature of fat to maximize taste and profits. Moss begins this section by explaining why this is particularly easy to do. We cannot taste fat the same way we can taste salt and sugar. In this way, the addiction to fat is analogous to opiate addiction, "the effects are less obvious but no less powerful" than high-speed drugs like methamphetamine. For example, cheese is one of the many examples of fatty foods that consumers are unable to identify as having a high-fat content without being provided with the proper information. Companies invest vast amounts of money in scientific research to be able to exploit this characteristic of fat.
Unilever, a company that makes packaged foods like packaged Ben & Jerry's and Knorr, spent 30 million dollars to study the sensory powers of fat. These teams of scientists were able to help companies figure out the exact amount of fat and other additives needed to produce a positive sensory response in people. Thus, one of the ways corporations were able to manipulate consumers was by producing food that tasted irresistible despite it being clear that the addition of fat and sugar was not in the best interest of health. Processed food has been optimized from crunchiest potato chips to the smoothest ice cream without much regard to the longterm problems it causes in public health.
The US government, mainly the Department of Agriculture (USDA), is an important stakeholder in the issue of the use of fat in the processed food industry. Moss explains that fat is "the lubricant that sustains the $90 billion trade in snack foods" and so the government feels the need to "placate and nurture" the food manufacturing companies. On the other hand, we know that the USDA is obligated to provide healthy dietary guidance based on scientific evidence to the people. However, as a major stakeholder in this issue, the USDA has fallen short on providing proper guidelines and regulations that make it possible for the average consumer to make decisions about buying food without being manipulated by the industry.
"One in three Americans –and nearly one in five kids, aged six to seven –were classified as obese". Yet, instead of providing a guideline to control portion sizes and consumption of fatty processed food, the USDA has responded by "cajoling the people to eat more". In 2011, the reader-friendly guide also did not provide any information on the biggest contributors of saturated fat– processed cheese and meat. Thus, the inadequate response by the government makes them complicit in making it difficult for consumers to choose healthy foods.
One possible response by the USDA to increase consumer autonomy would be to update the way in which information is presented in the Dietary Guidelines for Americans. The guidelines should present information with better clarity about what to eat. In addition to recommendations such as "reducing saturated fat intake from 10 percent to 7 percent", the dietary guidelines should have sections where they identify foods that are high in fat content. So, not only will this make it clear to consumers that they should reduce fat in their diets but also educate them on exactly which foods contain the most amount of fat.
The government could also choose to promote and incentivize small-scale local farms and businesses to provide healthier alternatives to processed food. Frequently, even consumers who are aware of the Dietary Guidelines are forced to eat unhealthy processed food because affordable fresh fruits and vegetables are unavailable in their community. This largely affects low-income families who are already at a higher risk for obesity. Government subsidized production of fresh local food ensures that people in the community will have viable alternatives to choose from. The availability of affordable local produce can be a way to end the hegemony of food corporations in America at a community level and make companies reevaluate the nutritional value of their products.
Through the USDA's school lunch program, the government should support community-based efforts to educate children and encourage healthy eating habits from a young age. This can be a part of the strategy to effectively combat the growing obesity crisis in the US. By targeting children we can raise a generation who are equipped to make educated decisions about nutritional requirements. This is especially important since packaged foods like Lunchables are produced and marketed especially for children.
Finally, the USDA should update its policies on labeling requirements for meat products. They allow meat with fat content 30% to 70% to be labeled as "lean". At the same time, they recommend that people should consume "low-fat" meat which is defined as having a proportion of 3% or less of fat. This inconsistency between the Dietary Guidelines and the labeling of products needs to be changed so that consumers are not misinformed. Labeling requirements need to be changed in order to make sure that the nutritional content of packaged food is not obscured from the consumer. These changes made by the government could mitigate some of the ways in which the food industries manipulate people to be addicted to their products. Despite facing pressure from food lobbyists, the government should make an effort to help consumers make informed decisions about what they eat.
Related Topics