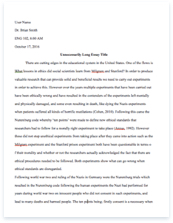 The whole doc is available only for registered users
A limited time offer! Get a custom sample essay written according to your requirements urgent 3h delivery guaranteed
Order Now
The MSM Blood Deferral shouldn't be allowed because it's discriminatory against a certain group of people based on their sexual orientation. There are other plausible ways to make sure people stay safe from HIV.This deferral is targeting homosexuals and has been in place for more than thirty years because of the FDA. Blood organizations fear the high risk of HIV found in homosexuals blood. The FDA argues that the men who have sex with other men are at a much higher risk of contracting and spreading the HIV. In 2015 the blood ban was changed to a blood deferral. This is a current social issue that is all too often overlooked. The fact that homosexual men can't give blood truly amazes me. Heterosexual men are able to have as many sexual partners as they want and can give blood whenever they want. For Homosexaul men this isnt the case, for instance they could only have one sexual partner but if they have had any sort of intimate relation in the past twelve months then they aren't able to give blood.
People tend to not pay attention or even realize that this is an issue because it's not put out to the public enough. Some people find that other topics such as social media issues or what phone is coming out next are more important rather than actual life or death situations going on around the world. According to Nbc News the FDA classifies all homosexual men in the highest risk blood donor category. Even if the homosexual has a clean record they are still considered more dangerous than a heterosexual who has been treated for gonorrhea, syphilis, chlamydia, venereal warts, and genital heresies in the past 12 months. The FDA basically says that a man who had an intimate relationship with another man 30 years ago is more dangerous than a man who has had sex with a prostitute before a 12 month period. They say that this 12 month period is longer than the actual theme it takes for anything to show up in the blood because of errors that may occur and an infection that could possibly be missed.This problem is affecting issues we are trying to overcome such as discrimination and equality.
It is 2018 and we have come so far with freedom for the LGBT community and by having something this important still be an issue today is disturbing and it is as if we are reversing or at a standstill with our accomplishments. According to bloodsource.org there are now fewer than four people out of every ten eligible to give blood. So why are we not allowing eligible donors to donate and possibly save so many more lives in the future? It's not right to necessarily ask people to go on strike and stop giving blood entirely but for people that are willing to help there are many ways that we can take action against this ban one of them being to simply speak out. Just by saying that you don't agree with this ban could always lead into a much bigger debate. The most important thing is that you get involved whether it's on social media or in a public protest. As a whole this problem is much bigger than just you and I but if we can stand all together as one then we can make change happen which could possibly result in many groundbreaking steps for the LGBT community.
Related Topics