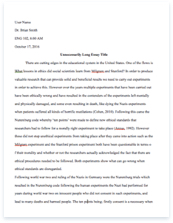 The whole doc is available only for registered users
Pages: 2
Word count: 360
Category: Work
A limited time offer! Get a custom sample essay written according to your requirements urgent 3h delivery guaranteed
Order Now
The Miracle Worker is about Helen Keller who is deaf and blind and initially almost feral child and the struggle of Anne Sullivan to teach her how to communicate. Helen had no manners at all. She would grab food off other people's plates. She would run around the house, and kick and scream. Helen would even throw tantrums when she could not get something, but she'll be quite for a while if you'll give her a piece of candy. When the first time Annie came, she brought a doll with her, to give to Helen. When she gave the doll to her, she spelled the word 'doll' into Helen's hand.
Instead, Helen paid more attention to the doll, than she did learning to spell the word, and she didn't spell it back. Over a period of time, Helen's ability to spell improved. She became more disciplined and obedient with both Annie and her family. Her table manners improved as well. With Annie's determination to teach, and Helen's willingness to learn, Helen became a well-adjusted independent young woman. When Helen was nineteen months old, she developed an illness that resulted in both blindness and deafness.
It's thought that the sickness was either meningitis or scarlet fever. Naturally, Helen's parents felt concern for her future. As Helen grew into a young girl, she became increasingly frustrated with her inability to communicate. She became very frustrated trying to speak and be understood. Since her family spoiled her because they felt sorry for her, she would throw tantrums to get her way and eventually grew wild. Helen never brushed her hair, threw objects, walked around eating off people's plates, and even locked her mother in the pantry.
She learned to recognize her family members by touching their facial features, their clothing, or by detecting a scent of perfume. Helen Keller was a very bright, sensitive, and determined woman. The most remarkable thing about her was that even though she had two disabilities, she never gave up and lived a very successful life. Helen Keller indeed dedicated her life to helping others. She was a writer, speaker, and advocate with a spirit of determination known throughout the world.
Related Topics