"The Making of a Slut" by Naomi Wolf's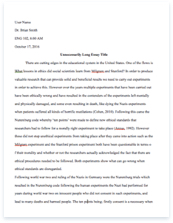 The whole doc is available only for registered users
A limited time offer! Get a custom sample essay written according to your requirements urgent 3h delivery guaranteed
Order Now
Naomi Wolf's essay "The Making of a Slut" describes the conditions and circumstances in which society labels woman as being "good" or "bad" girls and the consequences that go along with each of those labels. It may or may not be morally ok to a "bad" girl. What is important is that a woman does not obtain that label. Wolf makes a point that even after the sexual and feminist revolution, society still has different rules for men and women when it comes down to their sexual history. Society will scrutinize and criticize women more if they are sexually active.
Wolf recalls from her past a girl named Dinah who at one point was a good friend of hers in junior high school until they went their separate paths. The reason for the friendship breakup was that Dinah became labeled as a "bad" girl, and along with this label came the association of being a "slut". Wolf feared that she might be also be labeled as "slut" if she became associated as a "slut's" friend, so she ended their friendship.
Dinah gets the "slut" reputation not from being promiscuous, but from just being herself. Described as a poor white girl whose body had developed faster than most of the other girls her age. Unlike the other girls that also developed early, she held her head high while walking around with a slightly arched back sticking her breasts out instead of trying to hide them by slouching over or by hiding them behind a binder the way most of the other girls did. She wore tight sexy jeans, half tee shirts, and a leather jacket. She would talk and smoke cigarettes with the guys from the band in the afternoons. The image that she depicted was similar to the character named Sandy from the movie Grease after she turns into the "bad" girl towards the end of movie. Because of these factors, people also gave Dinah the label of a "bad" girl.
When Dinah tried out to become a cheerleader, she was not picked even though she was a better dancer than the other girls were. It was not fair what happened to Dinah, but as the saying goes, "that's life". Most people will always judge a book by its cover, and when a woman dresses the part and walks the walk they take the chance of people making the assumptions they must be a "slut".
When Wolf was picked as one of the cheerleaders, she realized that she had received a different label than Dinah. It was obvious that Dinah was more talented than Wolf or any of the other girls. Dinah's reputation as a slut, which was not what the school officials wanted as representing their school, had made her an outcast. Seeing what happened to Dinah, Wolf more than ever did not want to be associated as a slut, and she became more cautious about inheriting the slut reputation.
Near the end of the essay, Wolf writes about an encounter with a friend who tells her how she spent time as a stripper and professional mistress. It is very ironic because the friend was considered to be a "good" girl, but she had been living the part of the "bad" girl. She had somehow escaped the label of the "slut", which proves that people can not judge a book by its cover or judge a person by the way they look.
Related Topics