The Life of General Stonewall Jackson by Mary L. Williamson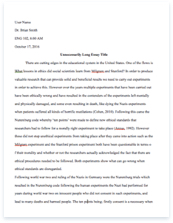 The whole doc is available only for registered users
A limited time offer! Get a custom sample essay written according to your requirements urgent 3h delivery guaranteed
Order Now
Introduction
"The Life of Stonewall Jackson" written by Mary L. Williamson is about the career of Stonewall Jackson as an officer and general in the Confederate Army. The paper tackles the biography of Thomas Jackson. The plain vocabulary and short sentences give a perfect introduction to the subject for younger readers, and the book's excellence qualifies it as literature worthy of an expert's attention.
Body
Published 30 years subsequent to the Civil War, this biography of one of the era's greatest generals comprises a summary of the war and its causes. There is plenty of action for thrill seekers and numerous examples of leadership's principles for students. This book tells regarding young Thomas Jackson as an orphan in Ohio. He went to numerous different places like his Uncle Brake's. In the end he went to West Point.
According to Williamson, Mary L. (1997) as a lieutenant in the United States Army, he achieved an amazing win over the Mexican forces. He was an artillery officer, and with his light artillery went on the way to the strong castle of Chapultepec. The Mexican troops killed or injured his entire unit except Jackson and another man. The two of them with two cannon destabilized the fortress so much that the Americans stormed over the castle walls and took it.
Conclusion
Stonewall Jackson, his very name suggests the image of the solid, immovable Confederate general whose sobriquet, gained at the Battle of 1st Manassas, no longer necessitates quotation marks. But no one has labeled Thomas Jonathan Jackson a "marble man," as impenetrable as the statues which celebrate his valor. General Jackson was plainly a consistent biblical Christian who lived out his faith each day, seriously and with no compromise. Jackson's theology was extremely orthodox, being rooted in the biblical tradition of Knox, Calvin, and Edwards. In a day of true heroes, Stonewall's gallant deeds and honorable conduct still move the hearts of people with admiration. He demonstrates how a Christian soldier should live and die.
Reference
Williamson, Mary L. (January, 1997), "The Life of General Stonewall Jackson", Christian Liberty Pr, 122 pages, ISBN: 1930092210.
Related Topics