The Importance of the Coaching Relationship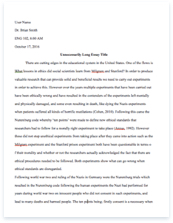 The whole doc is available only for registered users
Pages: 5
Word count: 1080
A limited time offer! Get a custom sample essay written according to your requirements urgent 3h delivery guaranteed
Order Now
Introduction
In the past two years, the pendulum has shifted and leadership have become the center focus in today's business structures. Organizations are focused more on developing variations of leadership styles while implementing mentorship programs and ideologies that would create more influential growth. Business are now investing more money into coaching, leadership development and visual aides that solidify the company's overall goals. This also entails active listening skills, positive influencers that promote better performance, giving/receiving constructive criticism which create developing proteges.
Explain the need for trust, honesty and integrity within a coaching relationship
Trust, honesty and integrity is needed to be creditable within a coaching program. According to Naphtall Hoff (2016), trust is a feeling of security you have based on a belief that someone or something is knowledgeable, reliable, good, honest, and effective. It seems that trust, honesty and integrity is no longer implemented within the government structure but has affected every arena of business. For example, politicians feel if they adopt current leadership values it will procure more votes. However, his/her messages are missing the key components of trust, honesty and integrity within the mentorship relationship. Companies are now looking at leadership programs to differentiate themselves from the other business, while excelling their organizational growth. For example, BB&T recently established a leadership institute in June 2018, in order to train employees to become innovative leaders that will have the ability to resolve real-world business oppositions within the company
Discuss active listening and the techniques used in its performance
Proper communication within coaching relationships involves active listening. The five active listening techniques that should be implemented in the workplace which includes: focus – avoiding distractions (no cellphones), multitasking and minimizing bad habits; body language- looking directly at the person whom your speaking with or vice versa, while using physical gestures to acknowledge what he/she are conveying; interaction – avoid interrupting a person while he/she are speaking to ensure you are fully engaged and he/she won't lose their train of thought; understanding – ask questions to make sure you fully understand the message without prudence and reflection – recite his/her message to them while highlighting key points to convey your understanding and demonstrate active listening skills (Benjamin, Tia 2018). Active listening opens the lines of communication and clearly relays your understanding of what is being conveyed.
Determine the meaning of influence and how it is used to bolster performance
Influence and performance always been essential since the 1980's. For example, when MTV first came on the air in 1981, viewers were immediately influenced by the red short, bedazzled leather jacket worn by Michael Jackson in the music video entitled "Beat It". In addition to his legendary dance move known as the "Moonwalk". This created an influx of sales of red leather jackets, penny loafers and an increase of various dance movements.
In the age of Youtubers, influencers are changing the status quo on anything from the natural hair movement to social change. For example, as a hairstylist for over 20 years, I have seen hair product brands that have disappeared and other brands flourish. Women of color are no longer using chemicals to straighten their hair, but have become more acceptable to their natural hue. This particular action has created a natural hair movement, which caused a decrease in relaxers and an influx of natural hair care products. In addition, this created an ongoing debate of how women of color should wear their hair in the workplace and military, which in return violated their human rights and caused social injustice.
The influence of others can shape the minds of individuals in a positive or negative way. For example, when The CEO of Papa John's made a negative comment about the NFL and race, this caused a catastrophic decline in sales and the stock plummet. This also caused a demise with Papa John's relationship with the Olson Engage Public Relations firm, shareholders and board members, which ultimately led the resignation of the CEO, John Schnatter.
According to Susan Tardanico (2011), there are five measurable influencing styles which include:
Asserting – insisting that your ideas are being heard while challenging the ideas of others.
Convincing – Offering logical, rational ideas from your point of view.
Negotiating – searching for various compromises while implementing the necessary deductions to create better outcomes.
Bridging – building relationships while building associations through effective listening and understanding.
Inspiring – fighting for your views to be heard while encouraging others with a sense of shared purposes.
In order to avoid the grouping approach, you must implement each step with great influence to create a desired outcome.
Examine the importance of giving and receiving feedback
Giving and receiving constructive criticism is very important for developmental goals and personal satisfaction. Feedback, whether positive or negative allows an individual to adjust their approach and seek help when necessary. By utilizing strong feedback strategies, allows the trainee to be more engaged with better performance, building confidence and overall motivation in the workplace. According to Jody Michael (2018), there are six strategies that are helpful in giving and receiving effective feedback which include:
Time is Right – Set an allocated time to give proper feedback and avoid being emotionally charged
Prepare- Be professional when preparing your feedback session by utilizing examples and statistics;
Ditch the "sandwich approach"- an ineffective approach that has lead to transparency and create a sense of anxiety due to luke-warm praise; develop a more authentic approach instead;
Discuss the process of developing proteges
Through coaching and training methods, organizations want the apprentice to mimic the knowledgeable coaching styles and experiences of the mentor. However, the role of the mentor has evolved from tradition (one-on-one/senior-junior) into reverse mentoring: protege becoming the senior to the mentor; peer group or networking mentoring: the mentor role shifts among a group of peers; group mentoring: a group of proteges working with a mentor, one protege woking with a group of mentors or many proteges working with two or more mentors; organization-to-organization mentoring: traditional, reverse, and group mentoring being shared between organizations. By creating a clear concise mentoring structure allows the protege and mentor to build rapport, identify long-term objectives, setting framework, checks/balances between the mentor and protege in addition to formally ending the relationship once the goals have been met (Johnson, Julie 2017).
References
Hoff, Naphtall. "The Importance of Building Trust." Huff Post, 3 Mar. 2016, www.huffingtonpost.com/naphtali-hoff/the-importance-of-buildin_1_b_9366838.html. Accessed 2 Oct. 2018.
Benjamin, Tia. (n.d.). Active Listening Techniques in the Workplace. Small Business – Chron.com. Retrieved from http://smallbusiness.chron.com/active-listening-techniques-workplace-31189.html
Tardanico, Susan. "Five Steps to Increase Your Influence." Www.Forbes.com, Forbes, 21 Dec. 2011.
https://www.forbes.com/sites/work-in-progress/2011/12/21/five-steps-to-increase-your-influence/#4570b1ba372c
Related Topics