The Importance of Education for Future Employment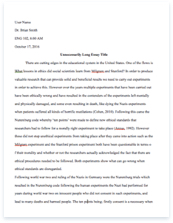 The whole doc is available only for registered users
A limited time offer! Get a custom sample essay written according to your requirements urgent 3h delivery guaranteed
Order Now
"Over 44 million Americans collectively hold nearly $1.5 trillion in student loans."(Hess, 2018).
Would you attend college if it was free? Who wouldn't want to take that opportunity, Having to pay no tuition and the classes each semester that would be an amassment amount of money you or your parents will be saving. Don't you think? Especially if you plan on attending college for more than 3 years.
Now in days high paying jobs require an exceeded amount of education. According to a source "In the workplace, 85% of current jobs and 90% of new jobs require some or more college or post-secondary education."( 2018). Almost every student plans on having a successful job and/or career. If everyone were to attend college the employment rate would decreased. It will be advantage for our economy and government by having to pay less taxes because not many people will depend on government benefits. As a result of everyone being educated we would have a brighter society and a stronger workforce.
When planning to attend a college, first thought that comes to mind; how expensive tuition fees can be? Students have dropout of college due to it being overpriced. Not many students are able to afford high priced tuition adding to the reasons of why they decide to drop out. A reference states that "Over the past three decades, tuition at four-year colleges has more than doubled, even after adjusting for inflation."(Samuels, 2012). The chances of someone succeeding after graduating with high amount of debt is very low.
Having the responsibility of working and studying can be very overwhelming. If students did not have the obligation of paying their funds and just focusing on school their grades could be more efficient. It can also, allow the students to place all their focus on school rather than collecting funds for the upcoming semester. Studies shows "only 30% of Americans who start college or university end up graduating, and this represents a huge waste of time and money." (2015). Students not having the responsibility of working can improve the graduation rate drastically.
Overall college being free has many benefits, not only for students but our economy as well. It gratix the future of the upcoming graduates giving them the opportunity that many of us do not hold. Looking out for the future generations restates our compassion towards society and resolves a obstacle. The importance of graduating with high degrees results a better health and happiness.
Related Topics