The Impact of Technological Progress on Health Care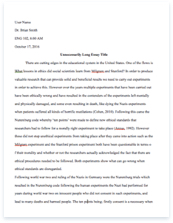 The whole doc is available only for registered users
A limited time offer! Get a custom sample essay written according to your requirements urgent 3h delivery guaranteed
Order Now
Over the years of technology advancements took the world by storm helping people from business to medical technology. The more people come together to improve and help advance the technology used today it helps every individual in different areas of the world. Healthcare professionals and patients are both able to access certain data and use applications from any internet-enabled device. Another one would be the purpose of Health IT is to provide better care for patients and help achieve health equity.
Health IT improves the quality of healthcare delivery, increases patient safety, decreases medical errors, and strengthens the interaction between patients and healthcare providers. Improving quality of life is one of the main benefits of integrating new innovations into medicine. Medical technologies like minimally invasive surgeries, better monitoring systems, and more comfortable scanning equipment are allowing patients to spend less time in recovery and more time enjoying a healthy life. Physicians with new ways to improve the quality of care delivered to their patients and improve the state of global healthcare. The number one concern revolves around increasingly impersonal patient-doctor interactions. Studies, however, state that artificial intelligence might be able to free up a doctor's time, affording them more time to interact with their patients. Only time will tell, but the data is promising. Technology has made a whole bunch of improvements even for the medical field improving various tools and implements like electronics health records and respect for patient privacy and how it is better than keeping physical records, tele-homecare and its importance and how it is better to go out the way to go to the ER, and healthcare operations management and why the more technology improves, healthcare improves.
Electronic Health Records or EHR's also playing a role in patient privacy and how it affects everything. However, EHRs are the first step to health care. The benefits of electronic health records include better health care by improving all aspects of patient care, including safety, effectiveness, patient-centeredness, communication, education, timeliness, efficiency, and equity. EHRs are better than the analogue versions of getting information for patient at ERs and less time consuming than the other options. Paper records take up space and are less environmentally friendly, paper records also tend to worsen over time. Electronic medical records can be stored in the cloud allowing the use of fewer resources. With electronic medical records, medical professionals have access to the data they need instantly. EHRs are not only better for the medical field when it comes to access but also the planet as a whole.
With various occurrences like frauds and people stealing sensitive information, the best way to prevent such an act is patient privacy: practice of maintaining the security and secretiveness of patient records. It involves both the informal caution of health care providers and the security of medical records. If a person had a disagreement about patient privacy, is stating gaps in legislation, lack of trust in the system, and lack of patient control over their electronic data. Federal legislation, seek to safeguard protected health information. "Covered entities face a lower risk of liability under the safe-harbor pathway. Sharing is not subject to the minimum necessary standard, and covered entities are not responsible for acting on their knowledge of unpermitted transactions by the recipients of data. They are liable only if the shared data are not properly deidentified" (Sarpatwari, p.1647). This is stating that even if a person's information is stolen or is taken, the person's face will be blanked also their info as well.
Telehealth care is quite revolutionary in this day and age. Telehealth care is the issuing of health-related services and information through electronic information and telecommunication technologies. It allows long-distance patient and clinician contact, care, advice, reminders, education, intervention, monitoring, and remote admissions. Allowing people who are states away to get the healthcare they need. At the end of the day, this is better than the alternative having to drive somewhere and wait for help when instead of going online and saving half the time and the stress. Today's telehealth platforms no longer require big upfront overhead costs but are part of monthly subscription packages that are as secure and health insurance compliant as they are affordable. A good benefit of telehealth care would be potential to change the way patients are educated about their conditions. By using virtual particular to educate patients, healthcare providers can improve accessibility and efficiency of care. Making it easier for patients to learn about their medical problems, etherealness this alone is better on the since that if someone were to go to their doctor in person not including the time it takes to get there and wait, the so said person may not ask every question they need let alone get every question answered.
Now if you were to include the time it takes to wait and get there to the doctor's office it would have been much quicker online or having access to your doctor. Leading the push toward the use of a technology whose benefits have been proven for specialists and primary care providers. The common argument about telehealth would be the cost of it. However, with a telehealth visit, the doctor comes to the patient on their phone, laptop, or another digital device.
Lastly, healthcare operations management has improved its respect field in most recent years. Healthcare operations manager acts as a connection between the clinical staff and the recipients of healthcare services. "Healthcare networks are becoming ubiquitous, yet it is unclear how hospitals with varying quality capabilities would fare by being affiliated with large healthcare networks" (Anand, p.109). This position manages the financial wellbeing of a healthcare facility, implements policy, and manages the medical and non-medical staff. Technology improves management for everyone from the CEO of the ER to the boss of a small doctor's office. Effective health care operations management goes beyond improving productivity and earning more money. Health care operations strategies and software facilitate the efficient provision and delivery of health care services to patients and communities in the long run save and improve. The only downfall of this is may be one of the most stressful jobs around. These top executives work long hours managing budgets and employees. Stress levels vary, depending on the size of the institution.
With different companies over the years and decade improving technology. At the same time improving the places like medical centers and local hospital over the world. With EHR making it harder to get into a person records and easier for other medical center to get a person information in a decent time. Even making a patient privacy harder for people to access a patient file and sensitive information. Allowing people to contact their own doctor and get help at a faster past with telehealth care. With the way the world advances the more the medical field will improve.
Related Topics