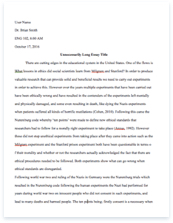 The whole doc is available only for registered users
A limited time offer! Get a custom sample essay written according to your requirements urgent 3h delivery guaranteed
Order Now
1.Location of the stores are in or near crowded places. It usually has a lot of foot traffic (school, malls, train stations, recreation areas, etc) It's an advantage that Hen Lin stores are located in crowded places and exposed to a lot of prospective customers.
2.The company joins activities that can help it become (more)well-known.
3.The Hen Lin mascot. It helps get prospective customers' attention (esp. that the mascot can dance)
4.The food products itself are satisfactory to the taste based from the consumers.
5.The crews are accommodating and friendly
6.The prices are affordable. Some customers even describe Hen Lin as "Chinese version of McDonalds" due to its affordability.
7.Hen Lin let schools (universities, colleges and high schools) conduct tour on their plantation. This can also help the company become more exposed and well-known to people (esp. students)
8.Hen Lin observes cleanliness in working area/plantation
9.Hen Lin is a franchise company itself. Therefore, it is much easier for the company to expand and put up lots of branches in all parts of the Philippines.
10.Hen Lin has some TV appearances and billboards. The company do this from time to time and it help advertise the product.
11.The service crews are efficient, friendly, provide good service and always smiling.
12.Hen Lin serves the best siomai. Hen Lin serves varieties of siomai japanese siomai, shrimps, pork and beef. It's tasty and meaty.
13.Hen Lin is best for the people in a hurry. Because of crews' quick and efficient service, Hen Lin can be a great food stall for people in a hurry.
14.Hen Lin offers delicious siopao
15.Hen Lin's website is very comprehensive and informative
16.M& H Corporation (Hen Lin) value Excellence, Commitment, Integrity, Innovation and the spirit of "Damayan" 17.Hen Lin conducts raffle promo from time to time which can also be a good advertising activity.
WEAKNESSES
1.There are so many extenders and artificial flavorings added on the food.
2.Brand visibility. The products are not well-advertised; doesn't have commercials on national TV so it's hardly known by some.
3.Franchise fee has increased that made some potential franchisees hard to franchise Hen Lin.
OPPORTUNITIES
1.The growing technology and growing population of internet users. Social media (i.e., Facebook, Twitter, Youtube, Instagram, Pinterest, etc) is definitely part of people's everyday lives. It is an excellent medium that can be used to have the product advertised.
2.The food market, while somewhat effected by economic downturns is somewhat immune because food in many forms is a basic necessity.
3.Increase in sales from university-related and other events.
4.The company may sponsor events which can also be a form of advertisement.
5.Increasing number of shopping centers. The opening up of shopping centers and community supermarkets both in Metro Manila and in key provincial cities will provide lucrative venues for fast food/ food stalls.
THREATS
1.Increasing number of restaurants/food chains that serve high-quality fast food.
2.Potential competition from larger, well established competitors.
3.Unstable economy of the country may affect consumer's ability to purchase.
4.Increase of rice flour and sugar price. Rice flour and sugar are needed for Hen Lin's Buchi, Hopia, Dim Sum and wrapper for Siomai.
5.Increasing cost of Petroleum Gas. It is a one of the major factors every company face. Except for logistics purposes, gasoline is used by food corporations to prepare the food. Food corporations need gasoline twice as much as other companies do. When gas cost increases, everything increases too.
6.Increasing cost of rice in the Philippines. Hen Lin also offers rice.
7.Increasing cost of electricity.
8.Other competitors that offer low prices.
SOURCE:
* https://www.facebook.com/officialhenlinfanpage
http://www.henlin.com/
http://www.tripadvisor.com.ph/Restaurant_Review-g298450-d2002543-Reviews-Hen_Lin-Makati_Metro_Manila_Luzon.html http://ph.openrice.com/info/restaurant-menus/asian-cuisine/henlin.html http://www.pinoy-entrepreneur.com/2010/02/26/hen-lin/
http://tsikot.com/forums/career-finances-business-92/hen-lin-franchise-25147/ http://fastfoodmenuonline.com/hen-lin-siomai/
http://www.delightmyappetite.com/2013/09/hen-lin-siomai/
http://www.reviewstream.com/reviews/?p=42999
http://www.kusinaniteds.com/2014/03/pork-shrimp-and-crab-dumpling-siu-mai.html http://visitpinas.com/hen-lin-dimsum-siopao-noodles-toppings/ http://www.forumcash.com/wordpress/henlin-siomai-franchising/ http://www.franphil.com/hen-lin-franchise/
http://www.euromonitor.com/fast-food-in-the-philippines/report http://ph.openrice.com/manila/restaurant/hen-lin/15160/
http://looloo.com/p/39517-hen-lin
https://www.facebook.com/HenLinFEUHospital/photos_stream
http://www.pinayreviewer.com/tag/hen-lin-promos-giveaways-contests/ http://eatallyoucanallyoucaneat.blogspot.com/2011/04/do-you-like-siomai-do-you-like-it-fried.html http://food.silkenhut.com/hen-lin-siomai/
http://manila-life.blogspot.com/2010/09/hen-lin-gives-you-free-mami-and-chance.html http://fastfoodmenuonline.com/hen-lin-siomai/
http://www.delightmyappetite.com/2013/09/hen-lin-siomai/
Related Topics