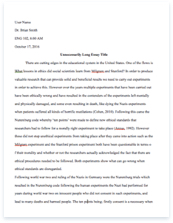 The whole doc is available only for registered users
Pages: 6
Word count: 1277
Category: Law
A limited time offer! Get a custom sample essay written according to your requirements urgent 3h delivery guaranteed
Order Now
            Nothing can be more exhilarating than having freedom within your reach. Heroes died for it. Others sacrifice much of their own happiness. Some waited for so many years to enjoy it. The excitement and thrill that freedom brings are more precious than gems and valuable stones. Yet like the most expensive and luxurious piece of jewelry, freedom comes with a high price. The more that freedom is pursued, the more that an individual feels imprisoned. As the great philosopher, Jean Jacques Rousseau noted, man is free but everywhere he is in chains.
            The difficulty of pursuing liberation originates from the fact that humans become more aware of the weaknesses that they posses. The more that an individual is exposed to these things, the harder it becomes to overcome those things. Human nature sets in and fear along with discouragement becomes frequent companions.
            However, Don Miguel Ruiz provides a preview of the highest possibility of achieving freedom in the truest sense of the word. Ruiz created a code of conduct, similar to those of the ancient samurais that will enable mankind to celebrate the goodness of life and be the god that he is destined to be. These are the Four Agreements.
            Ruiz's Four Agreements can be perceived as an ultimate paradox of breaking "social irons" that have captivated men. But on the other side of the story, if freedom equates to liberation, then it seems that adhering to yet another set of agreements results to another imprisonment. Indeed, The Four Agreements tend to stand for life's irony. But then again, if there is one thing that would imprison the four agreements' practitioners, it would be no less than unconditional love. Courage and self-confidence also follow. These above-mentioned noble values, if joined together bring personal freedom that is applicable to everyday struggles and endeavors.
            Ruiz's (1997) discussion of the Four Agreements begins with how "attention" plays an important role in the so-called domestication of the planet. Through attention, an entity gains knowledge and information about how the whole social order operates (Ruiz, 1997). These accumulated beliefs and values serve as a functional guide on how a human being relates to other people. But this is not limited to socialization per se. Acquired data also become a part of one's ideological stand. Ruiz stated that all of these can be found in the so-called "Book of Law," or in layman's term, belief system (Ruiz, 1997). Although a person creates his or her own belief system, this does not necessarily mean that he or she firmly adheres to it. The reason behind the imprisonment of many entities can be traced from fear. Many are afraid to go against the norms which further refrain them from acquiring personal freedom. The Book of Law is mainly personal agreements that a person established for himself or herself (Ruiz, 1997). This brings the feeling of safety and security. But it delimits the individual from being true to himself which subjects him to more sufferings and sadness.
            The Four Agreements is another Book of Law but with a different perspective. The main dogmas that are embedded in the book are as follow: Be impeccable with your word; Don't take anything personally; Don't make assumptions and Always do your best (Ruiz, 1997). At first glance, the four agreements are only applicable to saints—that no mortals can ever practice it. But the main point of Don Miguel Ruiz is that difficulties do not mean that a person cannot readily accomplish it. If there is one thing that makes the four agreements complicated is that the path to goodness is indeed difficult. The Book of Law is everybody's comfort zone. Going against it is perceived as stupidity by others. If the Book of Law is already providing safety and security , why would one opt to abandon it and enter a very unsure world. Aside from fear and lack of courage, it is also uncertainty that prevents many individuals from opening their eyes and mind into the Four Agreements.
            However, if one would critically assess each of the agreements suggested by Ruiz, it can be seen that these are just simple rules that many has already learned, yet failed to practice. For example, being impeccable with one's word does not mean that one should resort to hypocrisy to avoid words that hurt. This can be very difficult, most especially in the most depressing situations and in instances wherein an outburst of emotion is most likely to occur. The Four Agreements recommends that man should be true to himself. Therefore, to see impeccability of the word as something that is tantamount to hypocrisy is no less than an understatement. Once and for all, the first agreement simply pertains to the act of being tactful. An individual, no matter how much pain and suffering he or she may have caused is still a human being that has the ability to feel. The mere fact that he or she is human still demands a certain amount of regard and respect. This is applicable to all scenarios—whether a person did something good or bad, being tactful should be still observed. The first agreement also connotes composure. More often than not, negative feelings tend to push an individual to the limit that they say things which they do not really mean. As a result, the chances of fixing the relationship slowly disappear.
            On the other hand, the second agreement which focuses on not taking things personally is no less than knowing oneself. A person who really knows who he or she really is cannot be affected by what other people say unto him or her. Oftentimes taking things personally occur because we are bombarded with information on how other individuals perceive us. Since socialization is needed to continue a healthy way of life, these perceptions often reveal the imperfection of an individual and therefore make him or her less capable of mingling with other person. However, if a person truly knows himself or herself, these perceptions can hardly have an impact on him or her. Actually, the second agreement is the first step for an individual to go against the planet's domestication and therefore create his own destiny.
            In the meantime as for the case of not making assumptions, it is more of having the courage to face one's personal fears. Asking questions yield to acquiring more knowledge. It is a learning process. But it becomes more complex since many are blinded to the illusion that they already know everything. Many are too afraid to accept the fact that asking questions may reveal some of their weaknesses. However, one should always remember that strength is developed when a person is aware of his or her limitations.
            Lastly, doing one's best is more of a cliché. Yet, this is one principle that is seldom practice. More often than not, a person is hesitant to give his or her best because they have already programmed their minds that they would not get something in return. This is why they settle for mediocre work or output. However, giving the best is the question of how much a person can give rather than how much a person will receive.
            The bond that the Four Agreements created is indeed more complicated than the ones set by the planet. However, if the Four Agreements are the only keys to personal freedom and pure happiness, then so be it.
References
Ruiz, D. (1997). The Four Agreements.  Berkeley, California: Publishers Group West 
Related Topics