The Effectiveness of Drugs Use in Rehabilitation Centers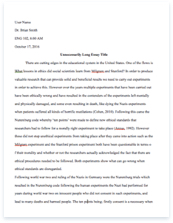 The whole doc is available only for registered users
A limited time offer! Get a custom sample essay written according to your requirements urgent 3h delivery guaranteed
Order Now
Should the Texas Health and Human Services Commission Support the Use of Diacetylmorphine-Assisted Treatment in Rehabilitation Centers?
Canada's change to its Controlled Drug and Substances Act in September 2016 may have provided the spark that changes the way the United States views drug policy. The Canadian government would now allow doctors to us diacetylmorphine-assisted treatment to support a percentage of patients with opioid dependence. This doesn't sound like a big deal until you replace the name "diacetylmorphine" with its synonym "heroin". A couple years have passed since then and now a couple of states in the United States have launched pilot programs to gain more information about its use in treatment. With new research and pilot programs, the promise of using diacetylmorphine-assisted treatment keeps rising. However, already having access to other effective treatments for addiction, such as methadone, seem to make the addition obsolete. With other states taking the step towards this new method of treatment and an existence of older methods of treatment, the question arises: Should the Texas Health and Human Services Commission support the use of diacetylmorphine-assisted treatment in rehabilitation centers?
One of the social issues that both of these solutions combat is the age-old problem of drug abuse in the United States. The Centers for Disease Control has reported that 76% of the 12 million Americans abusing prescription drugs are consuming drugs that were prescribed to someone else. Texas is no stranger to the abuse of prescriptions. Harris County, located in Texas, accounted for one quarter of all the hydrocodone prescriptions in the state in 2011. Abusing prescriptions long enough can lead to literal dependency to avoid side effects of disuse. Once someone becomes dependent, the struggle to abstain begins. A rarely mentioned topic about opioid drug abuse is the struggle that comes with the recovery.
The symptoms that come along with recovery include sweating, diarrhea, vomiting, abdominal cramps, chills, anxiety, insomnia, tremors, and more. Luckily, researchers have found a variety of treatments to combat addiction and reduce the symptoms that come with recovery. Although there are means to help those with drug dependence, the price for the support needed to recover can add up. The price of medication may be cheap, but there are other factors to consider when it comes to recovery. Supportive services such as drug tests, counseling, and others may contribute to the amount it costs to successfully recover. Studies have looked into the cost-effectiveness of using heroin assisted treatment compared to opioid substitution treatment.
Studies in the countries of Switzerland, Germany, and the Netherlands report the cost of heroin assisted treatment programs to come out to be between €12,700 and €20,400 per patient per year which translates to around $14,500 and $23,000. A Modern Healthcare article states that the annual cost of treatment with methadone in a treatment program is about $4,000, including all additional services. Comparing the price of both treatments, there is a considerably higher cost to use heroin assisted treatment. These different methods of recovery can yield different results when it comes to the future of the patient. Research has shown that heroin assisted treatment improves outcomes for selected patients, decreasing drug illicit drug use and its harms. Others believe the misconception that these types of treatments don't aid with recovery, but that they only substitute one opioid for another. Mid 2017 Tom Price, the secretary of the U.S. Department of Health and Human Services, fed to the belief by stating that medication assisted treatment is "not really moving the dial much".  Medication assisted treatment, however, has repeatedly been effective in safe environments by helping meet cravings and reducing withdrawal symptoms. The Centers for Disease Control and Prevention, National Institute of Drug Abuse, and World Health Organization all acknowledge that medication assisted treatment is a viable contributor in combatting opioid addiction.
When first researching, the scope of the paper was far too broad. Instead of focusing on policy changes to the United States, the paper will focus on a particular state. That is because when looking at the United States as a whole, each individual state can create and have policies that conflict with the federal government. For example, marijuana reform. States like California, Colorado, and Nevada all have policies that make the drug available for purchase while the federal government still considers it to be an illegal substance. Because of situations like this, it is easier to look at policies at the state level. Another topic narrowed down in the paper is the type of drug addiction that rehabilitation centers treat. It is common knowledge that rehabilitation centers offer multiple programs for multiple types of addictions. The paper will only discuss treatments for people that are dependent on opioids because of the multitude of treatments available.
Providing history and background information on the topic is essential in setting up the foundation of the paper. The National Institute on Drug Abuse states that in the 1930s, people addicted to drugs were thought to be morally flawed and lacking in willpower. Those views shaped society's responses to drug use, treating it as a moral failing rather than a health problem, which led to an emphasis on punishment rather than treatment. The abuse of opioids and other substances weren't addressed as intensely until the late 60s and early 70s when Richard Nixon and other politicians campaigned against them.
The initiative began when President Richard Nixon signed the Controlled Substances Act (CSA) into law in 1970. The Controlled Substances Act classifies drugs in different "schedules" based on their medical application and potential for abuse. The schedules range from 1 to 5. Scheduled drugs are classified by their high potential for abuse and severe psychological or physical dependents, 1 being the most severe while 5 is the least. Opioids, LSD, and other drugs are included on the list of Schedule 1 drugs. Then, in June 1971, Nixon officially declared his "War on Drugs," stating that drug abuse was the nation's number one public enemy. The newfound motivation to reduce drug dependency led to the United States seeking viable methods of recovery. The United States found a reliable method to treat addicts after researchers at the Rockefeller Foundation developed a system of dosing addicts with methadone to prevent use of heroin in the 60s. Today, about 115,000 people receive this sort of treatment, and thousands more have benefited from it in the past.
In general, researchers concluded that patients' social functioning improved with time in treatment. They concluded this by looking at the rate of illicit-opioid use, the outcomes of employment, school attendance, and living arrangements. There, however, have already been studies looking into recovery. The British have had HAT (Heroin-Assisted Treatment) since the 1920s, but it was de-emphasized in the 1960s-1980s due to the U.S. war on drugs and its zero tolerance policies. The British responded to concerns about the treatment of addicts in the 1920s and formed a committee, referred to as the Rolleston Committee, that set out to consider the best methods of treatment. The report produced by the committee, referred to as the Rolleston Report, reaffirmed the doctor's freedom to prescribe opioid drugs to certain addicted patients in defined circumstances. The report supported the use of both heroin and methadone as methods of recovery and became a hallmark of British drug control. This famous approach to drug control is now referred to as the British System.
Right now, methadone and buprenorphine are the standard medications used for opioid substitution therapy, but they don't seem to be the working for some patients. Liz Highleyman, a writer for NAM publications, states that around fifteen to twenty-five percent of patients who inject heroin will not respond well to methadone. The article supports the idea that there is a demand for alternative types of treatment. With research continuously being done on the topic of rehabilitation, scientists are able to compare the outcomes of different solutions and draw conclusions based on these results. The European Union, a pioneer in HAT, argues that heroin is a viable maintenance drug which has shown equal or better rates of success than methadone in terms of assisting long term users establish stable lives. That being said, they are not concluding that HAT should completely replace other methods of recovery. What if patients abuse the right to use this method of recovery? That possibility is diminished due to the amount of supervision that is administrated at the time of treatment. Dr. David Marsh, an addictions researcher at the Northern Ontario School of Medicine, states that no one worldwide has ever died of an overdose in heroin-assisted treatment. Looking at research done in other countries, it's safe to assume that heroin assisted treatment should be a viable option available to those who really need it.
The opposition believes that adding this method of recovery to the list of other viable solutions seems redundant and would only promote heroin use. These people argue that there are other viable options that are already available that are just as effective in reducing illicit drug use. The WHO contains a guideline to the management of withdrawal symptoms that occur with addiction recovery. The guideline reports that clonidine, buprenorphine, methadone, and codeine phosphate can all aid with withdrawal symptoms associated with opioids. Some stakeholders believe that we don't need to add an illegal drug to the list of medications used in treatment because of the already existing methods of recovery. Researchers for NAOMI and SALOME stated, "In jurisdictions where diacetylmorphine is currently unavailable, hydromorphone provides a safe, effective and licensed alternative." Their statement supports the oppositions idea that results of trials in heroin assisted treatment shouldn't convince the public that we can completely replace existing methods. Another reason for excluding heroin from the list has to do with the fact that it's easier to monitor the use of illicit heroin. Other medications differ from diacetylmorphine in that they can be distinguished from illicit heroin on a urine test. Being able to closely monitor a patient's recovery process with drug tests increases the chance of recovery.
Related Topics