The Concept of Maslow's Hierarchy of Needs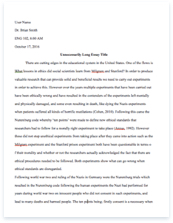 The whole doc is available only for registered users
A limited time offer! Get a custom sample essay written according to your requirements urgent 3h delivery guaranteed
Order Now
Abraham Maslow developed the theory of human motivation called Hierarchy of Needs. It suggested that people need to be satisfied by all physiological needs before move on other high-order needs. I learned this concept in my secondary school which introduced how Hierarchy of Needs can be used in business management. At that moment, I can't realize how this concept can be applied to manage people in companies, since I was student. It was difficult for me to imagine how this theory can be practically applied in the business world. When I study Consumer Behavior in this master course, it arouses my interest to understand that this theory can be applied to interpreting how consumer goods and services can be perceived as satisfying different levels of needs of consumers. In reality, many marketing strategies are used this concept to reflect in different advertisements.
Maslow's hierarchy of needs looks like in the shape of a pyramid. It suggested that we seek to satisfy lower-level needs first, and must achieve this satisfaction before higher level needs emerge. Let's briefly introduce five levels in hierarchy of needs as followings:
Physiological Needs
The first and most basic level of needs – include food, water, air, shelter, clothing, sex.
Safety and Security Needs
These needs are concerned with much more than physical safety – order, stability, routine, familiarity, control over our life and environment, knowledge.
Social Needs
These include love, affection, belonging and acceptance – friendship, family, sexual intimacy etc.
Esteem Needs
These needs can be take either an inward or an outward orientation. Inward orientation – self-acceptance, self-esteem, success, independence and personal satisfaction with a job well done. Outward orientation – the needs for prestige, reputation, status and recognition from others.
Self-Actualization Needs
This is the highest level in this concept, which including morality, creativity, spontaneity, problem solving, lack of prejudice, acceptance of facts etc.
In the following, it will discuss more about how the concept of Maslow's hierarchy of needs have been applied in reality in terms of marketing and business aspects.
First of all, Watson's water releases the advertisement to invite Lee Wai Sze (Hong Kong professional racing cyclist) as its celebrities, which delivers the message regarding self-achievement by high degree of concentration and stick at positive belief. Water indeed is a basic physiological need, through marketer's strategic, it tries to appeal to the self-actualization needs to the market.
Another example is the BEA advertisement emphasizes on "family" concept. The content mentions that mum prepared the soup ingredients in her daughter's suitcase. When the daughter arrived Shanghai to open her suitcase and discovered the soup ingredient then made her miss the family. BEA bank would like to deliver the message related to warm supportive and comprehensive services no matter in Hong Kong or China, since it comes from same home – Hong Kong. From this case, marketer uses the concept of social needs to linkage family and bank service to the customers.
On the other hand, cosmetic products always emphasizes on esteem needs to target customers, for instance, SKII. It invites many popular female celebrities to tell how the products work, e.g. Tong Wai, Lau Ka Ling, Lee Sinje etc. It emphasizes the products can offer you better skin quality and look younger after usage in order to strengthen confidence – a self-esteem appeal.
Apart from marketing perspective, I would like to use my working company as a real life example to illustrate the concept of the hierarchy of needs in business point of view. Undoubtedly, the company offers basic salary to fulfill every employee's physiological needs, i.e. foods, shelter, clothing in the daily life. After this first level of needs is satisfied, the company offers medical insurance scheme, dental scheme, work skill and knowledge talk to employees etc. It is able to provide the safety needs to the employees. In addition, the company also concerns social needs which hope the employees have belonging feeling.
For example, the company holds different interesting clubs to encourage employees to gather and share the hobbies in holidays, e.g. hiking club, biking club, running club etc. Apart from these clubs, the company also organizes annual dinner in order to offer a chance for different departments gather together in a relax atmosphere. The forth level is esteem needs. The company would reward those outstanding performance colleague though global announcement intranet system, which can strengthen employee's confidence and create higher motivation to achieve good result in company. The last level is self-actualization, it may focus on top management how to achieve beyond its capabilities, for example, they can enjoy the bonus based on company's profit.
Maslow's hierarchy of needs is widely accepted in many social disciplines. However, it still has some weaknesses. Firstly, it is difficult to measure how people are satisfied in every level. There is no methods to measure precisely how satisfied one need is before the next higher need become operative. Secondly, in reality, people may seek different needs simultaneously, for instance, consumer would like to buy the car can offer safety and esteem needs. Thirdly, this theory doesn't take account of age group consideration. Some old age people concern highest level of security, while young adults seek for the highest esteem and self-actualization level. Finally, this theory can only be applied for general situation; cultural factor may affect the hierarchy order in some situation.
For example, in Chinese culture, many people put esteem needs ("face") higher rank than other needs. In addition, Chinese people are taught to respect elderly and take care children as behavior norm. Whenever disasters happen, we always see those adults to prioritize foods and drinks to elderly and children in TV news. Besides, another example is voluntary workers would seek esteem and self-actualization needs to help other, they might give up safety and social needs.
To conclude, despite above criticisms, Maslow's hierarchy can be a useful tool for understanding consumer motivations and business management widely. In reality, our behaviors mostly follow this given order in a certain degree. In this regard, this theory can enable marketers to communicate with their target customers by this meaning and personal level that goes beyond product benefits.
References:
1. Frank R. Kardes, Maria L. Cronley, Thomas W. Cline, "Consumer Behaviour", 103-106 2. Leon Schiffman, David Bednall, Aron O'cass, Angela Paladino, Leslie Kanuk, "Consumer Behaviour" Edition 3, 81-85 3. http://uwmktg301.blogspot.hk/2010/01/maslows-hierarchy-of-needs.html 4. http://smallbusiness.chron.com/description-marketers-can-use-maslows-hierarchy-needs-39333.html 5. http://eng.hi138.com/?i194226
6. Watsons Water – http://www.youtube.com/watch?v=UBx1BvbF_hU 7. Bank of East Asia TV Commercial 2010 – Mother's Soup – http://www.youtube.com/watch?v=agmMqnJhStk 8. Sk-II – http://www.youtube.com/watch?v=ocw7rCrDqG8
Related Topics