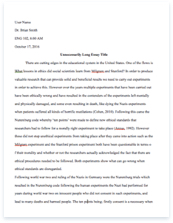 The whole doc is available only for registered users
A limited time offer! Get a custom sample essay written according to your requirements urgent 3h delivery guaranteed
Order Now
The United States Coast Guard (USCG) is a branch of the United States Armed Forces and one of the seven U.S uniformed service. Their role is critical to national security. Its mission is to protect the public, the environment, and America's economic interests in the nation's ports and waterways. The Coast Guard values diversity, teamwork, and responsiveness. Their mission in valuing diversity is to build a positive and respectful work environment for all personnel, regardless of their similarities or differences, to enhance our mission capabilities.
Their values embody selfless service achieved through the contributions of each individual. The Coast Guard core values are honor, respect and devotion to duty. Honor: Integrity is our standard. We demonstrate uncompromising ethical conduct and moral behavior in all of our personal actions. We are loyal and accountable to the public trust. Respect: We value our diverse workforce. We treat each other with fairness, dignity and compassion. We encourage individual opportunity and growth. We encourage creativity through empowerment. We work as a team. Devotion to Duty: We are professionals, military and civilian, who seek responsibility, accept accountability, and are committed to the successful achievement of our organizational goals. We exist to serve and we serve with pride. In regards to the Coast Guard form of communication they use what is called a chain of command as a non-rate you are ordered to take things from the bottom level up. Anything that needs to be looked into must go through the third class petty officer who takes it up to the second class all the way up the chain to the level it need to get to.
Each supervisor have a role to play because they report to the second in lead at the unit which is known as the Executive Petty Officer (XPO) who reports to the Officer in Charge (OIC) who is the ultimate head of that unit. You are not authorized to skip any level unless it is absolutely necessary. The Coast Guard also communicate via VHF radio with other Coast Guard vessels, aircrafts, auxiliarist and the marine public. That's why it is also important to use proper English because slangs, profanity and acronyms are not authorized when speaking to the boating public. The Coast Guard makes you feel as though you are a part of a socially responsible organization that produces quality work under positive leadership. They display confidence and trust in each other. It gives you a feeling of pride, job satisfaction, a leadership style that works, working as a team with fellow shipmates is an amazing feeling especially when there are rescue cases, saving lives, protecting the borders and being encouraged to go back to school and take advantage of the opportunity is an even greater feeling.
They focus on many goals, they assure a diverse workforce through all-hands commitment, fully utilize communication and focus groups to improve the workforce cultural climate and optimize training and education to underscore the value of workforce diversity just a to name a few. Leaders at all levels are held accountable to sustaining a workplace climate of equity, building an organization that leverages the Coast Guard's diverse workforce, and fostering an environment where every individual has the opportunity to prosper and effectively advance their careers. Not all employees exhibit the values of the Coast Guard due to the fact that not everyone likes taking orders, follows the chain of command, respect their uniforms or others, takes things serious or even agree with the way things are done. That's why many do not last very long in the system. The military is not a game because at the end of the day people lives are at stake so if you can't follow orders or give a good contribution then you have no business in it.
Work Cited
General Information: http://www.uscg.mil/global/search/default.asp Core Values: http://www.uscg.mil/hq/cg3/cg3pcx/corevalues.asp
Related Topics