The Case Study of Holt Renfrew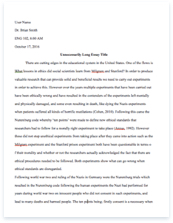 The whole doc is available only for registered users
A limited time offer! Get a custom sample essay written according to your requirements urgent 3h delivery guaranteed
Order Now
1) Company Profile:
a. High-end retailer in Canada with ten stores in seven Canadian cities b. Sells top quality, branded and private-label designer fashions as well as cosmetics c. Owned by the Wittington Group headed by Galen Weston
d. Peak sales occurred in March/April, July/August and November/December e. Publicity campaigns used throughout the year for promotional purposes f. 21,500 orders a year at the company's flagship store on Bloor Street, Toronto g. 1000 suppliers approximately used in a year out of a total of 3000 h.500,000 SKUs out of which 50% were active at any given time i. New introductions accounted for 40 to 50% of SKUs ordered
2) The Logistics Function at Holt Renfrew:
a. Primary Distribution Center (DC)
i. A primary 80,000 square-foot Distribution Center (DC) in Mississauga,Ontario where all merchandise ordered by Holt Renfrew's buyers was shipped. ii. The DC was designed as a flow-through warehouse. All merchandise coming in has to be processed immediately and subsequently, shipped to the stores. iii. Primary activities in the DC were lot picking, ticketing and tagging merchandise. iv. 55 hourly, full-time staff worked at the DC over two shifts. v. DC received on average about 40$ million of inventory every month (136,000 cartons and 32,000 sets of hanging merchandise every year). vi. 3.3 million units of merchandise shipped from DC to stores every year.
b. Secondary Warehouse
i. A secondary 60,000 square-foot facility was also located in Mississauga ii. This held inventory that was not sold in the stores and which was subsequently sent to the Last Call, the stores located in Winnipeg and Toronto where they were sold at a substantial discount. iii. If the merchandise was not sold at the Last Call, it was returned by the stores to this secondary warehouse and kept there until disposed. Currently, there was $1 million of such inventory in this secondary warehouse.
3)Problems faced by Holt Renfrew:
a. Order processing and tracking
i. This was a very poor and time-consuming process as the staff mostly spent time on the phone confirming and adjusting their orders with suppliers. ii. The store managers would also constantly call to check on the delivery status of merchandise, as a result of which the staff had to follow up the orders with suppliers and transportation service providers. b. Inventory control
i. Both of the warehouses were running on full capacity, which increased the cost of managing inventory for Holt Renfrew. ii. The inventory was scattered all over the warehouses, making it very difficult to find at times. c. Inventory processing
i. With regards to suppliers delivering goods, they simply sent the goods without any prior notification. This led to a variable rate of arrival of stock in the ware houses. ii. There was also no information that Holt Renfrew received about whether the merchandise shipped by the suppliers was of the right quality or quantity. iii. Processing merchandise while leaving and entering the warehouses was In itself a very inefficient and unfruitful task because of the bad state of inventory management in the warehouse. This contributed to frequent stock outs in the stores because of the lack of proper inventory processing. 4) Proposed Solutions
a. Long term:
i. Firstly, in order to improve the operating efficiency of Holt Renfrew and its partners in the long term, a collaborative arrangement needs to be formed to leverage strategic positioning. This arrangement needs to be made between the suppliers, Holt Renfrew itself, the transportation service providers and the stores. One possible arrangement could be the CPFR whereby these trading partners could efficiently manage planning, forecasting and logistics activities. They would have to align individual business processes by developing joint strategic business plans. This would enable Holt Renfrew to better predict demand patterns and trends and hence, be able to reduce inventory in its warehouses. ii. Secondly, to facilitate the supply chain operations, there needs to be implementation of a Management Information System (MIS) throughout the supply chain by which information about each and every order can be processed, shared and tracked at every level of the supply chain using effective tracking methods such as RFID or bar coding. This would also support the flow-warehouse design of the DC, which depends on efficient information flows. It would take about 4-5 years which is the minimum time to achieve an established information management system. The warehouse expenditure should then be reassessed and optimized. b. Short term
i. (Mezzanine Floor)
In order to cater to the problem in the short run, Tony Kelly needs to propose the expansion of the DC to include a mezzanine floor as soon as possible so that the warehouse has more space. They face a shortage of warehouse space which could lead to more stock outs if there isn't enough space to continue operations. The proposed mezzanine floor would give them more space in the DC to operate their primary sales procedures in the short run while they sorted out better inventory management procedures that allow them to alter storage facilities in the future.
Related Topics