The Case For Reparations – Journal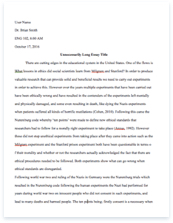 The whole doc is available only for registered users
A limited time offer! Get a custom sample essay written according to your requirements urgent 3h delivery guaranteed
Order Now
The problem of racism has existed in America historically. From the moment Columbus arrived on the continent, confronting the Native Americans, to the tensions regarding race that exist today, race relations have always played a large role in the transformation of this country. One of the largest demonstrations of racism in this country is the antagonism that has been directed towards African Americans for decades.
Although there is so much discussion on the topic of reparations, any efforts towards making amends have not been large enough to impact how we see the injustice that was brought upon African Americans in this country. In his essay, "The Case For Reparations", African-American author journalist TaNehisi Coates talks about the cumulative effects of racism and discrimination throughout American history, by acknowledging facts of the 20th century during which a barrier of white government, deception and violence continued to oppress blacks, and addressing the fact that reparations are needed to make the country whole.
One point Coates acknowledges in his essay is the role that white supremacy and the oppression of black people have played in making the country what it is today, by discussing how justice requires us to take into consideration the fact that our nation's success and worth has been built on the abuse and theft of African Americans.
He makes a holistic argument that shows, that the US has flourished economically because of slavery, stating "The vending of the black body and the sundering of the black family became an economy unto themselves, estimated to have brought in tens of millions of dollars to antebellum America", essentially saying that without the slavery that was a part of our past we would not be where we are today in regards to America's economic prosperity and power. The cotton produced from slave labor accounted for much of the country's wealth and also formed trading relations with foreign nations that have carried to this day.
This reflects Coates' thesis as it supports the "two hundred fifty years of slavery" that still burden the morality of the nation's past. Although I do think Coates makes a legitimate and valid argument, I do not believe it is completely accurate, because although slavery had a large impact on the establishment of the country's economy, half of the nation was comprised of non slaveholding states that also contributed to the prosperity of American economy. The North had an industrial economy that was not entirely dependent on slavery or the raw materials produced by slavery.
Although his point is correct in that slavery was a major factor in economy, I feel that Coates fails to effectively incorporate other aspects of the economic foundation, not dependent on slavery, and therefore creates a swayed argument. Coates documents the variety of methods, from slavery to home ownership policies by which the government of the United States has prevented black citizens from keeping their wealth and passing it down from one generation to the next.
He talks about various government policies preventing blacks from being able to have equal that were implemented. Coates explains the stigma of how white sellers would not sell houses to blacks in white neighborhoods out of fear that the value of their property would decrease since blacks were not as "well off" as whites. I think this notion stemmed from the demeaning ideas about blacks that had been popular during the Jim Crow era.
Furthermore, Coatesa specifically notes historian Kenneth T.Jackson's account of racial policies brought upon by the Federal Housing Act. Jackson writes in his book, Crabgrass Frontier, "FHA exhorted segregation and enshrined it as public policy. Whole areas of cities were declared ineligible for loan guarantees. " (Jackson, Crabgrass Frontier). He explains the the action of the Federal Housing Administration "redlining" black neighborhoods, making it nearly impossible for African Americans to have insurance.
In Terry Gross' article, "A Forgotten History of How The U. S. Government Segregated America" (Gross), the NPR author writes about redlining, stating that it "furthered the segregation efforts by refusing to insure mortgages in and near African-American neighborhoods", further emphasizing just how difficult it was for black people to obtain homes in a corrupt system, where people were indoctrinated by the false belief that whites were superior to blacks. I believe that this is a valid point that Coates makes, and agree with the fact that the government had racist housing policies for nearly four decades, preventing blacks from integrating into society.
I think that these policies were largely rooted in the ideas of de facto segregation that were already existing because they were implemented in order to ensure that blacks and whites were not treated the same way as that idea of having equality still bothered many white Americans. Additionally, Coates explains how the poverty of black people today can be directly traced to racist policies and actions of the past, essentially asserting that many shortcomings of black people today is a result of yesterday's racism. He emphasizes how many Americans don't seem to believe that the present situation is the result of these past actions.
Many people seem to assume that black people and white people start with a level playing field, that they have similar resources at their disposal and therefore should be able to achieve similar results. Coates discusses, "The lives of black Americans are better than they were half a century ago. The humiliation of WHITES ONLY signs are gone… But such progress rests on a shaky foundation, and fault lines are everywhere. The income gap between black and white households is roughly the same today as it was in 1970".
Related Topics