The Big Me vs. "The World According to Garp"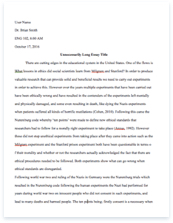 The whole doc is available only for registered users
Pages: 8
Word count: 1771
Category: Life
A limited time offer! Get a custom sample essay written according to your requirements urgent 3h delivery guaranteed
Order Now
Life is built on memories. Memories provide each person with a unique identity. They make lives fluid, ever flowing from the past into the present, even into the future. If there were no such thing as memories, each day would be as if a person is a newborn baby. There would be no experiences to build upon. There would be nothing but emptiness in day to day life. One would remember nothing or nobody, nor learn anything new, for it would be gone in a couple of minutes. Without memory people would be helplessly facing a barrage of new and unrecognizable impressions every day; nothing would have meaning. What would relationships mean if there was no memory? There would be no families, no communities, no history, no literature, and no science either.
Knowledge is slowly built over the years by adding more and more facts to existing knowledge. If there were to be no 'existing' knowledge' there would be no more learning. Without learning there is no intellectual, emotional or spiritual growth and the entire human civilization would be practically dead without growth.
Songs such as "Memory," from the musical "Cats," or "The Way We Were," or "Try to Remember" remind us how important our memories are. Authors have written volumes on the subject, in every form of literature. Dostoyevsky wrote, "You are told a lot about your education, but some beautiful, sacred memory, preserved since childhood, is perhaps the best education of all." Essayist Susan Sontag wrote, "Everything remembered is dear, endearing, touching, precious." And Scottish poet Alexander Smith wrote, "A man's real possession is his memory."
Memories allows  people to see the things they want to see when those things aren't around. British playwright J. M. Barrie once wrote, "God gave us memory so that we might have roses in December." In fact, anything that is ever seen, heard, touched, smelled, or felt, sticks on to the mind through that wonderful device called memory. But memories can just fade away if they are not remembered at periodic intervals. Memories can be permanent; they can also be ephemeral. The key to keeping a memory is the frequency of its use.
My earliest memory happened when I was three years old.  I remember what I got for Christmas that year. Santa gave me a set of superman books. I can still vaguely recall that I was both frightened by the old white bearded man in the red suit and excited to be receiving the gift from him. I also remember that when I was five years old, I climbed onto the branch of an apple tree from the stairways. The apple tree belonged to the next house neighbor and its branches spread all across our front yard. But soon as I climbed onto the branch, I could feel the branch creaking and fell down. I got a deep cut on my upper forehead. Even today, as I tenderly touch the shiny scar, I remember with a smile, the foolish bravery of the small boy that I once used to be.
I have lots of memories that I recycle in my mind regularly. In fact I keep a box of greeting cards and little notes sent by friends and close family. The box also has a few photographs of my childhood friends and relatives. There is even an essay that is marked "A" grade by one of my favorite teachers. When I feel utterly lonely, just a peek into those cards brings to me a flush of memories that can recharge my spirit. Watching video home movies and going through photo albums are excellent ways of keeping memories intact.  Playwright Tennessee Williams summed memory up best when he wrote, "Life is all memory, except for that one present moment that goes by you so quickly you hardly catch it going."
The World According to Garp is a comic and compassionate coming-of-age novel that established John Irving as one of the most imaginative writers of his generation. Garp is a writer. Through Garp, the author John Irving expresses his views on writing.  A presiding theme in Mr. Irving's best-known novel, "The World According to Garp" (1908), was the relationship between mundane reality and a writer's imagination. There is a subtle undercurrent of sub-textual inter-relationships between the art of writing, the imagination, memory, fiction, and truth. It also includes the present text of the novel itself, the concept of understanding and the nature of misunderstanding. Art, according to Garp is never autobiographical. This implies there is not much role for memories. But, Garp's writing is said to grow constantly more autobiographical as he ages. This is because as the memory content grows, the writer tends to write from the influence of his memories. Further still, we realize that as Garp's fiction grows more autobiographical, he distorts the facts of his emotional life in ever more extravagant flights of fancy. Sorting out the autobiographical content clearly present in his work, then, becomes for Garp's readers an ever more subjective and speculative enterprise.
Irving seems to suggest here, through his several narrative tours de force, that the task of sorting out fact from fiction is not only hopeless but silly, when there is an exaggerated influence of memories. For Garp has discovered: "when you are writing something everything is related to everything else" (p. 167). Thus the distinctions between what a writer does, and what he imagines, hopelessly dissolve. Everything Garp thinks or sees or hears becomes a part of him. Once a part of him, everything is autobiographical and is related to his work. And what is his work? "A writer's job is to imagine everything so personally that the fiction is as vivid as our personal memories" (p. 167). Memories trigger dreams and dreams trigger fictions. This is the relationship between memories and works of fiction.
Garp concludes, "Art helps nobody. . . . Art is a luxury item" (pp. 251, 252). Yet the dream which art includes does affect lives by affecting the way in which the dreamers feel about other people; even dead people like Charlemagne's slowly starving soldiers. Art and dreams create enable the reader to feel a bit more intensely. This is largely the work of memories. "Your memory is a monster; you forget – it doesn't. It simply files things away. It keeps things for you, or hides things from you – and summons them to your recall with a will of its own. You think you have a memory; but it has you!"
Using both the language of biography and that of fiction, the narrator's discourse reflects an important conflict that develops in Garp as artist, that of memory versus imagination. In his youth Garp's imagination seems to be easily accessible to him. But as he grows old, he relies more and more on memory although he fights that reliance. Art is a construct neither exclusively of "real fact" nor exclusively of "Pure Imagination." It is whatever combination of the two is most effective at a particular moment. Of Garp we read, "He was very ruthless as a story teller. . . . If the truth suited the story, he would reveal it without embarrassment, but if any truth was unsuccessful in a story, he would think nothing of changing it" (p. 271). When his wife asks how one tells fact from invention in his tales, Garp replies, "Every part she believed was true; every part she didn't believe needed work" (p. 271). Garp teaches, "Fiction has to be better made than life" (p. 457). Thus, according to Garp, John Irving says, that fiction should be better than the memories of a person.
Memories also seem to have a power in a subtle and hidden manner. Garp is fathered by a brain-damaged turret gunner already regressing to fetal or "vegetable" condition. Garp's practical and humorless mother successfully engineers her pregnancy while refusing to share her body with a lover. This unnatural birth seems to have a negative effect on Garp. He loves his children so deeply and anxiously that he destroys them by protecting them too aggressively. He dies at the Christ-figure age of 33 by the design of a man-hating, self-maiming lifelong friend. He orders his wife to declare that his final words were: "I have always known that the pursuit of excellence is a lethal habit" (p. 562). In Garp's world, a lusty young couple can feel they've skipped middle age and moved to retirement" (p. 524), for they "find that the world is a barely firm sponge" (p. 526). "In the world according to Garp, an evening could be hilarious and the next morning could be murderous" (p. 565), and so they are. We are allowed to forget neither half of this last sentence. "In the world according to Garp, we are obliged to remember everything." (p. 576).
Garp's first story "The Pension Grillparzer" is zany, comic, and bizarre. The story has the message that all die; some more grotesquely than others. Only the dream itself, the vision, is imperishable and can be passed through generations. Thus the emphasis is brought on shared memories. The bear in Garp' s story, in fact, brings up unmistakable questions about the extent to which all this fiction is autobiographical, is directly related to the life of the writer. "
Garp discovers in his Vienna phase that learning to write is similar to learning to cook. "Mere life—mere raw material—is not enough to satisfy a gourmet" is the conclusion. In this book, Jenny Fields and Garp, the two writers who look back on the facts through the distortions of their memories, create fictions from Irving's fictional facts. Then Irving insists that we derive from Garp's fictions the "truths" which Garp condenses from his own life, which is, of course, Irving's fiction.
When Garp finishes his rage, after his son's death, he feels his life is trailing off in an epilogue. In his epilogue, however, he begins his best work. For nobody is ever left with absolutely nothing. Even a brain-damaged ball turret gunner, who loses his last word, his last syllable, and then his last sound, still has in his last moments his first fetal position to return to. As Irving says, "All that's left is memory. But even a nihilist has a memory" (p. 582). Thus we find that memory is a rich source for an artist who knows how to use it as a source and enrich it with imagination.
Bibliography:
Irving, John. The World According to Garp.
Related Topics