The American landscape and lifestyle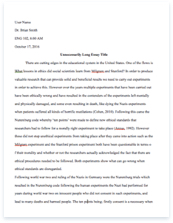 The whole doc is available only for registered users
A limited time offer! Get a custom sample essay written according to your requirements urgent 3h delivery guaranteed
Order Now
"Baseball caps and hats are as much a part of the American landscape and lifestyle as just about any apparel accessory." (Threadlogic Source) If the United States had a national hat, it surely would be the baseball hat. The popularity of logoed embroidered headwear is evident anytime you are out in public, and especially at a sporting event, men, women, and children show support for their teams across both professional and collegiate arenas.
It would be difficult to find someone in the US who hasn't worn a hat on at least one occasion, whether that be forward, backward, sideways, or even inside out. Regardless of the taste of the customer, there are enough styles, fits, and finishes to satisfy everyone. New Era is the largest sports licensed headwear company in the world. According to their VP of global marketing, they sell more than 20 million hats annually with over 60% going to "non-athletes" and 15% going to females. (USA Today Source) So the market is deep for people of all profiles to be potential customers. This makes hats a great item on which to place the FC Bayern logo.
In 1860, the Brooklyn Excelsiors wore the first cap that resembled today's modern baseball cap with the longer brim and button on top. Nearly 160 years later, the baseball cap remains the most popular headwear accessory today. Generally, baseball caps can be grouped into two main categories: constructed (or structured) and unconstructed (or unstructured). The structure (or lack thereof) is created by a piece of material, known as "buckram", which is weaved into the crown of the hat to help it retain its shape and give it a more rigid appearance. Baseball and other athletic teams seem to prefer this style.
Unconstructed caps don't have this rigid form, giving them the nickname "floppy caps" and thus allowing the crown to fit more closely to the front of the wearer's head. This style is much more popular with the general public. A company "Thread Logic" which handles custom logo embroidered apparel reports that they "sell way more unconstructed caps that any other style". (Threadlogic Source)
Most hats are a "one size fits all" and have some type of closure that is adjustable on the back in order to make it fit most heads. The back of these adjustable hats has a half moon shaped opening that allows the wearer to adjust the band size according to the circumference of their head. The closure band is available in many different varieties including a plastic buckle with holes (informally called a "snap back"), a sliding strap with a buckle made out of plastic or metal, a fabric with velcro to close, or an elastic stretch fabric. While snapbacks are sometimes considered old fashioned, they have again become more popular in the sense that they are retro.
This closure is the type that people are most familiar with. Velcro is very popular because the adjustment takes no time at all and the fit can be easily customized. The buckle closure is popular in college style hats and is more decorative with clasps being made of brass or other metals, however adjustment is more cumbersome. Often artwork is placed on the back of the hat above the strap and females tend to wear these as the opening above the closure can be used to fit a ponytail through.
The other major type of sizing is a "fitted" cap. These do not have a closure, but instead stretch very slightly around different sized heads using elastic. The hats come in a couple of different sizes like Small/Medium, Medium/Large, and Large/Extra Large. Usually fitted hats are a structured style that is made for baseball players but some people like the clean appearance without the clunky closure.
There are a lot of "styles" that fall within each of the two main hat categories. The "Flat Bill" hat is something that has become popular recently, with its brim giving it a distinctive look and shape. This hat is typically worn by a younger clientele who are looking to buck the traditional hat trends and sport something different. This style is often recognized as a culture status symbol with celebrities and other hip hop music performers creating the trend.
The "Trucker Cap" is a retro style that has made a comeback appearance on to shelves. These caps have a mesh back and come in both constructed and unconstructed styles. The back half of the hat is made of a mesh material which allows airflow to cool the wearer's head and is the defining characteristic. "Distressed" caps are also a new phenomenon in the head apparel category. Typically seen in an unstructured format, these hats are made to look like they have been worn in over many years even though they are brand new. Some examples of ways to make a cap look distressed are: utilizing sandpaper to create wear marks, rolling the hat in dirt, dust or gravel to add dents and add a grittier image, sun bleach or other chemical applicants to fade the colors as if the hat has been worn outside. As people look for vintage and old/retro looking clothing items, these caps have become more popular due to their unique appearance.
The FC Bayern website has a total of 34 hats, 10 are for kids and 24 are for men/women. Of the two dozen adult offerings, 6 are Adidas branded, 3 are Mitchell & Ness (snapback), 2 are Trucker hats, 2 are for Ladies specifically, and 11 are general non-Adidas hats (6 strapback and 6 snapback). This offering aligns closely with some of the Major League Soccer (MLS) teams like the LA Galaxy and Houston Dynamo. LA Galaxy have 29 adult hats, 23 of which are adjustable (including 13 snapbacks with 4 by Mitchell & Ness), 4 Flex-Fit, 1 visor and 1 bucket hat. The Houston Dynamo have 16 total hats all branded by Adidas, 8 snapback (3 by Mitchell & Ness), 5 strapback, and 3 Flex-Fit. The one obvious gap is the lack of any fitted hats by FC Bayern, this would make a good addition to have some Flex-Fit hats in their collection.
It is very good to see FC Bayern having 3 hats produced by Mitchell & Ness. This company was started as a sporting goods store outside of Philadelphia, PA around 1900. In the early 1980s the company began creating vintage jerseys which led Major League Baseball (MLB) to give them exclusive rights to make the "Cooperstown Collection". After widespread success of this apparel line, the National Basketball Association (NBA) granted them rights to the "Hardwood Classics" line, the National Football League (NFL) granted them rights to the "Throwback Authentic" line, and the National Hockey League (NHL) granted them rights to the "Vintage Hockey" line. The jerseys became very popular amongst entertainers and athletes, making frequent appearances in music videos and magazines (like Sports Illustrated). Today they also produce lines of headwear for the 4 major professional sports leagues as well as the NCAA.
Special events and holidays are prime times for marketing and having customized one-off merchandising. For example, St. Patrick's Day is celebrated by roughly 55% of Americans (nearly 130 million people) and a survey for the National Retail Federation found that consumers will "spend on average $35 in stores selling green merchandise" for a total of nearly $4.8 Billion dollars. Although not as high-profile as other holidays, the bright green makes for a great alternative look and creates plenty of chances for companies (other than the obvious Irish whiskey and beers) to celebrate St. Paddy's Day. Fanatics and FansEdge are selling a special collection of green shirts, apparel and hats from the NFL, MLB, NBA, NHL and colleges and universities. (Licensing Letter source) The MLB does an excellent job on the six special uniforms it offers over the course of the 162 games played.
For Father's Day, hats with a sky blue and gray color scheme featuring a "heathered look" are worn. For the Home Run Derby, black hats with a honey-comb pattern almost like mesh are worn along with some crazy floral print socks. For Memorial Day, the military is honored with the players wearing army green and camo hats and uniforms. On Mother's Day, pink and gray hats with a heathered look are worn along with the baseballs being stitched in pink as opposed to the traditional red color. At the All Star Game, players hats are slightly varied with stars in the eyelets on the top of the hats and a special heathered color look. For the Fourth of July, teams wear red, white and blue hats in two-toned fashion along with cool flag socks. (USA Today Source)
An idea for FC Bayern to capture some of this market would be to play on the German theme and create some special items around Oktoberfest. German-Americans are the largest self-reported ancestral group in the United States. So it is natural that there are hundreds of Oktoberfest celebrations both large and small held throughout the country during September and October. Specialized t-shirts and hats sporting steins, beer, and soccer could be a potential hit.
Community outreach and support programs are opportunities to help out for a great cause as well as create merchandising opportunities. The MLB does a great job of this. For Mother's Day players use pink bats and the theme "going to bat against breast cancer" is used to raise money for the Susan G Komen foundation on cancer research. Stand Up to Cancer (under the nickname SU2C) aims to raise funds and accelerate research to get new treatment to cancer patients and save lives. T-Shirts contributing part (if not all) of the proceeds are created to help these causes. A likely offshoot is additional purchasing of general merchandise. FC Bayern could find a meaningful cause and partner up to do something similar.
According to the 2016 Licensing Survey conducted by The Licensing Letter "retail sales of licensed sports-based merchandise reached $15.4 billion in 2016", this is up 4.3% from the $14.79 billion earned in 2015 and makes the 3rd consecutive increase in revenue. Collegiate based merchandise also has strong growth, bringing in $3.5 billion in sales which is up 2.5% year over year. Sports is the 3rd most licensed item as far as retail sales in the US (14.5% of the total market share), and trails behind only Corporate Trademarks (26.7% of market share) and Fashion (20.1% of market share). (Licensing Letter Sports)
The major US professional sports leagues drove the growth through their retail strategies in physical store locations, ecommerce platforms, and merchandising heavily at their games and other events. Major League Baseball (MLB) led the rankings for the second year in a row, bringing in $3.7 Billion which is up 6.3% year over year. Apparel was a strongest driver of the growth, however accessories and novelties were also contributors.
National Football League (NFL) was 2nd in the licensing rankings bringing in $3.5 Billion which is up 3.7% year over year. While this growth is up slightly from 2015, it is still much less than the 5.2% growth seen in 2014. Interestingly, 30% of all NFL sales now come from products based on licensed player properties (handled by the Players Association). The National Basketball Association (NBA) was 3rd in the licensing rankings bringing in $2.75 Billion which is up 8.3% year over year.
This follows up a huge increase of 9% in 2015. The National Hockey League (NHL) was 4th in the licensing rankings bringing in $1 Billion which is up 3.5% year over year. Bolstering their e-commerce platform along with self-merchandising their own products has shown steady returns for the past few years which is quite impressive for the smallest of the professional sports leagues. NASCAR sales were 5th in the licensing rankings, staying relatively flat year over year at about $0.8 Billion.
This comes after a very strong growth year in 2015. Major League Soccer (MLS) were 6th in the licensing rankings bringing in $0.7 Billion which is up 11% year over year making it the highest growth rate of any of the major sports leagues. The increase in fans (and players) interest in soccer has increased retail sales for not only the US MLS retail but also the European and Latin American teams as well.
This bodes well for FC Bayern as they look to enter the market and capture some of this revenue. Lastly, the Professional Golf Association (PGA) ranked 7th in the licensing hierarchy bringing in $0.33 Billion which is down 0.5% year over year. This is the only major sports channel that saw a decrease in 2016, which is surprising as golf had seen multiple consecutive years of steady 3% growth.
The 3 big buckets in Sports merchandising are: soft goods, hard goods, and digital/multimedia. The soft lines (mainly apparel and accessories) made up 50% of all sales. As is expected, traditional authentic and replica jerseys were the main drivers. Apparel sales were up 3.7% year over year led by trends like athleisure and sportswear. Accessory sales were up 6.6% year over year led by trends like hats (both fitted and not) which are a sports fashion trademark, and socks which since coming into vogue in 2014 have grown consistently at 100%+ year over year.
Hard lines are items like home furnishings, paper products, and other novelties all had a strong year of growth, potentially fueled by increased female focus and engagement in the Sports arena. Digital/multimedia is the fastest growing sector and is driven mainly by video games/software. Console video games (like Xbox and Playstation) have been the focus historically, however more recently growth in mobile platforms is brisk and will surpass the home-bound gaming platforms at some point in the near future.
Related Topics