The Agency and its Organisation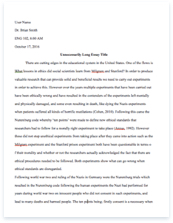 The whole doc is available only for registered users
A limited time offer! Get a custom sample essay written according to your requirements urgent 3h delivery guaranteed
Order Now
I currently counsel for Haven Counselling in the centre of Wigan. The service was established in and is funded by donations, charity applications etc. It is situated and a part of the Queens Hall Methodist Church. It was established in 2000 to provide general counselling but has a spiritual aspect to it.
It exists to provide a service for those who require more than pastoral counselling. "Its overall aim is to provide a counselling service that is safe, professional and confidential, that compliments and enhances the overall service provided by Queen's Hall Methodist Mission. In the wider sphere it seeks to work in harmony and co-operation with other voluntary and statutory organisations. Its core purpose is to enable and empower clients to live as fully as they choose". (Haven Counselling) Clients are self-referred, referred by their Doctor or by Mental Health agencies. My interest in the service was driven initially by my need to obtain a placement, which could – to a level, assure me regular clients. My other need was to be able to have a variety of client needs in order to develop my counselling. Hence, Haven is a generic counselling service – rather than one relating to religion alone.
Although, I was asked if the occasion arose – would I pray with a client if they asked me to. From a person centred viewpoint, I would do what benefited the client, and offer this back to them explaining my own stance relating to religion, but not objecting to them needing to pray but discussing whether it was appropriate in the actual session. When I joined the team at Haven, it consisted of 4 other counsellors, I found that I very rarely saw them due to the hours I kept there. It is stipulated in Havens Mission Statement that they only recruit counsellors who have completed the Diploma in Counselling Skills or who are pursuing a course at this level… I applied to Haven Counselling in April 2005, being successful, I started with my first client on the 07/07/05 – I continue to volunteer my services.
There was no stipulation regarding how many clients one could have. At the time, this depended on the course requirements and how many I could see in a day. Due to work commitments I could only see clients on a Thursday morning Since completing my Diploma I now only see two clients at any one time, on a Tuesday evening and a Saturday Morning, due to work and personal commitments.
A counsellor co-ordinator allocates clients to me, ensuring that the referrals are appropriate. Haven Counselling, at the time of writing are unable to provide supervision due to no one having completed supervision training. Supervision was sought and given on a private basis. There were courses available to placement counsellors on occasions. However, I was unable to attend due to other commitments. I was kept up-to-date by the governing body by regular newsletters and meeting notes.
Haven counselling is funded solely by grants and voluntary contributions. Clients do not pay for any counselling, it is free. The service does not have any stipulated time limits for clients. However, counsellors are requested to review client's progress every 6th session, which I have always found to be good practice.
The organisation has its own clear guidelines, which cover all aspects of working protocols. These include professional behaviour towards staff and clients, Data Protection Act, Health & Safety policies, Freedom of Information Act 2000, Mental Health Act, Disability Discrimination Act 2005 etc. Domestic Arrangements, Insurance policies (I hold my own certificate renewed on a yearly basis with Towergate), there are procedures for contracting with clients, grievance & complaints. The keeping of records is the sole responsibility of the counsellor. My records are kept in a locked cabinet in my study at home.
Evaluation of my experience of the Haven Counselling
I have found the booking system they have in place for reserving rooms is sufficient although due to the hours I attend (starting at 8.30 means I am first there) so I have never had any issues with the booking system. The office Manager keeps a diary where I can either reserve a room after I have finished or phone to reserve one. Generally, I found that the general structure of the service was clear and helpful. The structure/systems in place from initial assessments to allocation to counsellors was efficient. Due to counselling sessions provided free, there was no need to negotiate payment. Clients are able to attend unlimited sessions. My own experience allowed me the opportunity to work with 25 clients, including two clients who attended for more than 6 sessions. These have been valuable in terms of building a strong therapeutic relationship, seeing the change and development of my clients, and the supervision issues, which came from these interactions. The development of my skills relating to the encounters with clients' who only stayed in therapy for shorter lengths of time i.e. 2 – 4 sessions, meant that supervision was invaluable to me.
Haven facilitates meetings on a monthly basis for those who provide counselling. However, I am only able to attend periodically due to work commitments. I have found that counselling is a lonely practice; therefore if time and dates are suitable I always welcome a chance to meet my fellow counsellors.
I have not had to refer any clients back to the service, however I did discuss Cognitive Behavioural Therapy with a client as I felt that person centred counselling wasn't enough for my client. The client kept asking, "what should I do, I need goals to achieve, why can't you tell me what to do". I brought my client back to our contract and stated the person centred principles and values.
Throughout my time counselling, I have not felt unsupported, I have utilised supervision, meetings and 1-1 phone calls to ensure I am supported, discussing my needs, client's and the organisations when any issues have arose. One such issue was being allocated a female who had stated that she had been raped on her referral form. I suggested the co-ordinator refer the client to a female counsellor, as it was at an early stage in her therapy.
Supervision is central to my practice and initially the placement required all counsellors to have supervision at the BACP level, which I funded myself and continue to do so. Over the years, I have found that supervision is essential, as I have mentioned previously that counselling is a lonely business. Evaluating my experience of Haven Counselling I have found no issues, which have forced me to reconsider what I have said. I enjoy my time there, so much that I made a conscious decision to continue my counselling after I had passed the Advanced Diploma in Counselling. I have found Haven to be a valuable resource for the community. The staff at Queens Hall and Haven Counselling has always been most helpful and respectful, ensuring smooth running of the service. I am very grateful to the service for allowing me the chance to practice.
Case Study
In the following case study, I have used a single letter (J) to protect the identity of the client. Prior to this assignment, I discussed using her case for this application for accreditation; she gave me permission to do so. I assured her that there would be no way that the reader could identify her. I feel that I have emphasised the theoretical concepts of how I work as a Person Centred Counsellor. My belief is that he 6 core conditions, for me are necessary, sufficient and essential to build and maintain a relationship, which enhances trust and respect, and nurtures safety for the client to feel secure enough to discuss their feelings. To this end it is my wish to show how I facilitated a relationship in which my client felt safe and secure enough to strive towards self-actualisation. These 6 core conditions are according to Rogers:
1. Two persons are in psychological contact.
2. The first, whom we shall term the client, is in a state of incongruence, being vulnerable or anxious.
3. The second person, whom we shall term the counsellor, is congruent or integrated in the relationship.
4. The counsellor experiences unconditional positive regard for the client.
5. The counsellor experiences an empathic understanding of the client's internal frame of reference and endeavours to communicate this experience to the client.
6. The communication to the client of the counsellor's empathic understanding and unconditional positive regard is to a minimal degree achieved. (Merry, 2002: 49)
Case study
At our first session I introduced myself to J, advising her that I was a qualified counsellor having studied on an accredited course. The counselling I offer is person centred and as such the service was available to her for as long as she felt she needed it. I advised her that we would review every six weeks to reflect on her progress and the counselling process.
As part of my contracting I ensured that J was aware of confidentiality and the reasons by which it may be breached due to the law and Haven Counselling. I also made her aware of the BACP Ethical Framework to which I adhere to and the length and regularity of the sessions. (Peter Jenkins writes "Confidentiality is a key value, widely subscribed to by counsellors. No flipchart of shared values or ground rules in counselling training is complete without it being posted up in some format or other". CPJ March 2002) At the end of this I asked J if she wanted to ask any questions or if she was ok with everything that I had said. The contract we agreed was a written contract created by Haven Counselling.
Our sessions begin on a Tuesday evening. In all we had 12 sessions, over a period of 4 months. There were cancellations due to her issues, when she was unable to attend. However J always contacted me to rearrange our appointment.
J is a 56 year old lady; a divorcee, she lives with her daughter. J is the 4th eldest of 5 children, she has 4 brothers. J lives on benefits claiming disability allowance, she has problems with her hips and uses an NHS Crutch, to help her walk. J referred herself to Haven Counselling on 1st August 2009; Mr Wilton from Haven Counselling assessed J, she was on the waiting list for 11 days before she was passed on to me as a potential client. I contacted J on the 11th August to ask her if she was okay to commence counselling on the 20th August 2009. Whilst on the phone I always ask my potential clients if they know anything about Person Centred Counselling, if they reply no, I will then ask if they would like me to explain what this means for them.
If they do so, I inform them that it is about helping them to explore their issues with another person who will be non-judgemental (not make assumptions or judgements), that I don't tell people what they should do, that the aim of my work is to facilitate change. ( J's presenting issue was depression. J is now divorced and she informed me that her daughter suffered from anorexia as a child, which had caused her upset and worry for that period of time. Upon meeting J at Haven Counselling, in our 1st session we discussed our contract relating to confidentiality and its limitations as I always feel it is important to emphasise that not everything is confidential, supervision – was something which she felt a little unsure at first, in every first session I always inform the client that supervision is to ensure that I am working with them to the best of my ability, also to ensure that the client is aware of the length and times of sessions – 55 minutes per session, which are reviewed on and in every 6th session.
At Haven there is no limit to the amount of sessions, which a client can have. We discussed contact both in and out of the counselling arena – social context – in case we meet, J said that she didn't mind if I greeted her and vice versa, phone contact – I always ask if they have anyone living with them, that it is okay to leave a message either with the person or on an answer machine. I explained that I am a qualified counsellor working towards accreditation. Throughout all my sessions with clients, my body language is appropriate. In this particular session there were times when I would lean slightly forward, with my elbows on my knees and my hands lightly clasped so that I could hear J as at times her voice went low and had to ask her to repeat what she said however in the this only happened on two occasions. To enable me to address the power balance, I always begin by asking my clients, "how would you like to start today's session. For me this is a far more relaxed and enables the client to start, were they feel it is relevant to.
J started by telling me that she felt rubbish, she hadn't slept very well over the past few nights. J looked tired, my concern at this moment was to let her explain what she meant by saying rubbish. I always feel that simple reflections are more helpful in allowing the client to embellish on what was a simple sentence. In a previous session she had mentioned that she had taken more tablets (her prescribed medication) than she should have and had accidentally overdosed. J went onto explain that she was scared to take her sleeping tablets because she was frightened of becoming addicted to them, that the way she felt at present was due to her being adamant that she would stop taking her prescribed medication. I felt I needed to be congruent with her, which is why I asked if she had consulted her GP regarding coming off her medication, she informed me that her GP had suggested a slow reduction over the next few weeks. He had informed her that her sleep pattern would take time to get back.
J then asked "Can I wash my hands again – please". When J asked to wash her hands, I felt that it was difficult for her to sit there. Yet I was still processing her previous statement. So I asked her "you need to wash your hands, I felt that by keeping it to a simple reflection of her own words yet asking you really need to wash your hands, I was checking out with her and letting her know that I had heard her. At this moment J stood up, she looked so fragile, yet her response let me know that she still had strength of character. She knew what she wanted and at that moment she needed to wash her hands. I asked if she would like me to open the door and she said 'yes'. I rose to lodge the door open and put the light on.
The door had been closed and was on spring shutter, and my concern for my client was that she wasn't in the dark, so I switched the light on, I lodged the door open using a wooden wedge so that she wasn't shut off, not left on her own in a confined space. When she returned and sat down again, I asked "J with you washing your hands, reminds me of what happened last week. When you asked me to wash my hands, because you felt dirty, and it felt right at the time to do that, because it was something you asked me to do for you. But at the time I thought my hands weren't dirty, they didn't feel dirty from touching you, it feels so big to need to wash your hands.
I was still processing her need to wash her hands and with J washing her hands in this session, it prompted me to be congruent with her – I had discussed my previous session with my supervisor, relating to what had happened when Judith had asked me to wash my hands after our last session had ended. I felt it was important to remind her that I didn't think touching her would've made me feel dirty. J asked me again if her hands were clean, and to look at them. When Judith asked me to look at her hands I was feeling how can a person be so fragile so frightened that she is focused upon how clean her hands are and what can I do that can help her to understand that her hands are clean. The only way I knew was to be congruent and be tentative. J then asked if I would look at her hands. When J asked me to "have a look", she leant forward with her elbows on her knees and her hands put in front of me.
As she did this it immediately reminded me of our previous session, when she had wanted me to touch her hands. So I tentatively asked her, if she wanted me to touch her hands and she replied that she didn't, only to look. By doing this I am expressing unconditional positive regard. I felt that at this point she showed strength of character, that she can say this without feeling she has to explain why, that she has the control and power within our relationship. At this point I felt that I could only offer her my congruence and empathy by saying that they are clean, my reply was to let her know that I was confirming what she had said, and that I was okay with this. I was being congruent with her, showing my unconditional positive regard. J asked me if I couldn't see anything on them.
Now I'm aware that Judith is completely focused upon the state of her hands, from my perspective it felt she was unable to focus on anything else. It felt obsessive to the point of distraction. Yet I knew that I couldn't afford to make assumptions i.e. has she Obsessive Compulsive Disorder, as this would detract from the therapeutic relationship. My only concern is to remain in Judith's frame of reference. Hence my reply, which was to say: "No, what am I looking for" At this point it is no good assuming what I am looking for, hence my question. I asked this so that I could understand her view on reality. I was expressing congruence and empathic understanding.
Judith replied "Dirt"
Whilst Judith said this, I was thinking Dirt? As all I could see was a pair of clean hands. Hence my reply "Dirt"
My reason for such a simple reflection was to aid Judith to expand upon the word 'dirt', what kind of dirt was I looking for. It may have helped if I had said this to her Judith the informed me, "Black, is… is there any black on my hands" Judith states the above, from my frame of reference I was thinking dirt/black was the kind of thing my mother used to say to me as child, upon reflection it may have helped if I had said this to her I then said to her "none whatsoever"
I felt that it was important to be reply in as simple but congruent, as I was unable to see anything except clean hands
Judith the said quietly "promise" in an almost childlike voice. I was thinking how frightened she looked, that she trusted me enough to as for my reassurance. Ifelt humble by her request and almost tearful as it had touched me deeply. In reply to Judith I said "promise, all I can tell you is that I can't see any black on your hands. It feels as if you can. You are unable to reassure yourself that they are clean. With this reply I felt that I was being empathic/congruent, I couldn't see anything on her hands. However, I wanted Judith to know that I could relate to what was happening and offer to her Unconditional Positive Regard. When J replied they're black, I felt it was difficult for Judith to focus on anything other than the state of her hands, that they're black. I felt that it would benefit both of us to remain with this and focus upon how she saw her hand.
Hence my reply I replied to her by saying 'So they look black', I felt it was important too reflect this back, yet slightly different to emphasise the black on her hands, the focus changed from her hands to "all my body is black". This now changed the focus from her hands to all of her body, so I replied with "right, all of your body ". Again a simple reflection of what Judith had said to me, I was thinking will this help by reflecting this back to her, to encourage her to go deeper, to help me understand what it was that was making her feel that her body was black. J then said 'all of it'. When Judith said this, it threw me. It felt that it was as far as Judith was willing to go to explain how she viewed her body. So I said to her 'has it always been this way, has it always been black'.
I felt that it may be helpful to consider when it started to appear black, maybe there was a specific moment in her life that contributed to this. I was being congruent. J then replied 'are you sure they're clean'. When she said this I felt that J was looking for reassurance that her hands where clean. I felt that it was very difficult for Judith to trust someone enough to believe what I said. In return I said to her it feels like you need reassurance as it feels very difficult to believe that they can be clean. She then asked me if they were clean to which I replied 'yes, they are', which was a congruent response. J then asked me if I would want to touch them – her hands
It felt that Judith needed to check me out, almost waiting for me to recoil from her at this point I leant slightly forward and looked her in the eyes for a moment and stated…yes I would, would you like me to touch them? I was reassuring Judith, that I didn't see her hands as dirty and that I wasn't scared of touching them as I hadn't in our previous session. J then asked me 'would you not be frightened'? At this point I could sense that Judith was frightened. I wasn't absolutely sure whether Judith wanted me to, as this may not fit her reality of how she saw herself. That her hands are dirty and no one would want to touch them or her.
Again I was empathic and congruent in saying to her 'I wouldn't be frightened, no, but it feels as if you're frightened, that if I touch them… I said this to reaffirm that I wasn't frightened of touching her, but offering an empathic reflection, J can you touch them with one finger? it was as if she was scared of me catching something from her, I felt humbled, I could hear and see a child wanting to be touched yet fearful of the possible repercussions as it may not fit her reality I replied to her by saying "yes of course, is that okay"? This was said to ensure that my empathy and UPR was conveyed to Judith, that I was accompanying her on this journey where ever it took us. J then started to cry she asked "Can I wash my hands"?
My perception of Judith is that it proves too much for her as she starts to cry, I felt that I had broken her reality. That what she wanted was for her reality to be confirmed that her hands were really dirty and black. At this moment I was unsure what to say to reassure Judith that she could wash her hands at any time. Therefore I simply stated "Judith, you don't have to ask for permission".
I felt it was important to re-establish the power balance, to let J know she was in control of the session. J Do you ever watch the god channel
It felt that Judith now wished to change the subject, and I stayed in her frame of reference. Summary
I wanted my summary to be one that encompasses both my understanding of my client's world and the learning/growth, which I have gained both from my client and from completing this piece of work. I chose this because it demonstrates the core conditions, so facilitating support for my client and a sense of safety. I felt this pace suited both my client, and myself It allowed time and space for both of us to think and reflect upon what was being said. I feel I remained congruent, being non-judgemental and empathic throughout. I was myself; I wasn't trying to be a counsellor as I felt I had in previous sessions with clients.
I have always found it easy to write about my weaknesses not my strengths. This is always difficult for me to acknowledge my ability to be good enough. In this session I felt it was evident. Being able to offer Judith a safe environment, the gentleness of my voice, to be able to show Judith my concern both in words and tone of voice was a wonderful experience one that will stay with me for some time. Having done this for my accreditation, for the first time. I know that I have been on a journey with my client having walked along side Judith, becoming aware of her world. I know that I have been humbled by her presence in the sessions and how this has affected me, making me look at my own sensitivity in supervision and in my own private counselling.
Related Topics