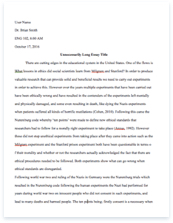 The whole doc is available only for registered users
A limited time offer! Get a custom sample essay written according to your requirements urgent 3h delivery guaranteed
Order Now
Television shows have been a significant part of our daily lives. Recent research shows that the average American watches more than five hours of television per day. Many people watch TV to be informed about what's going on in the world; others watch TV just for entertainment. In fact, TV can be classified into three categories, according to their content. Those categories of TV shows are entertainment, news, and science programs.
The first group of TV programs is entertainment. Movies, music, sports, and fashion are some examples from this group. People who are interested in this category have many programs to choose from. In addition, the times of broadcast are flexible. For example, MTV which is my favorite channel, is telecast every day. There are also different music types on MTV, such as pop, dance, country, and rock; thereby it making viewers feel fulfilled in their indulgence. If you are a fashion believer, you can watch many fashion models on the Fashion channel as well. Entertainment TV programs have the largest number of spectators because they reach most age groups.
Another group of TV programs is news programs. Channels belonging to this group tend to be professional, topical, and forecast weather news. Those who like news usually watch local and international news channels, such as CNN, NBC, or FOX. The news programs also have contents of information and reports about many different fields like policy, economics, and culture. Most children don't like to watch these channels and some adult viewers that like to relax after a long day at work would rather choose a more entertaining channel because news programs have just elaborate numbers and topical information. However, news channels bring a lot of useful information. Most of news channels' viewers are economists, businessmen, and politicians.
Science is the third group of TV programs. Discovery, Nature, Information Technology, and the Development of the World are the tenor of channels in this group. Channels in this group provide useful and salutary information, for example, world history, multi international space exploration. It also contains other programing like, Deadliest Catch, Space, and CSI. Moreover, if you love animals and nature, the Animal Planet channel is a good choice for you. Science programs are beneficial for everyone, especially for children. They raise children curiosity and to learn about science world and creativity. All of these TV programs are varied and important in every topic. We live in an information age where speed and knowledge, as well as communication are essence of life. Therefore, communication facilities is very necessary and important, especially TV show programs. TV is only useful if we know how to choose suitable programs and limit our time to sit in front of the TV.
Related Topics