Tall Profile Process Piece: Analyzing the Rhetorical Situation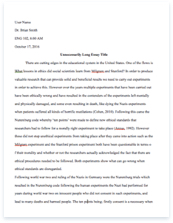 The whole doc is available only for registered users
A limited time offer! Get a custom sample essay written according to your requirements urgent 3h delivery guaranteed
Order Now
Please answer the following questions in complete sentence and paragraph format. Although this is not a formal essay assignment, please note that proper spelling, grammar, and sentence structure are required. This week's lecture and Chapters 2 and 3 in your text will help you work through some of the terms within the rhetorical situation. Defining Topic, Angle, Purpose
1. What is your chosen topic? (For example: a profile of Barb Collins, a volunteer at the local homeless shelter; a profile of "Shipwreck Days," a citywide flea market and festival; or a profile of Burdick's Grocery, the oldest family-owned business in town.) A profile of Donald Sterling; ex-owner of the LA clippers basketball team.
2. What unique angle can you present on this topic? (Consider what is new about the topic or what unique perspective can be shared about this topic.) This is a very different situation, due to the fact that Sterling has not once denied that he had implied racist comments about the fan/supporters of his team; matter fact he actually says "I should have just agreed paid her off" which also means that he is not ashamed of using corruption to keep his status.
3. What is your purpose for writing? (What do you hope to accomplish? Why are you writing?) The reason I have for writing about this, is that Sterling does not even deserve a chance to get out of this; people like him make a bad name for the sport. A person like him who makes insensitive racist remarks and is not ashamed of resorting to corruption in order to get out of it; In my opinion doesn't deserve to have a team in the sport. Analyzing your Readers
You will be writing your Profile essay to your local community. Imagine you might submit the Profile to your local newspaper or have it shared in a community newsletter; the readers of those publications make up your target audience. In two to three paragraphs, define your local community and describe what makes it unique. What are the needs, expectations, motivations, backgrounds, demographics, and experiences of community members? How will those influences impact your word choice, level of formality, and overall message?
With this paper my audience will normally mostly consist of Basketball fans, and sport fanatics. This will affect how my paper is presented; I will have to base it on emotion showing them that him keeping his place in any part of the NBA will be a disgrace to the sport. Throughout the paper I will have to keep a certain consistency of formality, to keep my point of view reliable even if bias towards keeping Sterling is being showed. I believe that by making my paper formal and emotional it makes it more credible and increases the importance of the overall message.
Reflecting on the Role of Writer
Whether you realize it or not, your personal relationship to the subject plays a key role in shaping the Profile essay. Remember, your personal brand is shaped, in many ways, by your community influences. Just as you make choices in terms of how you present your brand through writing, personal choices will also impact how you present the subject of your Profile. In two to three paragraphs, discuss your personal relationship to the subject. How have personal impacts, needs, motivations, and relationships shaped your topic, angle, and purpose? I have a really big relationship with this subject, due to the fact that I am a huge clippers fan, and I used to like Sterling until I found out about his personality and actions. In concerned about how this scandal is going to affect the team especially since it's the playoff season. The fact is that since I am clipper fan as always a fanatic of the sport itself, this gives my way to connect with my audience, being that most people that will be reading this will be of the background of basketball in general.
Related Topics