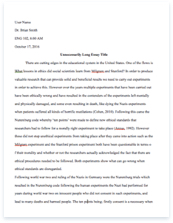 The whole doc is available only for registered users
A limited time offer! Get a custom sample essay written according to your requirements urgent 3h delivery guaranteed
Order Now
On, November 28, 2006, I attended a Finance Club meeting in room 303. The topic of discussion was "T.Rowe Price". Shelly Brown, a Corporate Recruiter of T.Rowe Price, was the speaker. She talked about the history of the company, their mascot "The Long Horn Sheep", and career opportunities within the organization.
Ms. Brown discussed that T.Rowe Price is an investment management firm. Their mission is to offer individuals and institutions around the world with an exceptional combination of investment management. The company was founded by Thomas Rowe Price, Jr. in 1937. The company's headquarters is located in Baltimore and Owings Mills, Maryland. There is also a corporate office located in Colorado Springs, Colorado. T.Rowe Price has investment centers in Tampa, Florida, Washington, District of Columbia, Oak Brook, Illinois, and etc. They also have expanded globally in countries such as Amsterdam, London, and Hong Kong just to name a few. This organization believes that service, initiative, teamwork, integrity, and learning are all values required in running their successful investment firm. As on June 2006, T.Rowe Price has $293.7 billion in assets under management. Ms. Banks stated that T.Rowe Price adopted the Ram or in which they call "The Long Horn Sheep" as the company's mascot. They believe their company (comparatively speaking) resembles the look of "The Long Horn Sheep". The characteristics of this ferocious animal are agile, sure-footed, ability to detect danger, and keen eyesight. All characteristics are similar to the company's mission needed for long term performance.
T.Rowe Price offers rewarding career opportunities. The company currently has 4,502 associates worldwide. "Baltimore magazine" in 2006 voted T.Rowe Price the best place to work. Ms. Banks estimated 100 to 200 more associates will be hired by the end of the year. The company consist of seven business units which are: (1) T.Rowe Price operations, (2) Retirement Plan Services, (3) Third Party Distribution-in sales, (4) Marketing and Investment Services, (5) Corporate Functions-H/R, Finance, Legal, and etc, (6) Investment Technology-IT, and (7) Individual Direct And Corporate Marketing. Everyone starts at business unit level one and then works their way up in the organization. They offer a number of great benefits to all their employees like 100% tuition reimbursement from the date of hire, fitness club reimbursement, life insurance which is equivalent to three times an employee's base salary; or if an employee decides not to elect a deferred savings plan or 401(k), T.Rowe Price will invest the employee (amount unknown), and etc. T.Rowe Price currently has four positions available for December graduates.
The first position is a Participant Service Center Representative (PSC). This individual will be responsible for handling telephone inquires from Retirement Plan Participants and researching individual account activity in a timely manner. The second position is a Retail Account Management (RAM) Service Associate. They will be responsible for processing retail, brokerage, asset transfers, and/or retirement transaction requests in a timely manner and accurate manner in order to provide a high level of customer service while remaining within legal and NASD guidelines. The third position is Operations Service Representative.
The hired associate will be responsible for processing retirement plan participate level loan transactions, selected withdrawal activity and all beneficiary, and enrollment and maintenance activity using a windows-based workstation. They will provide advanced support for all transaction requests ensuring that all incoming requests from clients are processed accurately and timely. And the fourth position is Service Associate. A Service Associate answers inbound calls from existing shareholders and responds to their service requests, including mutual fund transactions, product services and features, balance inquires, account registration requirements, and solutions to customer service issues. All qualified applicants for all positions stated must posse customer service skills, Bachelor's degree preferred, strong problem-solving and analytical skills, and etc.
In conclusion, my employer for the past two years has offered T.Rowe Price's 401(k) plan as a benefit to all employees and I absolutely believe it is one of the best investments I have ever made. I am enrolled under their aggressive 401(k) packages. Upon terminating with my employer (MobilexUSA), I plan on continuing investing with T.Rowe Price. Also, Shelly Brown had explained that she worked her way from the bottom up within this organization. I was once employed a T.Rowe Price part time. Once I graduate, I am considerating employment with T.Rowe Price again. T.Rowe Price is an extraordinary company to work for.
Related Topics