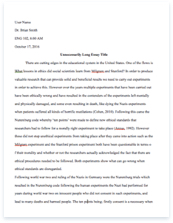 The whole doc is available only for registered users
Pages: 3
Word count: 630
Category: Suicide
A limited time offer! Get a custom sample essay written according to your requirements urgent 3h delivery guaranteed
Order Now
According to the Centers for Disease Control and Prevention (CDC), "suicide is the eighth leading cause of death of all U.S. residents, but it is the third leading cause of death among young people age 15 to 24." (Aurthur, 2006). Researcher A.L. Rosenkrantz, described the teen years as a time when ordinary levels of stress are heightened by physical, psychological, emotional, and social changes. Adolescents suffer a feeling of loss for the childhood they must leave behind, and undergo a difficult period of adjustment to their new adult identity. Our achievement-oriented, highly competitive society puts pressure on teens to succeed, often forcing them to set unrealistically high personal expectations. In an affluent society which emphasizes immediate rewards, adolescents are not taught to be tolerant of frustration.
The following are risk factors for adolescent suicide:
the presence of a psychological disorder and alcohol and substance use;
feelings of distress, irritability, or agitation;
feelings of hopelessness and worthlessness resulting from experiences such as repeated failures at school, violence at home, or isolation from peers;
a previous suicide attempt;
a family history of depression or suicide;
having suffered physical abuse or sexual abuse;
lack of a support network, poor relationships with parents or peers, and feelings of social isolation; and,
dealing with homosexuality in an unsupportive family or community or hostile school environment (Aurthur, 2006).
Primary prevention, purpose is to prevent an issue from occurring. For example, educating adolescents on suicide; teaching them the signs and the risk factors. Secondary prevention, the problem is identified and has been occurring for usually, a short period of time. Example of this prevention is counseling, support groups, and a crisis hotline (University of Calgary, 2007). Tertiary prevention, the problem may have been occurring for a while or it may be one serious episode that brings the issues to the surface. Examples of tertiary prevention are inpatient/outpatient drug and alcohol programs and adolescent psychiatric wards (University of Calgary, 2007).
The More Than Sad Program of the American Foundation for Suicide prevention provides education about factors that put youth at risk for suicide, in particular depression and other mental disorders. This program teaches teens to recognize the signs of depression in themselves and others, challenges the stigma surrounding depression, and demystifies the treatment process (More Than Sad, 2018). Renew Family Services, LLC, located in Jenkintown, Pennsylvania, is a treatment Center that offer programs for individuals, groups, couples, and families of those who have been affected by alcohol and other drugs, as well as behavioral issues. They offer psychotherapy, groups, psychiatry, recovery coaches, and medication management. Family group therapy offers another source of support where loved ones become educated as well as develop the necessary skills and cope and identify their role in the individual's recovery process (Renew Family Services, 2018).
Nurses play an important role in suicide prevention. Nurses who work with teens are in a prime position to making a connection with them. The simple act of caring provides a safe environment for the teens to open-up and express their personal problems. All threats or suicide attempts are to be taken seriously. The nurse should look for warning signs and discuss them with the patient, emphasize a relationship alliance; developing rapport for the patient increases willingness to talk about suicide, collaborate with colleagues and patient for safety plan, including how to cope with negative thoughts and anxiety. Then with permission, call supportive family members/friends. These interventions will give the patient the support they need to better themselves psychologically.
References
Aurthur, J. (2006). Preface to "What Factors Contribute to Teen Suicide?" In D. A. Becker (Ed.), Opposing Viewpoints. Problems with Death. Detroit: Greenhaven Press. Retrieved from http://link.galegroup.com/apps/doc/EJ3010160130/OVIC?u=san30851&xid=9f8ffd8b
More Than Sad. (2018). American Foundation for Suicide Prevention. Retrieved from https://afsp.org/our-work/education/more-than-sad/
Renew Family Services. (2018). Phycology Today. Retrieved from https://www.psychologytoday.com/us/treatment-rehab/renew-family-services-llc-jenkintown-pa/298222?sid=1516661684.4985_4469&state=PA&spec=205&ref=6&tr=ResultsName
University of Calgary. (2007). Interventions and Treatment Methods with Adolescents. Children's Mental Health Project. Retrieved from http://www.ucalgary.ca/cmhp/graduate_modules/9
Related Topics