Substance Abuse Affects All Walks of Life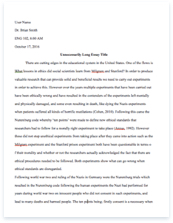 The whole doc is available only for registered users
A limited time offer! Get a custom sample essay written according to your requirements urgent 3h delivery guaranteed
Order Now
Often when someone thinks of someone with a substance abuse problem, the first person that comes to mind isn't someone educated and holding an elite job position. Unfortunately, substance abuse affects all walks of life. Anesthesiologists have a high rate of substance abuse. Anesthesiologists maintain highly stressful positions and work long hours with on call obligations. Anesthesiologists, nurse anesthetists and anesthesia assistants all have access to prescription narcotics and it has been well documented of the risks associated with substance abuse among these providers (Bozimowski, Groh, Rouen, & Dosch, 2014). In fact, a review of 1,000 physicians being treated for addiction revealed that 33.7% of all physicians seeking treatment were anesthesiologists (Bryson & Silverstein, 2008). The purpose of this paper is to explain substance abuse among anesthesia providers, its prevalence and what is being done to both treat and prevent it.
Among physicians and providers, anesthesiologists have the highest rate of substance abuse, so much so, that it is an actual occupational hazard (Jungerman, Palhares, Carmonan, Conti & Malbergier, 2012). It is estimated that 10% to 15% of anesthesia providers have a substance abuse issue (Valdez, 2014). Unsupervised access to highly addictive medications, stressful work environment and the theory that most anesthesia providers have 'thrill seeking attitudes' predispose these individuals for addiction (Valdez 2014). This is not only a concern for the anesthesia provider involved, but a major patient safety concern. Anesthetists have to be vigilant for any hemodynamic changes and act quickly if changes do occur. If unable to perform swiftly and efficiently patients can have negative outcomes (Valdez, 2014)
Identifying a substance abuse issue in this population can pose as a difficult problem. Often times, even when substance abuse is detected, colleagues fail to report it, due to fear of retaliation or lack of proof (Bryson & Silverstein, 2008). Affected providers may withdraw from family, friends and leisurely activities, display mood swings with increased irritability and hostility and request frequent bathroom breaks. Colleagues need to be aware of providers that are requesting extra on call shifts, spending more time at the hospital even when off duty and refuse relief; these are all possible signs of a potential substance abuse issues (Bryson & Silverstein, 2008). Anesthesia providers will spend more time at work and be willing to work extra, which can be misleading for colleagues, but this is a red flag for anesthesia providers diverting medications. Unfortunately, most anesthesia providers are in denial of their substance abuse or are afraid of legal consequences and possibly losing their license. This prolongs the provider from seeking help and further endangers patients and themselves.
Once a physician is diagnosed or comes forward with a substance abuse issue, they are immediately admitted to an inpatient rehab that specializes in healthcare professionals. Substance abuse is one of isolation, it is important for providers to be with other healthcare professional to know that they are not alone in their addiction (Bryson & Silverstein, 2008). The Florida Recovery Center specializes in substance abuse among healthcare providers. In fact, The Florida Recovery Center (FRC) utilizes therapist and physicians that have had substance abuse issues so "they understand first-hand what it's like" (Florida Recovery Center, n.d.) While at the FRC patients can expect thorough assessments, inpatient detox, along with individual, group, and family therapy sessions (Florida Recovery Center n.d.). After detox, the FRC assist practitioners in recognizing co-dependency, setting boundaries and offers tips on balancing home and work life (Florida Recovery Center n.d.).
"The FRC also focuses not only on recovering from the addiction, but works with employers and the licensing boards all across the country for successful return back to work." (Florida Recovery Center n.d.) In order to be successful, the FRC offers continued support through outpatient services and counseling. Sometimes anesthesia providers are required to continue outpatient therapy for a designated amount of time, this may be mandated by employers or by the court system. This therapy may include group therapy sessions which focus on behavioral modification and continued support from peers (Bryson & Silverstein, 2008).
Prevention is always preferred over treatment, yet there is little evidence or guidance when searching for prevention strategies. One randomized control study determined that among physicians, an 8-week stress management course, increased mindfulness and eased work related stress (Amutio, Martínez-Taboada, Delgado, Hermosilla, & Mozaz, 2015). Bryson and Silverstein (2008) states that randomized drug testing for all anesthesia personnel may be beneficial, but is rarely used. Tighter controls on narcotics may not stop anesthesia providers from abusing medication, but will alert employers so mediation can occur sooner (Bryson & Silverstein, 2008). In recent years' educational videos such as "Wearing Mask" have exposed substance abuse in the anesthesia field. These videos educate viewers on substance abuse, getting help and reentry into the field (AANA, n.d.).
Returning to work is difficult among anesthesia providers, if, at all possible. The AANA criteria to be considered to come back to work includes, completion of drug rehab with evaluation from a licensed provider and conformation of a supportive spouse or significant other. Involvement in a 12-step program and community recovery group. As well as, participation in a monitoring program and random drug testing. Return to work is viewed on an individual basis and the professional can be faced with "stigmatization, shame, working with choice substances, and unresolved pain, all contributing to the threat of relapse" (AANA, n.d.). Substance abuse is a chronic condition and relapse is possible after returning to work with old temptations and the same stressful atmosphere. In one study, of the 2, 922 individuals involved, 25% relapsed at least once over the course of the 5-year study. (Bryson & Silverstein, 2008).
Substance abuse can affect anyone and does not show inclination to the educated or the elite. Although little evidence is shown to prevent substance abuse among anesthesia providers, a multi-system approach should be applied. Early detection of substance abuse, stricter control over narcotics and education discussing substance abuse in anesthesia providers may help in preventing addiction. An employee program that offers coping strategies and stress management may aid in dealing with the pressures of this high demand position. Anesthesia providers have the highest rate of substance abuse among healthcare workers, working to prevent this from occurring will not only improve patient safety, but the lives of those affected by addiction.
Related Topics