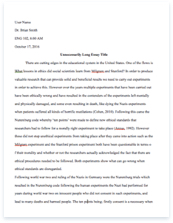 The whole doc is available only for registered users
Pages: 5
Word count: 1004
Category: Stress
A limited time offer! Get a custom sample essay written according to your requirements urgent 3h delivery guaranteed
Order Now
Over the past decade the problem of employees becoming stressed and burned out from coping with increasing work responsibilities. The Employees deal with the various facts associated with increasingly experiencing stressed out and burn out from their everyday activities that they perform at work. They are helpless in their efforts to keep up the productivity and the stress eventually runs into the families of the victims.
Everday we all are faced with different Dilemas with burnout and stress,. The Five articles chosen for this assignment written by Alters, Hildebrand, ledger, Boyes and Coombes express the factors of burn out and stress. Burnout can be described as the extinction of motivation or incentive, especially where one's devotion to a cause or relationship fails to produce the desired results, and is a stress-related state, but there are several factors that does contribute to burnout, including job-related features, lifestyle factors and personality characteristics (Hildebrand, 2007).
For those employees who are concerned about the health and welfare of their employees in the workplace, there are a few signs to tell if your employees experience the burnout effect. Hildebrand describes four signs are as follows: 1) Change in attitude: Someone who goes rom upbeat to disagreeable and becomes less sociable or patient with co-workers. 2) Change in performance: A well performing employee who suddenly has an increase in errors and missed deadlines along with a decrease in productivity. 3) Change in attendance: Increased absences, arriving late or leaving early and/or foregoing breaks and lunch to work. 4) Change in work habits: Poor time management, disorganization, poor follow up, and lack of concentration. 4) Change in health: Aches and pains, sluggishness, upset stomach, short temper, and sleeplessness (Hildebrand, 2007). The first step in addressing burnout is to figure out its cause simply because you as the employer is always asked to shoulder a heavier workload than usual, or you feel stuck in a dead-end job, also, some workers overextend themselves in an effort to avoid becoming a statistic in the next round of layoffs (Coombes, 2003).
It is not wise to take on a load that is too much to bear because it will not add to the productivity of the employee, therefore, hurting the company's productivity as well. The employee should not be concerned with obtaining the label as not being a team player but they should be more worried about their health instead. Burning yourself out is not going to mean your job is secure and you put yourself in a more risky situation if you get to the point where you cannot do your job well because you feel as though you face the feeling of Aburned out or stressed. In this economy, the idea of an upcoming layoff is always a lingering thought in the minds of many employees who cannot do the extra work but is often scared that they can be in the unemployment line for a decision that they made.
Downsizing and other reorganizations have often meant more work for fewer employees, but technology such as cheaper laptops, the Internet and cell phones have made it harder for employees to leave work at work which constantly adds to the stress that the employees have to endure during the rough times (Boyes, 2003). Stress is not only the problem of the employees but it also affects the managers within the same organization. This is troubling because the companies have to deal with the problem before it starts to undermine the company's productivity. When stress hits managers and supervisors, the toll can be particularly great because stressed-out managers can hurt employee morale, and disgruntled employees can drive away customers (Alters, 1992). The increase in stress is a byproduct of changes in the U.S. workplace, not just the recession and organizations have shifted their emphasis from human resources to looking at their bottom line (Alters, 1992).
Companies are coming up with interesting ways of making the working environment healthy by offering de-stressing benefits such as massage services, onsite gyms and even company dogs to take for relaxing walks are not unheard of, however, the pressure is still on (Ledger, 2001). The companies who continue to employ stressed, burned out or unhealthy executives or employees without addressing the issue will suffer in the longer term because a happy, healthy team is generally a considerably more productive team. The progressive modern companies who adopt more stress-free modes of work are more likely to recruit the best of the talent available and enjoy a more committed and productive workforce (Ledger, 2001).
Conclusion
The article give different sceniros on how to eleminate stress and burnout however these ways do not allways work out in favor of the employees who are facing the problems. Employers only provide solutions that they think will work to benefir the organization and most do not offer ways to elminate the stress and burnout. Each author gives there point of view on how stress and burnout should be handled by employees and employers. A happy employee is a productive employee and a miserable employee will only bring the organization down to there level.
References
Alters, D. (1992). Stress on the job // Workers say they're burned out, used up : [METRO Edition]. Star Tribune. 01A. Retrieved October 10, 2011, from ProQuest Newsstand. (Document ID: 54083607)
COOMBES, A. (2003). Facing burnout; Employees must address symptoms and causes: [All Editions.=.Two Star B. Two Stars P. One Star B]. The Record, p. L05. Retrieved October 10, 2011, from ProQuest Newsstand. (Document ID: 358364671).
Hildebrand, D. (2007). Preventing employees burnout: the benefit of reducing workplace stress. Retrieved on October 10, 2011 from the website: http://deborah-s-hildebrand.suite101.com/preventing-employee-burnout-a35726
LEDGER, W. (2001). Working towards a stress-free lifestyle : [A Edition]. Evening Standard, p. 36. Retrieved on October 10, 2011, from ProQuest Newsstand. (Document ID: 81960642).
Boyes, S. (2002). Balance: why work-life stress isn't going away. Canadian Consulting Engineer,
43(7), 60-61. Retrieved October 10, 2011, from CBCA Complete. (Document ID: 506687701).
Related Topics