Strength and Weakness of Classroom Management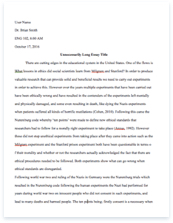 The whole doc is available only for registered users
A limited time offer! Get a custom sample essay written according to your requirements urgent 3h delivery guaranteed
Order Now
We are given tutorial tasks titled "choose your favorite teachers and state the reasons why you like the teachers? Then we are required to discuss on the implications when a teacher fails to become an effective teacher. On top of that, we also need to relate the role of teacher in making conducive classroom environment". Based on our group's presentation, I can conclude that to be a favorite and respectful teacher, one should holds some good personal qualities, competence in her/his work and always exposes about life values to students. For instance, a competent teacher will be responsible towards her/his teaching profession as she/he will always plan her lessons earlier. She /he will constantly prepare different activities and teaching techniques to attract the students' interest in studies. Different activities are including preparing a forum, debate, role play and reader's theater in classroom to make them actively involve. In fact, I also learnt that a responsible teacher will frequently change and add on new information on notice board to produce a conductive classroom.
Furthermore, a teacher who is rich in personal qualities will usually be friendly but strict in certain times, hardworking, understanding, joyful and dedicated. A teacher who embraces with these characteristics will be a loved person by the students. Moreover, a teacher also ought to frequently motivate and counsel her/his students, especially for those who are low in self-motivation. In contract, if a teacher fails to be an effective person, a lot of bad implications will occur. One of the implications is there are huge possibilities for the students to be lazy and not to concentrate in class as the lessons are boring. They will lose interest to learn because the teacher always preparing the same type of lessons. Moreover, the students will feel left behind as the teacher starts to use favoritism.
When she/ he gives special attention for a certain favorite student, the others will feel themselves as worthless. Apart from that, an unorganized and irresponsible teacher can result in producing weak students. In addition, these students will be unmotivated and basically not encouraged to have a fun learning situation in that subject. In short, a perfect teacher will be a respectful person and loved by the students whereas an ineffective teacher can hardly holds tight with students as they will hate the teacher. A teacher should understand her/his responsibility to this society, nation and world and tries to perform well in school as well as work with all of her/his heart as a great teacher.
Related Topics