Strategic Operational Issue of Organisation of your choice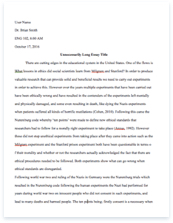 The whole doc is available only for registered users
A limited time offer! Get a custom sample essay written according to your requirements urgent 3h delivery guaranteed
Order Now
Introduction
Operations and processes are the foundation of every organisation that produces goods and services for its customer. A well designed and managed operations will enable the organisation to deliver its strategic goals by lowering its costs, improving quality and ensuring that right quantities are provided in time and at the right place. Hence, understanding the operations issues is vital to any organisation to sustain competitive edge in the market. This study provides some insights into the diagnosis of operations issues and the various methods that can be used to improve and streamline its operations.
The objective of this study is to examine the operations and process issues of one such organisation who has successfully contributed to the housing demand in Queensland. This study will provide a high level overview of the organisation, its strategic goals and its operations. In addition to this, it will provide a brief explanation of the operations issue within the IT services team along with a comprehensive analysis of a specific issue. Finally a recommendation is provided for improving the operations issue with factual comparisons of the current system. The following concepts are being used:
•Supply Network Design
•Process Mapping
•Lean Synchronisation
2The Organisation
Urban Land Development Authority (ULDA) is a state government owned organisation. ULDA was established to address housing shortage in Queensland by streamlining and fast-tracking development throughout the state with expertise in a range of development activities. The key issue for the state government was that local councils were taking significant time in development planning, development approvals and at times development activities which was delaying delivery of housing products state wide. This has resulted in housing shortage due to increasing demand over the years generated by increasing population of Queensland. ULDA was established to fast-track the end to end process of planning, development approvals and carry out development activities within 12 months of a Priority Development Area (PDA) declaration identified by the state Government. Eg: Mining towns such as Gladstone, Mackay etc.
Some of the key strategic operational goals of the organisation are below:
•Deliver land to the market within 12 months of declaration for a PDA
•Maintain housing products quality to high standards
•Deliver products that are affordable for low to moderate income earner
•Provide Development outcomes by community consultation and deliver on state governments promise.
Being a self-funded, non for profit organisation with its only revenue stream from Development Approval fees and infrastructure charges, cost effective operations was a top priority for the organisation.
All businesses within ULDA heavily rely on IT services for most of their operational activities. The businesses were dependant on specialised software's for information, data and reports as this software's allowed automation of various business processes resulting in greater efficiency and productivity. As these softwares were managed by the IT Services team, it was extremely critical to ensure that the IT service was very efficient and reliable. This would enable the organisation to achieve one of its key operational objectives and strategic objective.
In the first year of ULDA's establishment some of its back office operational functions such as Finance and IT were outsourced to reduce the overhead and focus on the key business activities. This was really effective initially but as the organisation grew there were much inefficiency in its back office processes that were identified. In addition to this, a further growth forecast is declared by the state government indicating that an additional 10 PDA's will be declared in the next 3 years which will add significant capacity pressure on ULDA's operations. For the purpose of this assignment, I will focus on inefficiencies within IT services which are discussed in more details below. 3Operations and Process Issues
The current arrangement of providing IT services to ULDA businesses was through an External service provider (ESP). As shown in diagram 1.1 External service provider is the first tier supplier which supplies IT services to ULDA IT and ULDA IT will then collaborate all IT activities and provides further services to first tier customers (ULDA Staff).
Diagram 1.1: Supply Network Configuration (Slack, Brandon-Jones, Johnston and Betts, 2012, p.72)
In this current process, there are various issues experienced by ULDA staff such as delays in service delivery, lack of visibility of service status and further delays and discrepancies in procurement of IT services. Listed below is a good example of a process issue is the double handling of procurement request of IT Services. Step 1: A service request is logged for 2 x desktop PC's with ULDA IT who creates an internal ticket Step 2: Same request is then logged by ULDA IT to ESP helpdesk who again creates an ESP ticket Step 3: Helpdesk assess the request type and escalates it to ESP Desktop support team for appropriate scope. Step 4: Desktop Team then requests ESP Procurement services (6) for procurement. There is no further communication back with status update. The performance objectives of Quality, speed and dependability are adversely impacted.
The below Process flow diagram 1.2 demonstrates the above processes waste with service requests due to duplication of service logging process.
Diagram 1.2: Flow between Processes
The above mentioned process inefficiencies cause significant delay, inaccuracy and cost increase in delivering strategic outcomes for the organisation. Also, with forecasted growth for the organisation, process improvement and reconfiguration of its supply network are much needed.
Operational Issue Analysis
To achieve smooth flowing operations it is important to understand an organisation's operations performance objectives and also have detailed understanding of its current operations processes as one cannot improve a process until it is well understood. Various concepts have been discussed in this subject that can be applied in analysing and improving operations. Some concepts are suitable to certain types of industries where as other concepts work really well in organisations with a specific Operations performance objective. To analyse the above operational issue I will use a combination of supply network configuration insourcing or outsourcing/ Do or Buy concept along with Lean Synchronisation method. The operational issue is analysed based on insourcing or outsourcing decision and by reducing process waste using Lean Synchronisation concept. Both these concepts allows for supply network re-configuration hence streamlining a smooth process flow. The key performance objectives are costs of IT operations, Service quality and dependability, speed of services and flexibility it offers during rising demands.
4.1Supply Network Configuration
Supply Network Configuration consists of three interrelated activities – shaping the network, influencing the location of operations in the network and planning long term capacity strategy for each part of the network (Slack, Brandon-Jones, Johnston and Betts, 2012, p.76). For purpose of this study, this analysis will be based on shaping of the network part by using decision logic of outsourcing table ((Slack, Brandon-Jones, Johnston and Betts, 2012, p.80)) to decide whether to outsource IT services or not. The decision questions are as below:
a.)Is the activity of strategic importance? –IT equipment's and services are the primary tools that ULDA businesses use to produce their desired outcomes such as development scheme, development approval decisions. This is based on data and application available to through IT systems and development plan and contracts to enable development activities. Hence, a smooth IT operation with minimum interruption is of great strategic importance. b.)Does company have specialised knowledge? – No, the company does not possess specialised knowledge but there are enough skilled resources that can be employed to deliver these services. c.)Is company's operations performance superior? – The current outsourced supply network design is not superior and directly impacts on its performance objectives of speed, costs and service quality. d.)Is significant operations performance improvement likely? – Yes, by insourcing the IT services it is likely to offer better, faster, dependable and cost effective services. The decision logic here suggests that it is important to explore keeping IT services in-house or in house. A further comparison of costs and efficiency gains is demonstrated in the recommendation section.
4.2Lean Synchronisation:
Lean Synchronisation aims to reduce unnecessary cost throughout an operating system and hence improve other performance factors. The means of achieving lean synchronisation is by elimination of all wastes, the involvement of all concerned and implementing continuous improvement. Some of the techniques for eliminating wastes are listed below:
•Just-in-time (JIT)
•Simplify technology
•Pull control
•Kanbans
To successfully achieve lean synchronisation operation of IT In ULDA, it is important to first identify the process wastes and areas of continuous improvement.
4.3 Process Waste
There are seven process wastes defined in JIT such as overproduction, waiting time, transportation, processing time, inventory, motion and defects. In ULDA, the services the processing time waste by IT services is one of the most significant as described below. Processing time is wasted during service requests that has to be logged twice between step 1 and 2 (Please refer to the diagram 1.2) once by the user and once by ULDA IT officer. A lot of this waste can be reduced if IT services are brought in-house and ULDA IT has more control to fix the issue, thus reducing doubling of processes (Harrison, 1992). Due to this duplication of processes and limited system visibility and control to ULDA IT there are significant delays in resolution of majority of the services. The below Chart 1.1 illustrates request resolution times at each step of the process flow (refer to diagram 1.2)
Chart 1.1: Service Requests Resolution Time
The above chart demonstrates that 50% of the service requests take more than 2 days to resolve, thus directly impacting staff productivity. Following performance objective analysis was derived from the annual report provided by ESP. Dependability: System availability for the year was down to 95.4% Quality: Services delivery error rate for the year was < 0.10% Speed: 50% requests resolution was > 2days
Cost: Total cost incurred due to staff productivity loss was $1.2 Million
Significant improvements can be achieved in performance objectives by re-configuring the supply network and bringing IT services in-house and eliminating process wastes between steps 1 to 5 of the service process flow (refer to diagram 1.2). Also a review of existing operational processes on annual basis will assist in identifying further process improvements. The following changes are further described in detail in the below recommendation section. This section also provides comparison with current state and provides forecast on performance objects such as costs, speed and productivity gains.
Recommendation:
To achieve a smooth process flow and reduce process wastes for IT operations in ULDA the following changes are recommended based on the above analysis: 1.)Re-configuration of Supply Network by bringing IT systems in house: Moving the IT systems in house will provide ULDA IT greater visibility and they will be able to resolve many issues without going through ESP helpdesk. The location of IT systems closer to the users will provide better performance by eliminating dependency on any external factors such as network bandwidth issues etc. A cost analysis for this is provided in the table below.
Service ProviderCapital Expense (PA)Recurring cost (PA)Costs over 3 years Current ESP Systems$70,000$320,000$1,170,000
In house Systems$220,00080,000$900,000
TOTAL SAVINGS OVER 3 YEARS$270,000
2.)Reducing Process waste by moving all IT support processes in house and outsource system maintenance services: As per the diagram 1.2 bringing processes 3, 4 and 5 in house. Although this will require additional IT staff at ULDA the productivity gain forecasted due to faster resolution of service requests will provide significant improvement in other operational objectives. The new process flow diagram is shown in diagram 1.3.
Diagram 1.3: Process Flow Diagram with services In-house
The outsourcing of system maintenance will enable ULDA IT team to focus on support and new system implementation tasks. This will also allow ULDA IT to fill any gaps in resourcing that may arise due to a team member going on leave or in case of absence. Following improvements can be realised.
a.)Current ESP support is only available from 9am to 5pm, with additional support staff in house the support hours can be extended from 7am to 5pm thus significantly improving overall operations performance. b.) Following chart 1.2 shows comparison in resolution times for requests
Chart 1.2: Service Requests Resolution Time comparison with in-sourcing
c.)As demonstrated from all the above tables and charts it is evident that significant improved system dependability, improved service speeds and quality of service will improve staff productivity to 90%. 3.)The final process that is recommended is to continue reviewing the new processes annually to identify further continuous improvements and hence getting closer to achieving Lean Synchronisation.
Thus by implementing the above recommended change it is forecasted that the following improvements should be realised in IT operations performance objectives.
Related Topics