Strategic Choice and Evaluation Argumentative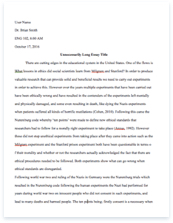 The whole doc is available only for registered users
A limited time offer! Get a custom sample essay written according to your requirements urgent 3h delivery guaranteed
Order Now
Introduction
In order for Starbucks to even understand growth, they will need to identify their weaknesses as well as implement different strategies to address the weaknesses that were identified. Starbucks needs to consider a value discipline, generic strategy, and grand strategy to remain competitive in today's economy. The following paper will discuss strategies recommended as well as provide examples of how combining different strategies can increase their profitability and achieve growth. Best Value Discipline
A generic strategy that is used as an alternative approach is known as value discipline, which consists of three important concepts needed as a basic foundation for the success of any organization. Pearce and Robinson (2013) discuss three value disciplines known as operational excellence, customer intimacy, and product leadership that can all be utilized to help Starbucks build growth. Starbucks will focus on a mixture of customer service and operational excellence as the best value disciplines to be utilized. According to Pearce and Robinson (2013) custom-made offerings are identified to satisfy the demands of a identified niche market in customer intimacy while cutting edge services and products are offered to customers in product leadership; far more superior than its' competitors.
Operational excellence for Starbucks will involve cutting down their costs while still providing quality and reliable services to their customers. Customer intimacy is another important aspect of that should be utilized. Starbucks needs to ensure that they are focused on their consumers and that there products are tailored to the needs of their consumers. In order for Starbucks to retain customer loyalty they will need to ensure that cultivate a strong relationship with their customers.
Generic Strategies
Differentiation, focusing, and low-cost leadership are three generic strategies that were identified by Michael Porter. According to Pearce and Robinson (2013), differentiation requires that the business have sustainable advantages that allow it to provide buyers with something uniquely valuable to them. In the case of Starbucks, the consumer feels that the cost to purchase the coffee/food item is well below what the coffee/food item is worth compared to their competitors such as McDonalds and Dunkin Donuts. Grand Strategy
According to Pearce and Robinson (2013), Grand strategies are a means by which objectives can be achieved. There are a total of 15 different grand strategies that can be utilized but for the purpose of this paper, I will only focus on a few. Recommended Strategies
Product Differentiation
Although, Starbucks has adopted the differentiation strategy they should continue to further expand on it to ensure that the coffee and products are different then their competitors. This could include offering different products and services at different locations. For example, Starbucks could open more coffee shops offering organic lattes and organic food products at major retail stores such as Walmart, Sears and Kohl's Department stores. With the current economical conditions, Starbucks needs to differentiate their products, which may in turn, help change the minds of consumers who are less willing to spend $4.00 on a cup of coffee. They could also create new products at a cheaper price to attract more customers. Value Chain Development
Starbucks is dedicated to its connection between their suppliers as well as supporting the ecosystem. An example of this would be the fair trade initiative. Starbucks has placed a large amount of time, effort, and money into developing the partners inside their value chain. Horizontal Integration
Starbucks has and should continue to use this strategy to help control its competition and be able to reach out to new markets (as discussed in product differentiation). They have already done a good job of accomplishing this by using the acquisition of Seattle's Best coffee and Torrefazione Italia. Online ordering
Although Starbucks has several drive-thru windows, and even sit down areas in their stores, they need to be able to expand their services to include online ordering. Many times, customers are unable to find a seat to sit down in their store during peak hours and may endure long waits even in the drive thru. However, if Starbucks opened up a drive-thru accommodating only those customers who ordered on-line, they would be able to attract more customers and expand their stores.
Conclusion
Although Starbucks strength remains in its brand, they still need to separate themselves from their competitors such as McDonalds, Dunkin Donuts, and other small coffee shops. In order to do this and remain competitive, they will need to create new innovation, which can be accomplished by offering a variety of organic products, enhancing their customer service and investing in quicker service via use of online ordering and interactivity.
References:
Elder, S., Lister, S., & Dauvergne, P. (2014). Big Retail and sustainable coffee: A new development studies research agenda. Progress in Development Studies 14(1), 77-90. Pearce, J.A. & Robinson, R.B. (2013). Strategic Management: Planning for Domestic and Global Competition (13th ed). New York, NY: McGraw Hill.
Schultz, M. (2013). Starbucks Global Responsibility Report: Goals and Progress. Retrieved from www.starbucks.com Unknown (2014) Starbucks Investor Relations. Retrieved from www.investor.starbucks.com). Zhang, X. (2011). Communicating Coffee Culture through the Big Screen: Starbucks in American Movies. Comparative American Studies, 9(1), 68-84.
Related Topics