"Story of an Hour" Mrs. Mallard Character Examination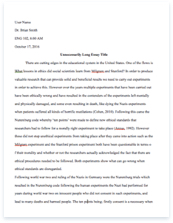 The whole doc is available only for registered users
A limited time offer! Get a custom sample essay written according to your requirements urgent 3h delivery guaranteed
Order Now
Kate Chopin's "The Story of an Hour" details the emotional process of a certain Louise Mallard as she copes with news of her husband's recent death. The story experiences a change of tone partway through, as it soon becomes clear that Mrs. Mallard, while initiatially shaken, is in fact elated by the news of her late husband's untimely demise. One can actually notice Mrs. Mallard's entire mood and outlook shift dramatically during the course of the story, as her true motivations come to light.
At her core, Mrs. Mallard possesses two inherent traits – one being a strong inclination toward independence, the other a generally self-seeking attitude. Perhaps these parts of her nature could be best summarized by the following quote from the story: "But she saw beyond that bitter moment a long procession of years to come that would belong to her absolutely. And she opened and spread her arms out to them in welcome. There would be no one to live for her during those coming years; she would live for herself." This excerpt highlights Mrs. Mallard's aspirations toward a self-sustained lifestyle, where she will be the only governing authority. It also demonstrates her apparent lack of empathy, as her thoughts at this point are purely about her own future while whatever grief she may have had over her husband's death at the hands of a violent railway accident seems to have suddenly left her, despite a span of only a few hours since she first heard the news.
In the end, what she saw through the tragedy was an opportunity; a chance to live a life the way she wanted. While her reaction was not totally justified, still her character is something to be admired.
Related Topics