State the proposed act as a maxim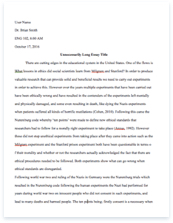 The whole doc is available only for registered users
Pages: 3
Word count: 703
Category: Law
A limited time offer! Get a custom sample essay written according to your requirements urgent 3h delivery guaranteed
Order Now
ASK WHETHER YOUR MAXIM IS CONCEIVABLE INA WORLD RULED BY THE UNIVERSAL LAW.
No, the maxim in a world ruled by the universal law is Inconceivable. If everyone became millionars just by working for one year then currencies of our countries will gradually become of no value and our economy will drastically start to change and this will create numerous problems in our countries. There would be no point in making so much of money within a year when most of the population would still be living in poverty due the rise of the economy. A perfect example of a country who is currently facing this difficulty is Zimbabwe, were almost everyone is 'wealthy' yet still living poor lifestyles and not meeting their basic needs. If every person earned millions within a year then the demand on the economy would be great thus causing hyperinflation. This would surely become a crisis and leave every person in a state of poverty.
ASK WHETHER YOU WOULD RATIONALLY ACT ON YOUR MAXIM IN SUCH A WORLD.
No, if everyone had to earn millions by the end of a year the n supposedly everyone would become rich but this would cause an unbalance in our countries economy in terms of the different classes of people. There would be no classes of rich, middle income or poor. Yes, this would make everyone equal but this will no longer stand to be a healthy economy because of hyperinflation. People would also become demotivated to do better because they would automatically become lazy and dependent on the extra earnings they would receive. They would lose hope in promoting progress, bringing forth new ideas and even plans to prosper in our countries to make it more sustainable to live in. There would be a rise in competition amongst on another to see who would live a more luxurious life. Greed will be a major problem as people always seem to want more than what they can actually need.
WHAT WOULD KANT PROBABLY HAVE SAID ABOUT WHITEY BASSON (OR YOU) EARNING ZAR 620 000 000.00
Kant would have found this as being immoral for Whitey Basson to earn this or any person for that matter. Ever though, through research it can be known that Whitey Basson has improved Shoprite but what about the other people who work at Shoprite also improving the company day by day. This could be seen as inequality in the work place. Everyone would want to drive nice cars and have fancy homes but because of my point made before about hyperinflation, everything can be taken away. But a person like Kant can believe that we can have a good life with far more less, being a millionare should not be the only reason to make your life a good one.
WHAT DO YOU THINK ABOUT WHITEY BASSON (OR YOU) EARNING?
Just like Kant, I would also find this immoral. Even though in this assignment we are sticking with option B, in assignment 1 I had chosen option E, 'I think that active steps should be taken to correct immoral remuneration practices' which adds to the fact of how wrong I feel about this whole situation to be. Yes, Basson did improve the status of Shoprite immensely but that does not mean that he has to receive that amount of money. Everyday cashiers, managers, cleaners and those who work in the deli and many other different departments, all work together to bring in and attract customers which improves the company as well. But no one awards them with that amount of money for their hard work.
WHY DO YOU THINK THIS?
I think this because I would not want this to happen in the future. Yes, studying does give us recognition and note everyone can get the same salary but everyone plays a major role in building up an industry but no one should be given ZAR 620 000 000 .00 for a year's work. I think that the same money should be given to organisations or to improve education or even decrease the poverty rate. Shoprite, being an industry where people buy groceries should use some of the money to make hampers and distribute them among the poverty stricken which can impact and help many lives.
Related Topics