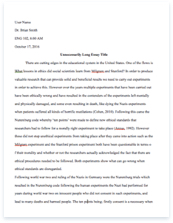 The whole doc is available only for registered users
A limited time offer! Get a custom sample essay written according to your requirements urgent 3h delivery guaranteed
Order Now
Growing up, sports were an important part of family, and in turn a very important part in my life. From the small plastic basketball hoops, Nerf footballs, and little tike golf clubs. I was always surrounded by sports.
At home in my younger days I'd spend all day either shooting hoops on my small basket, or attempting to hit golf balls around the yard. My dad would spend hours of every evening perfecting my shot and playing countless games of horse. I can remember if I would make 10 in a row I would be rewarded a piece of candy, 20 in a row meant I didn't have to set the table or help my mom clean up after dinner.
My dad taught basketball, my favorite sport, to me. He was my first and most influential coach. Almost every day and for sure at least once a week he would talk to me about basketball. Even if we didn't go outside to shoot hoops he would talk to me about the game and quiz me on what I should do in certain scenarios during the game. These were my favorite times when I was little. I would always want to talk to my dad about basketball, and learned all I know now about basketball from him and those talks. I am never too old to hear from him and talk about basketball for hours. Every winter, from 4th grade to my senior year, I would step out on the basketball court ready to give it everything I had to get better. I can still remember our coach putting the team through running drills hour upon hour to improve the shape we were in; all the other kids except my best friend and me would always complain about how they were tired and how they hated running, but my friend and I just loved bettering ourselves through conditioning and could never get enough. Through the years of the "pee wee" basketball days, game days, to me really weren't that special but all that was about to change as the years went on. My toughest years in basketball came in Jr. High, since I came from a small school there weren't very many kids that played.
There were 9 kids on my Jr. high team and honestly, they weren't very good. Every game was a struggle, and our record was terrible. I can remember walking into the locker room, sitting down in defeat and I would just look at my best friend as we listen to the coach talk about the game. In the end, those years probably helped more than winning every game in Jr. High. Those games made me push harder in practice and forced me to make my self as good as possible so I would no longer have to feel that way again. Most people will think that losing all those games would turn one away from the game but in turn it actually strengthened the ties between basketball and myself. One of the most nervous times in my life, first day of practice freshman year, I walked out on the court, my stomach uneasy and tingling from the anxiety I was feeling. The soothing smell of the gym floor and basketballs as well as the familiar faces of my friends calmed my nerves and got me through the first practice. The high expectations of myself drove me to do my best during practice. After two weeks of practice I fulfilled my parents expectations and gained one of the starter positions on varsity as a freshman.
Through practice every day, I was faced with some type of an obstacle I had to overcome, if it was battling through a sickness during practice or helping a teammate that was loosing the drive to continue on. Every year the first week of the season was conditioning only and coach gave that week the name "Hell Week". That week was single handedly the toughest part of the season. Hell week alone would weed out about a quarter of the team only because they did not want to provide the effort to better them and be on the team. That week consisted of going to practice and doing nothing but running for three hours. This lead to many kids quitting because they didn't want to do what was necessary, and they weren't strong enough to push through the obstacle. Yes there were different drills but in the end it was all basically running the whole time. I myself was questioning my decision at times of being on the team, but I knew every painful step was making me better. Coach would always be screaming, encouraging, and forcing us to keep pushing on. His determination was so intense I'm sure if he could he would do every drill along side us and love every second of it.
Another tough obstacle that was hard to over come was being slightly sick. Since basketball is a winter sport everyone came face to face with a slight cold. Practice with a cold is a terrible thing to experience. I'm sure you have had a sore throat before but can you imagine running and exerting yourself for three hours with a sharp pain in every breath. Most kids would just go home after school if they had a cold. If I ever missed practice the feeling of guilt I felt was almost unbearable, so I chose to go to practice everyday. Those practices test your mental toughness more than anything I know, every second you have to tell yourself to keep going and not to give up. In turn when coach saw that even though you were struggling and you kept going on he would give you a slight break and have a bit of sympathy. During the season I was taught so many things through basketball, not only how to play the sport, but I gained a second family where if anyone needed help with anything the others would be there to assist no matter what.
We were like a family because everyday for about six months we would be together to either practice or go to games and as a whole we had our ups and our downs but we were in for the long haul and we were going to do it together no matter the outcome. Every practice and every hard fought game strengthened our bond as a family, and we then set the goal towards state. Mid-season we realized that we had a very good shot at making state, and come end of season we did achieve our goal. We would achieve that goal for the next two years after that, and represent our school in the state tournament. As everything in life basketball too had its ups and downs. Senior year the district finals game, against a rival team that had stepped up their game since the last time we played. We were down at half time by 10 and coach was preaching that we cannot give up, also that we have been in this position before. We fought hard in the second half and were actually winning by two points with three seconds left.
But as you can imagine the impossible would happen that night, the other team in bounded the ball to their point guard he then passed it to another player who lobbed up a half court shot only for it to go through the bottom on the next just as the buzzer sounded. Those three points scored put the other team in the lead and with no time on the clock there was nothing we could do about it. The feeling experienced after that is indescribable, it was the worst feeling I have ever felt to know that all my hard work had came up short purely because of some good luck for the other team. In the locker room our coach talked to us longer than he had ever before; he reminisced the season, talk about the good along with the bad, and how he wouldn't trade a second of the season for anything else.
He told us that the lessons we learned over the years would never be replaced and that we must be strong and passionate in everything we do, even if things don't pan out the way we want them to. He was like a second father to me and when he started to tear up I didn't know what to think or how to feel. I then truly realized the impact that a single sport can have on a person. I felt like a truck hit me when I realized that this moment would be my last memory with my team and that the jersey I've worn for the last 4 years was ready to start its new life and be passed on to the next generation. Before that time I knew sports were large a part of my life, but I never understood until then what it really meant to me.
Related Topics