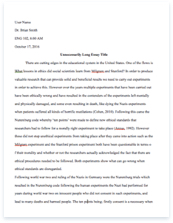 The whole doc is available only for registered users
A limited time offer! Get a custom sample essay written according to your requirements urgent 3h delivery guaranteed
Order Now
I am submitting this letter and vitae to express my interest in the new, OSEP-funded Ph.D. program in Special Education in the College of Education at the University of South Carolina: Project PROMOTE as a part-time doctoral student with the cohort for the Fall semester of 2019. After earning my master's degree in Counseling, I started my career in the South Carolina school system. I worked for over fourteen years as a special education teacher in the Midlands area and surrounding community. I also served students in the school system as a school-based counselor with the Orangeburg Area Mental Health Department prior to becoming a teacher.
Earlier in my career search, I did not know that someday I would become a teacher; however, when I was in elementary school as a youth my positive experiences with my teachers impacted my life. I never knew that I would enter the teaching professional one day, but I am glad that I did.
As a student, at times I remember feeling frustrated, but my teachers recognized my problem and spent time tutoring me after school. It took a lot of time and a great deal of patience's on their part, but one day it all made sense. Suddenly, I understood the concepts my teachers were conveying, and I was excited about learning. The joy and pride I felt were unmatched by any other moment secondary and post-secondary education.
I learned so much more from this process. My teachers taught me how to believe in myself. They taught me about the value of hard work and the rewards one can experience when helping others. Therefore, even at an early age, I knew that I wanted to share the lessons I learned; in order, to help others find the same joy. For the past fourteen years, I have been fortunate enough to do so, with great success. Last year, I was selected from a pool of twenty teachers as Great Falls Middle School's "Rock Star Teacher of the Month" for the month of October, an award conferred by Chester County School District.
I am expressing my interest in obtaining a Ph.D. in Special Education with the University of South Carolina because I am passionate about building and expanding upon the success and fulfillment I have already experienced as a special education teacher over the past fourteen years. My academic and career goals include serving beyond the classroom setting. I want to learn how to promote policies, advocate, and develop stronger legal literacy skills for our children in South Carolina. I would utilize my Ph.D. to serve as a Director of Special Education for a local School District, work for the office of Exceptional Services at S.C. Department of Education or as a compliance officer. As a compliance officer, I would monitor and advise on institutional policies, procedures, operations and activities for compliance with disability legislation, including program accessibility and accommodations in such areas as employment, facilities, transportation, and communications.
While my experiences as an educator have been rewarding it is time for me to use the knowledge that I have acquired over fourteen years and serve in a different sector. I want to serve on a larger scale in a professional capacity. The University of South Carolina has a great reputation for excellence in developing leaders. I am particularly interested in pursuing a degree in Special Education as I believe that special education is not a place, but a service and I am dedicated to truly serving those who need it the most.
Thank you in advance for considering my application as a future student in the Project PROMOTE program.
Sincerely, April S. Morgan  
Related Topics