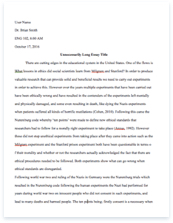 The whole doc is available only for registered users
A limited time offer! Get a custom sample essay written according to your requirements urgent 3h delivery guaranteed
Order Now
Have you ever wondered why mom wants everyone to come over for Sunday dinner? In this paper I will share the beauty of having Sunday dinner with the family and how important it is to keep it going. Here I will show you a family nearly falls apart until it is saved by love, understanding and good cooking. Most Sunday dinners are gathered around plenty of food and a bunch of love. The movie I have chosen is "Soul Food". The reason I choose this movie is because it shows us how hard it is for families to stay together, but through much love and prayer all things are possible for those who believe. This film is a celebration of life and family, and recognition that, through good times and bad times, the ties of blood provide an unbreakable life-line.
Now I will give you a brief summary of the movie. The story is told through the eyes of Big Mama's grandson Ahmad (Brandon Hammond). Soul Food tells the story of the trials of the Joseph family when their beloved matriarch, Mama Joe (Irma P. Hall), slips into a diabetes-induced coma. Without Mama Joe's ritual Sunday dinners to keep everyone together, the family begins to drift apart, with gaps widening between sisters and spouses. The film essentially follows the lives of Mama Joe's three daughters. Terri (Vanessa L. Williams), the eldest, is a driven lawyer who puts work above her neglected husband, Miles (Michael Beach). Miles is tempted away from his steady, well-paying job by the lure of his true love, music, and away from his wife by the proffered charms of Terri's cousin, Faith (Gina Ravera). Maxine (Viveca Fox) is happily married to Kenny (Jeffrey D. Sams), and spends her days caring for her husband and three children. Bird (Nia Long) is newly hitched to ex-con Lem (Mekhi Phifer), an intense, caring man whose volatile temper often proves to be his undoing.
I will start out with storytelling; this movie is narrated through the eyes of an African American child. The narrator tells the story of his grandmother, and her four daughters. Soul Food deals with the grandmother's struggle to preserve African American culture and tradition in her four daughters and grandchildren. The four daughters are modern day women who face the challenge of holding on to this cultural tradition after the grandmother dies. Furthermore, the narrator faces the challenge of carrying on his grandmother's wishes to make sure that culture and tradition are preserved within that family. The movie is in chronological order because it starts out the grandmother isn't sick. Then as the movie moves goes on she get sick and dies. The movie takes place in Chicago. The biggest conflict in this movie is getting all the sisters to get along with each other. The conflict is finally resolved when the mama dies. That is one reason to have Sunday dinner with your family and keep having them as long as you can. You never know when someone you are eating next too just might not make the next Sunday.
I will continue to look at the storytelling side of the movie. The main character that experienced an internal conflict was Mother Joe. The conflict was that she was really sick and she had a very hard time telling her kids. This movie have many symbols while watching "Soul Food," I reflected that in many ways it depicts a world which white audiences will find unfamiliar. Oh, Big Mama's family shares the same kinds of values, problems, worries, successes and failures as whites. But movies and TV often focus only on a narrow wedge of black America, showing pimps and junkies, outlaw teenagers and con men, but ignoring the vast and substantial African-American middle and working classes.
The next part of my paper I will introduce you to the actors. The first one I will tell you about is Vanessa Williams as Teri is one of the most respected and multi-faceted performers in entertainment today. She has conquered the musical charts, Broadway, music videos, television and motion pictures. I would say the kind of actor she would be considered is a star. Another star actor is Vivica A. Fox as Maxine she is of Native American and African American descent and is proud of her heritage. The other star actor is Nia Long as Bird is an exceptional actress and devoted philanthropist.
This three-time NAACP winner's career spans genre and audience. I think the type of acting was realism, because all throughout the movie it was things that happen in real life. Star power also helped get Soul Food into production. Kenny ("Baby face") Edmonds, one of the most powerful figures in the music industry–he has penned hits for Madonna, Toni Braxton and others–produced it with his wife Tracey. Mother Joe (Irma P. Hall) is warm, loving, doomed. She has an uncanny gift for seeing right to the heart of her family's strengths and weaknesses, and dishing out firm advice, spiritual sometimes and practical always. All of the actors in this movie were acting in a realism way, and I will attribute all of their performance to the director. The reason for this is because the movie was made in according to his life.
Moving on to cinematography part of this movie, what comes to mind when I look back at the movie. The food was a big part of the mise en scene and the camera revealed it throughout the entire movie. As it states in our text book technically, lighting is a part of the mise en scène, whether or not a camera is on the set (such as with live theater). However, it is the focusing of light onto a photosensitive emulsion on film, or electronic sensor in a video camera, that makes possible the recording of a photographic image. The type of lighting that was used in the film was Low–key lighting and flat lighting. Now when it comes to the color in the film it was saturation and technicolor a technology that produced rich, vivid, hyper–realistic colors. Most of the camera distance and angles where medium shot at eye level. The focal length that is used in the film was a short focal–length lens also takes in a wider field of view than a normal lens and is sometimes called a wide–angle lens. I would say the camera is objective because it is recorded as it appears. I don't recall many if any special effects in the movie.
Looking along at the editing of this movie. The text tells us Effective editing is sometimes called "invisible" editing. The type of transition that was used in the movie I chose was a standard wipe, just as it implies, looks on the screen like one shot is "wiped" off the screen by another shot, whether from side to side, top to bottom, or diagonally. In the movie it was a lot of cutting back and forth from actor to actor in close–up, and then in two–shots and long shots, the editing makes it look as if the audience is seeing a continuous conversation from beginning to end.
The example of this kind of coverage in a pivotal scene, young Ahmad goes to visit Big Mama, and in a low-key, unemphasized way, seems to communicate telepathically. (He agrees with her about plans for the garden, even though she of course cannot speak.) Later, in the film's closing sequence, it is Ahmad who understands Big Mama's desires for the family, and brings them about through some sneaky planning of his own. Continuity editing was a big part in this movie because I know that cutting to a new camera position would confuse the audience. Not one time during this movie did I get confused? When it comes down to the rhythm of this movie as it states in our text, editing can enhance the rhythms of a sequence when the picture is cut to match beats in the soundtrack, whether it's the background music (especially in music videos), the sound effects, or lines of dialogue. The rhythm was both slow and fast motion. In the scene when Big Mama dies it's slow, because we had to see the expressions on her girl's faces.
That brings us down to the sounds in the movie. Dialogue was present in this movie when the third sister, Bird (Nia Long), is a young beautician whose former boyfriend wants to lure her away from her new husband (Mekhi Phifer). Sound effect begins at the jubilant wedding party for this couple, where a vixen that the heroines call "that hootchy-cootchy mama" shows up to do a wild dance with the groom. The music is presented by Kenneth (Babyface) Edmonds as its executive producer and resident songwriter, grooves along to a score full of gentle harmonies, with Boyz II Men and En Vogue among those featured on the soundtrack. The music has the same pleasant effect as the dinner. It appears at the party and while Big Mama is in the hospital. I want to share some of the movie style and the directing of the movie. As directed slowly but solidly by George Tillman Jr., who wrote the film while drawing on his own experience of a large and close-knit family, "Soul Food" plays broadly to the audience without entirely losing touch with reality. I feel the director point of view is very evident, because the acting is more believable, the storyline is more true-to-life, and the characters are more sympathetic. The director is telling us a memorable story that deeply resonated in the hearts and minds of moviegoers, touching on the themes of family bonds and traditions.
Now I will take you to the societal impact that Soul Food has had on my life. I really can't say that it makes me feel like I am escaping my daily life. The movie has taught me that no matter what your family is facing you can make it. The movie did have scene that was cut out from the original. Example is when they were dancing at the party. The only controversial in the movie that I can think of is stereotyping all black people to eating soul food. Soul food is a way and a style of cooking that every culture can enjoy. The genre that this film fits is comedy and drama. This movie was full of drama especially when all the sisters get together for dinner. It goes from drama to comedy when they are dancing and laughing together.
In my conclusion of this paper I have shared the beauty of having family over for Sunday dinner. The movie Soul Food had so many great features about it that you did not know if you wanted to laugh or cry. I have given you the storytelling, acting, cinematography, and editing side of Soul Food. Soul Food explored the hardships and trials of black family life, and through the characters, setting, and theme of both the story and the film, the issue of class and the search for community. Take time to love on your family, because we never know who might not make it to the next Sunday dinner.
References
Farley, C., & Cole, P. E. (1997). Cooking up a hit. Time, 150(15), 86. Goodykoontz, B., & Jacobs, C. P. (2011). Film: From Watching to Seeing. San Diego, CA:
Bridgepoint Education, Inc. https://content.ashford.edu
"Paul Elliott". Internet Encyclopedia of Cinematographers. 8 December 2008. Retrieved 2009-
01-08.
Reynolds, J. R. (1997). Babyface & Co. whet appetites for LaFace `Soul Food' soundtrack. Billboard, 109(36), 13.
Related Topics