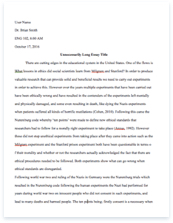 The whole doc is available only for registered users
A limited time offer! Get a custom sample essay written according to your requirements urgent 3h delivery guaranteed
Order Now
My interview was to my friend's daughter Crystal Solis who has a Bachelor of Social Work. She has been in this field for five and a half years. Crystal started working for IES (International Educational Services) but it close after 30 years. Federal government gave Comprehensive Health Services a new contract worth up to $50.7 million to resume operations. CHS (Comprehensive Health Services) took over the contract and is also using the IES former offices and hired about two-thirds of the employees laid off. She works in the office located in 299 E. Heywood Street San Benito, Texas.
Comprehensive Health Services was founded in 1975, is one of the nation's largest and most experienced providers of workforce medical services. The company partners with commercial companies and the U.S. government to implement and manage cost-effective, customized medical programs for large and dispersed workforces. CHS team members provide high quality medical services and humanitarian care to support the health and well-being of the immigrant children who are sent to the shelters.
The job she performs is serving children under 18 years of age from other countries, mainly Central America, who enter the United States without permission. While they are at the shelter, children are provided with their basic needs which include medical care, counseling, case management services, education, recreation, physical exercise, and access to legal services. As soon as a child arrives at one of the shelters the reunification process starts as case manager begin reaching out to the child's family. If they can't locate a relative, then they look for a sponsor. Sponsors are screened as required by Flores Agreement to make sure they are suitable for providing for the child's needs. Her job includes helping to resolve the children's immigration status and collaborating with legal professionals. She gathers important documentation and writes a detailed report that can help support her client's case.
Flores Agreement is explained briefly below:
"In 1985, two organizations filed a class action lawsuit on behalf of immigration children who had been detained by the former Immigration and Naturalization Service challenging procedures regarding the detention, treatment, and release of children. After many years of litigation, including an appeal to the United States Supreme Court, the parties reached a settlement in 1997. The Flores Settlement Agreement imposed several obligations on the immigration authorities, which fall into the three broad categories:"
1. The government is required to release children from immigration detention without unnecessary delay to, in order of preferences, parents, other adult relatives, or licensed programs willing to accept custody.
2. If a suitable placement is not immediately available, the government is obligated to place children in the "least restrictive" setting appropriate to their age and any special needs.
3. The government must implement standards relating to the care and treatment of children in immigration detention.
Crystal told me she likes working with the children and giving them her support because they are very vulnerable. They travel from so long to find a better place and to escape from their past. Her goal is to help as many refugees to adjust to their new surroundings. She plays a crucial role in their recovery, which allows them to move forward with their lives. As a mother she says that seeing the children happy is her biggest accomplishment.
One of the most heartbreaking case for her was when a little girl from Honduras accompanied by her 18-year-old sister came to the United States but were captured at the Southern border and turn in to the shelter. The girl came from a family of 7 and were abandoned by their father. So, the mother went to Belize in search of work and would send money when she was able to do so. The girl and sister got tired of the extreme poverty and decided to take a chance to seek a better future leaving behind two sisters and a brother. In the shelter her sister couldn't stay because she was already over the age, so they released her to ICE and was return to her home country unable to sponsor her sister because she had no means to provide for the minor. Another of her option for the minor was to ask for a voluntary departure back to Honduras. So, they called the mother back in Belize and she told the agency her daughter couldn't return with her because she had other children to care for. The minor ended up going to a long-term foster care separated from the only person that cared for her, the sister. That is when you learn and must understand that is impossible to meet everyone's needs.
How do you balance your personal life from work? It is hard to separate my personal life from my professional cause as a mother you always want to do what is best for your kids. So, in my work my priority is every kid that I get to help and care for. When I get to my house, I try to leave my job and cases behind and focus on enjoying my family. Sometimes is hard to not think of the cases you work with daily because is reality that children are living. As a social work I need to set boundaries between clients and us. The key is planning and making sure you make good use of your time away from work. My advice to you would be to remember that it is very important to have good quality time with your family and don't worry about what you left behind, until you go back to work.
What have been the worst stories you have heard from the children? She said some escape their home country from extreme violence, physical abuse and desperate poverty. Others are trafficked into the country and use as sexual slavery or commercial sexual exploitation. Many of the girls have been raped during their long journey to the United States. Others come looking for their parents that left them behind to provide them with their basic needs. While left behind by their parents they have been abuse by family members. In the offices some children have arrived with STDs and even bruises.
Do social workers make good money? For many people the social work is known for its low pay. It will depend on which branch of social work you will choose that will dictate your salary. The pay is good but most of all I belief in having good intentions and helping others is way more pleasing.
Do you ever regret working in this field? No, I have never regretted the career I chose. In every job there is going to be all different kinds of bad situations just as in our life's, but it depends on us to try to make the best out of it.
What qualities should a social worker need? The main quality would be to have understanding or empathy to help clients. Be able to listen carefully and establish trust between the child. Some clients can't clearly state their needs, so we must learn to read between the lines to interpret the thoughts being held within. Also, I often like to evaluate my own performance and try to improve what I can. Another quality that has helped me is the ability to work and compromise with others to coordinate as a social worker.
What would be your advice to me? I can only advice you to get as much information about the field you are interested to help you learn and decide whether this is a job you would enjoy. Never give up on your education no matter how many obstacles you come across. Remember you can only do so much for your clients.
Related Topics