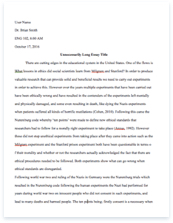 The whole doc is available only for registered users
A limited time offer! Get a custom sample essay written according to your requirements urgent 3h delivery guaranteed
Order Now
There are many professional organisations that work with schools in supporting children, young people and their families. We can divided them in six groups: Social Services: Social services work with people to support and help them to improve their lives. They usually specialise in supporting either children and families, or vulnerable adults and they frequently work closely with other professionals in the health sector for example doctors, physiotherapists and nurses.
If a social worker's is in a statutory role he/she has to comply to the government regulations in order to safeguard the person they are working with: so they have the duty to endure and enforce the laws.If a social worker is in a non-statutory role he/she still work in similar scenarios and with similar people but are not liable to reinforce the parliament legislations, they are often works for voluntary organisations or in more specialist roles, for example helping children with a life threatening or terminal illness.
2. Children Services:
The 2003 Every Child Matters white paper and the 2004 Children Act introduced a new social service system and also merged of children's social care with education and some health services to form a new children's services department within each council led by a director of children's services responsible for well-being of all children in a council's area.
3. Youth Services:
The Youth Service is an intensive,targeted training program for post-14 years old students. It organises various activities that help and support the local, national, or world community .This activities,have got the aim of developing, training and mentoring young people through youth work, are always free of charge or with minimal compensation to the server. The youth services are composed of a voluntary sector and a statutory sector. The first one,controlled by Education Authority, is quite small and consists only of youth clubs and outdoor training centres.The second one is the larger sector and is composed of many different organisations that provide various activities such as cooking and foreign language lessons and music classes.
4. National Health Service:
The National Health Service(NHS) is the national care service for the United Kingdom. There are four National Health Services in the UK one in each country(England, Scotland, Wales and Northern Ireland) and they are funded by the tax payers and managed by the Department of Health. The National Health Service professionals such as GPs, school nurses, speech therapist work within schools helping with children and young adults in need or could be called in to promote healthy eating.
5. Police Service
Police officers' role in a school is to prevent dangerous, unruly,and/or violent behaviour. The workA police officer can work with the number of schools they work with, the roles they take on in school, and the time dedicated to it.
6. Educational Psychology Service
They help to improve and support children and families lives but also schools and the community. In the schools the educational psychologist works very closely with the children and young people assessing them first and lately developing a plan in order to help them to achieve their full potential.
Related Topics