Social Media Fiascos by Firms Around the World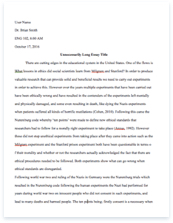 The whole doc is available only for registered users
A limited time offer! Get a custom sample essay written according to your requirements urgent 3h delivery guaranteed
Order Now
Social media networks are fantastic resources for businesses of all sizes looking to promote their brands online. Social media isn't a fad or trend. It's an enduring reality of online existence. For marketers, it's indispensable. Your customers are interacting with brands through social media, therefore, having a strong social media marketing plan and presence on the web is the key to tap into their interest. Interacting with your customers regularly is a show of good faith for other customers. When people go to compliment or brag about a product or service, they turn to social media.
Without social media, your inbound traffic is limited to people already familiar with your brand and individuals searching for keywords you currently rank for. Social media also gives you an opportunity to gain valuable information about what your customers are interested in and how they behave, via social listening. With all these benefits that come into the foray when you step out into the wilderness that is the online Social Media platforms, it would be quite foolish to sit out. Social Media selling has risks but the greatest danger of them all is playing it safe.
New ways of venturing in wisely are fast becoming clear and if they are becoming clear to you, they are becoming clear to your competitors as well. Social Media Rule 1: Always Double Check your facts before posting them online. But as much as we'd love to post interesting and enlightening information on the page, it's possible that your facts are not correct. The internet can be a ruthless place and you cannot afford to be in the news for the wrong reasons. Before posting factual information, make sure you verify its sources. If nothing else, just google before posting.
As we first mentioned in this article on employee blunders, this social media intern at MTV killed the very much alive art of living guru Sri Sri Ravi Shankar when meaning to send out a tribute to the music legend instead. This blunder was immortalized with a screenshot and as MTV would attest, is remembered cringingly, even till date. Not every opportunity passed is an opportunity lost : Sensitivity on social media has become a pre-requisite for every social media manager given the fact that you could be picked apart and eaten alive for even the littlest of mistakes.
Lenskart on the other hand didn't make a little mistake, it simply went full retard. There are some brands who have used times of a fatal disaster and a tragedy as an opportunity to cash in on the ongoing chatter and plug their products. Their posts have met with relentless flak and ridicule. Be sensitive around news of disasters and if you cannot post anything helpful, just a dignified silence will do. In this case, even though Lenskart soon apologized, the brand's social media image has probably taken a beating for a long time to come.
See Exhibit A. We mentioned in our abstract that how social media was like a virtual megaphone in a person's hands and the last thing you want to do in such a situation is ignore a customer's complaint. Online Reputation Management is the most crucial aspect of strategic social media marketing. How much ever you invest in Social Media Marketing if you fail to manage your reputation online and do not meet your customer's concerns on time- all your efforts of spending on a online channel for promotion is worthless.
Starbucks India learnt this the hard way by keeping mum where they had the chance to show their customer relation management skills and goodwill. If your brand has faced a negative concern from your customer – solve it than deleting or defending it. A message regarding poor service was posted on 'Starbucks' Facebook page on 7th February and the post triggered 5,100+ likes, 250+ comments in few hours. [1] Armaan who was awaiting response from the brand later posted a print screen of post made on Starbucks India on the Global Starbucks page on 12th February 2013.
Both Starbucks and Starbucks India removed the post from the wall as it was getting more attention than their regular updates, triggering more criticism against the brand. It stayed silent on Twitter despite many people asked for a response to the issue. Starbucks India remained thick skinned and continued to do its other Social Media Marketing content activities How should Starbucks have dealt with this situation? By either calling him personally and solving the issue amicably, requesting him to remove the post himself.
They could've also used the power of Social Media to right their wrongs by identifying those bouncers and manager involved in the scene, recording a apologetic statement from them and posting the video on YouTube – Just going one step ahead to showcase 'The Best Customer Service' practice. One of the most successful strategies in the social media sphere has been combining your product with other trending topics in a witty and playful manner.
Companies are always on the lookout for such opportunities to cash in on the already popular and publicized catchphrases or tweets which saves them from coming up with creative taglines entirely on their own, saving both on resources and time. But you'll always find people who mess up their definitions of what's witty and what's offensive. Let's take a look at some who missed the target by some distance. On September 8, 2014, DiGiorno[2] posted a tweet that read, "#WhyIStayed You had Pizza. "
The hashtag WhyIStayed went viral in the midst of a controversy brought out by the Ray Rice scandal of domestic abuse. 3] Just after the release of the disturbing hotel video footage of Ray Rice punching his wife, in just 24 hours, over 46,000 Tweets using the hashtag #WhyIStayed surfaced and most of them were poignant messages from women explaining what made them stay in abusive relationships. This was a serious and delicate matter where people were trying to overcome their own personal experiences of what made them endure violent relationships and why it was necessary for women to leave abusive partners rather than living through the pain.
Trying to capitalize on the trend, DiGiorno Pizza Tweeted, "#WhyIStayed You had pizza. " A mere four minutes later, they tweeted an apology stating that they hadn't been aware of the significance of the hashtag. Hence the takeaway from this twitter fail is that making light of violence is never acceptable, and neither is jumping onto a trending hashtag without first understanding the context. While timeliness is certainly important when it comes to social media, you can always afford to wait a few minutes to find out what you're even talking about before you risk poking fun at someone or something serious.
What's up with these American companies and their terrible habit of misreading situations. One thing that even a 5-yr old knows is not to joke about a funeral, especially one that has half the nation shocked to the core. We had a difficult time in choosing between the given examples, given the paucity of our report but Epicurious'[4] beat out tough competition from American Apparel's Challenger Context Fail to take the cake. It's nice when companies find a way to offer a heartfelt message to people who've suffered some sort of hardship.
What's not nice is when they try to capitalize on a much-talked about tragedy in order to push their products. Many have done it, but perhaps the oddest case was that of food magazine Epicurious senselessly Tweeting scone and breakfast recipes to buoy our spirits the day after the Boston Marathon bombing. "Boston, our hearts are with you. Here's a bowl of breakfast energy we could all use to start today. " Seriously Guys? (See Exhibit C) Despite evidence to the contrary, you don't actually have to say anything about a tragic event or disaster.
If you or your company has a relevant message, you can communicate that, but if you're commenting just for the sake of commenting, don't. It could easily come off as generic and heartless. So the tweet should have looked something like this, "Boston, our hearts are with you in these tough times. Stay Strong. " To the social media managers at Epicurious, you couldn't come up with this. Kindergarten Mistakes: British entertainment retailer, HMV made the dire mistake of giving access to the company Twitter account to a whole bunch of staffers, and then unceremoniously firing them before revoking access.
It shouldn't have been a surprise then that these unsatisfied employees took to Twitter and began badmouthing the company, calling the 60 layoffs a "mass execution. " This forced the HMV executives to publicly explain internal business, essentially airing dirty laundry that could have been kept private had they had a closer eye on their social media accounts. One of the fired HMV employees put it best when he/she Tweeted, "Never fire the social media people until you've changed the passwords: @hmvtweets has gone rogue.
Some companies give anyone and everyone access to their social media accounts, which could not be more ill-advised. So the clear and loud message is "No, your unpaid intern should not be able to become the public mouthpiece of your gigantic corporation. " Handling the company's social media may have once been deemed a fluff task, but by now you should know better and handle the position with care. As long as we are talking about childish mistakes, you should never post anything vulgar or offensive like swear words and racist/sexist imageries. Come on, this is the first thing taught in any Social Media Marketing class.
Some famous examples would include StubHub dropping the F-bomb wherein someone posted a vulgar tweet from StubHub's account, calling the ticket sales website a "stubsucking hell hole. " The tweet was up for about an hour before the company finally deleted it and issued an apology. It's unclear whether the tweet came from an unhappy StubHub employee or if the account was hacked. How would you react if, by innocently scanning a Heinz ketchup QR code, you were directed to a hardcore porn website? That's exactly what happened to German resident Daniel Korell last June.
Turns out that when the scannable barcode campaign expired last year, Heinz didn't renew the connected URL, allowing Fundorado, a German purveyor of porn, to scoop it up. Same goes for Pepsi's Swedish branch releasing a set of Facebook ads featuring a voodoo doll of competitor Portugal's megastar Cristiano Ronaldo tied to train tracks, getting his head crushed in, and covered in pins as a statement in support of the Swedish Football Team against their world cup qualifying match against Portugal with a regrettable caption that read, "We're gonna pass over Portugal".
They were forced to quickly remove them and apologize after a Portuguese anti-Pepsi Facebook group formed and gained over 100K fans in a day. Can you imagine the loss in brand image that these actions can trigger? I mean, a global football icon like Ronaldo who plays for one the greatest football clubs, Real Madrid and is not only the most followed athlete across Instagram, Facebook and Twitter but a national icon as well who has over 200 million social media followers can effectively ruin your brand. You can lose substantial market shares at the snap of your fingers.
He could join your competitors and that would be nothing short of 'game over'. It was smart on Pepsi's behalf to act quickly and apologize to Ronaldo and cover up the situation so as to avoid disastrous repercussions. They were equally lucky that Ronaldo didn't take any issue with the matter and passed it off as something to laugh about. The difference between those who fail and those who succeed in the age of social media is simple. Success is no longer about fancy packaging and carefully controlled messages. When everyone can see what you're doing, the most essential values are transparency, honesty and credibility.
Even with advanced privacy tools — like private lists, tweets and circles — the most foolproof way to stay safe on social media is simply to be who you say you are. Pretending to be something you're not, or attempting to conceal or manipulate the truth is a surefire way to lose. You win by matching your image with reality, acting with integrity, and sincerely apologizing when you're wrong. All they need to remember that a little bit of sensibility and goodwill are the key ingredients to successful social media interaction and that's true for almost all the walks of life.
Related Topics