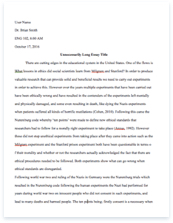 The whole doc is available only for registered users
A limited time offer! Get a custom sample essay written according to your requirements urgent 3h delivery guaranteed
Order Now
Chimamanda Adichie gave an inspiring speech on the danger of the "single story". The evident danger of the single story creates stereotypes among large amounts of people that are easily viewed as true. Although some might be true, Adichie explains that any single story about a person, culture or place is incomplete. There are many stories to be told about any place. According to Adichie, one of the main problems of the single story is that it robs people of their dignity. The single story does not give justice to the setting, culture or magnificence of equal human life. It makes a stereotype very easy to hold to the certain topic, which can be a positive or negative outlook.
Yet, having a stereotype for anything creates a faulty error of limiting the society. When we focus on our differences in a negative way, the rhetoric of the community can have a substantial impact on the discourse itself. Saying that a certain thing holds characteristics, makes others believe those claims in a viral way. This can ultimately lead to these claims becoming what is real. Adichie makes the assertion that limitation of people stems from power, which is true in a sense that when referring to power, it represents a mass amount of people that have influence. Rather than a direct figure or individual, that makes a more literal sense of the word 'power'.
Chimamanda Adichie in my opinion is a very effective communicator that presents herself well by using numerous literary devices while giving the speech. Throughout, she tells flashbacks of life experiences that support the meaning of the speech as a whole and are supported with analogies for better understanding. Adichie speaks about her experiences growing up in Nigeria and juxtaposes that with life in America. While watching the video, Adichie combines the perfect amount of ethos with pathos that has her audience attentive. Also not forgetting logos as she presents herself as the more open-minded and global thinker than her critical peers. This makes the audience want to agree with her point of view.
Related Topics