Should Smoking Be Banned In Public Places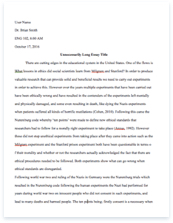 The whole doc is available only for registered users
A limited time offer! Get a custom sample essay written according to your requirements urgent 3h delivery guaranteed
Order Now
I remember that when I was child, I saw one public service announcement in the television that was performed by Yul Brynner, who was an actor of "The King and I". In an announcement, he said, "If I hadn't had smoking the cigarette, I would not have talked to you smoking was hazardous the health". An announcement was played after he had died in lung cancer, which was caused by smoking. This announcement gave me deeply impression that cigarette was harmful our health absolutely. However, how many people agree this? Everyday, we hear much news about the people who die from the cancer, which is caused by smoking or passive smoke. It is obvious that smoking not only affects the health of smokers, but also harms other people who are not smoking. So, many people think government should ban the smoking in public place. However, this issue always provides a lot of controversy. Some people say "Yes", some people say "No". Now, we are going to examine what opinion the people have in this issue.
Some people think smoking should be banned because it can develop lung cancer. Cigarette contains thousands of different organic chemicals. When people who are smoking, the body will absorb a mass of tars, which is harmful the lung. Besides, the nicotine and carbon monoxide, which damage the normal cells of the lung when these chemicals are burnt. The article says over 4,000 varied chemicals, which can cause cancer, include in the cigarette. According to the evaluation, it has about 164,100 conditions are involved by lung cancer and 156,900 people die of lung cancer in the United States in 2000. ("Facts About Lung Cancer", 2001)
Passive smoke is another reason for the people who support for banning smoking in public places. Smoking not only affects smokers but also threatens the life of non-smokers. Passive smoke is created by the flaming and smoking of tobacco products, which contain many carcinogens chemicals, such as carbon monoxide, sulfur dioxide. Non-smokers inhale these chemicals through the air thereby increasing the risk of lung cancer. Besides, many diseases that come from active smoke also affect to the non-smokers. Nasal sinus cancers and the death rate of heart disease are also caused by the passive smoke, which exposes to the air. According to the EPA evaluation, about 3,000 people who are killed by lung cancer, which is developed by passive smoke. Moreover, passive smoke also affects 35,000 to 40,000 non-smokers to develop the heart disease. (Karpilovsky 3)
On the other hand, some businessmen think smoking should not be banned due to their businesses will be affected by the smoking ban. When the smoking is banned, all restaurants or places of entertainment will loss many customers who are smoker. Because the smoker cannot enjoy the smoking when they are patronizing at the restaurant. In the article, the statement of restaurant revenue implies that the income of restaurant for this year is less 0.6 percent than the identical period of previous year. Zeidan Zeidan, owner of Z's Deil mentions his revenue has reduced 20 percent due to the banning of smoking. "We used to get very good business from smokers in here during lunch and breakfast, but now they don't like it because it's so closed in", Zeidan Zeidan commented. (qtd. in Passi 1-2)
Besides, the right of individual would be exploited by the smoking ban. Some people think they have a right to choose whether or not to smoke. Everyone has right and freedom. If the government bans the smoking in public places, means that government deprives the right of the people who are smoker. Allanah, who is a non-smoker, thinks smoking in public area should not be prohibited because smokers should have a right and freedom, such as walking on the street or anywhere same as other people. However, if the smokers who are told smoking is prohibited in public places, they will be exploited the right with smoking. He also says he does not favor the odor of smoking and to be surrounded by the people who are smoking, but he thinks everyone should have a right. If other people who cannot endure, they can select staying out of those areas. (Allanah 4)
From my point of view, smoking should be banned in public places. Firstly, smoking gets a fire easily. Many people who like throwing the cigarette butt that does not go out near the tree. When the tree is burnt out by that cigarette butt, it probably causes the disaster that we cannot estimate. I have heard many conflagrations that are caused by the cigarette butt that does not go out. Secondly, smoking is not good for the environment. When the cigarette is burnt, it will produce much carbon monoxide. When it combines with ozone, which is produced by a chemical reaction in the air between pollution and sunlight, and other chemical, such as nitrogen dioxide and so. It will produce much poisoned gas, which affects environment seriously. In fact, smoking not only kills the smoker, hazards innocent non-smokers, but also ruins the natural ecosystem and environment. Therefore, it is no doubt that smoking should be banned in public places in order to protect all people and environment.
Related Topics