Shopping Centers and Their Role in Today's Society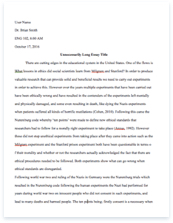 The whole doc is available only for registered users
A limited time offer! Get a custom sample essay written according to your requirements urgent 3h delivery guaranteed
Order Now
Mall of America, King of Prussia Mall, Sawgrass Mills, and The Shops at Columbus Circle are a few popular shopping malls to name. What do all these malls have in common? They have a connection of being huge shopping centers with the perfect layout of stores that attract the right type of consumers. For a shopping center to be successful, it has to have the right location, stores, and size. An important way to keep a shopping center current is constant renovations to keep the centers modern. Selecting the best location for an outlet is an essential decision for any retail business.
Location affects customer patronage, market share, sales revenue, and profit-and consequently the long-term performance and viability of the business itself. In turn, the presentation of businesses at a given location affects the occupancy and rental rates that the property can achieve. A well-located shopping center can be successful even in a weak economic environment, while a poorly located center may ultimately fail. Therefore, understanding how location affects a shopping center business is supreme to the success of owning or investing in shopping centers. Choosing the right stores to place in a shopping center is crucial since it has to bring in the right consumers due to your location.
If the location is a tourist site typically the shopping center will have department stores, boutiques, movie theaters, photography studios, and other specialty stores. What to choose to put in a shopping center is vital; you have to have something for everybody such as other features of a shopping mall include kiosks, food courts, and arcades. You have to give to every demographic when designing a shopping plaza. Consumers love shopping centers because it's a one-stop location where you can get everything you need.
Just how much does it cost to rent a space in a shopping center? Depending on the location and size of the rental space the rent can range from anything. The cost of your retail space is usually determined by its number of usable square feet. Usable square feet includes the shopping area, office, storage and docking area if applicable, for example the average price per square foot is $14.35 in St. Lois. Rent for spaces in shopping centers is usually about four times the price of rent for a kiosk or cart. The superiority of the space itself should also determine how much the space costs. A retail space in a new strip mall is likely to be suggestively more expensive than an area in an older building.
Renovations are very important for a shopping center to constantly do to stay current. The mall is constantly changing its appearance, anchoring itself to an evolving into modernism. Freed from the pull of gravity, the mall is now society's most revered safety valve, with such importance as a social and political symbol that terrorists intent on disrupting normal life choose it as a prime target. By planting a bomb in a mall, they attack the contemporary vision of dreamland. In this "spaceship," the city's most benevolent and leisurely impulses are now distilled. The world of work, illness and repression has been extracted; all that remains is soft-flowing leisure and purchasing power.
Shopping centers are evolving today in our society, their growing into an epidemic that's grown over the last few decades. In the near future I predict that shopping centers will not only grow in size but will slowly get into higher brand names and be more exclusive. Location is not only important when developing a shopping center but also significant when paying your rent.
References
Ammani, P. (2013). A study of the factors that influence customer preference for shopping malls over local markets. IUP Journal of Management Research,12(1), 7-21. Greeco. (2009, July). Mall makeovers. Planning, 75(7), 10-14. Ownbey, K., Davis, H., & Ownbey, L. (n.d.). Ingredients of a successful shopping center. Retrieved from http://www.ccim.com/cire-magazine/articles/ingredients-successful-shopping-center Verdu. (2000, November). Shopping heaven. The UNESCO Courier, 53(11), 4-6.
Related Topics