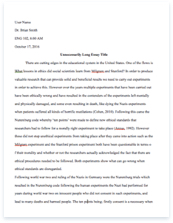 The whole doc is available only for registered users
A limited time offer! Get a custom sample essay written according to your requirements urgent 3h delivery guaranteed
Order Now
The "Big Idea" that I have is to have restricted living for sex offenders, not just how far from schools, parks and daycares they may reside, but a housing unit. This is for their safety and the community. My thesis statement is "Registered sex offenders in the community can pose as a danger. Although, some sex offenders are wrongly accused, communities would feel much safer if there was a place outside of prison to house them until they are fully rehabilitated." The challenges I will face with this thesis is trying not to make it personal, but to prove how this can be an effective change for the safety of the community. My research plan is to mainly use the internet. I'm researching information from organizations such as RAINN (Rape, Abuse, and Incest National Network) and CSOM (Center for Sex Offender Management). Also I'm using BJS (Bureau of Justice Statistics). I also plan to look at different states and their rules for sex offenders.
While I know this can be a touchy subject, I want my readers to feel this is a safe change and that everyone involved will benefit. I do not to use personal stories of victims to persuade my audience, but facts on how the restrictions we have now just aren't as safe as we all want to believe. I think my target audience would be parents, sex offender's families, and maybe the state senate to inform them how housing sex offenders would benefit the community and even the sex offenders. My pitch would be: We all have things that we worry about in life, but one thing that we shouldn't fear is our safety and the safety of our children. There are numerous laws restricting sex offenders from living in certain areas, but that doesn't stop parents from fearing for their children's safe. It is likely that parents experience fear after notification of a neighborhood sex offender. This fear can lead to community-wide hysteria, which has occurred in many towns (Levenson, 2007).
In California, Jessica's Law was passed in 2007 to limit registered sex offenders from living within 2000 feet of a school or a park. As a result of this ordinance, approximately 2700 registered sex offenders were told to move, with many ending up homeless (California Attorney General). So for the safety of the children and communities, a housing facility with 24/7 supervision should be used.
This is, until they finish their treatment and prove they can live "normally" within the community. Within 3 years following their release, 5.3% of sex offenders were rearrested for another sex crime. On average 9,691 sex offenders served 3 1/2 years of their 8 year sentence. Compared to non-sex offenders released from State prisons, sex offenders were 4 times more likely to be rearrested for a sex crime. The 9,691 released sex offenders included 4,295 men who were in prison for child molesting (BJS). Yes, they are human and have rights, but they chose to commit the crimes, so why should the communities suffer for their wrong doing.
REFERENCES
Levenson JS, Brannon YN, Fortney T, Baker J. Public perceptions about sex offenders and community protection studies. Anal Social Issues Public Policy 2007 California Attorney General Sex offenders, sexually violent predators: punishment, residency restrictions, and monitoring. http://www.sos.ca.gov/elections/vig_06/general_06/pdf/proposition_83/entire_prop83.pdf. (BJS) Bureau of Justice Statistics. National Recidivism Study of Released Prisoners http://www.bjs.gov/index.cfm?ty=pbdetail&iid=1136
Related Topics