Service Marketing Persuasive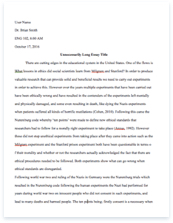 The whole doc is available only for registered users
A limited time offer! Get a custom sample essay written according to your requirements urgent 3h delivery guaranteed
Order Now
I. Introduction
Nowadays, services dominate economy and generate most new jobs. This service encounter report aims to compare and contrast my own real-world service experiences using services marketing theories. Firstly, it will compare my two satisfactory encounters journals in East Coast Car Rentals and Ambient Hotel Colina to get the most satisfactory one. Secondly, two dissatisfactory encounters in Ray White Alderley and Myer will be compared to gain the least satisfactory one. Finally, I will give 3 recommendations for the least satisfactory encounter. Theories of level of tangibility, heterogeneity, inseparability, and perishability; level of customer service; disconfirmation of expectations; processes or production steps and so on will be used in analyzing my encounter experiences.
II. Most Satisfactory Encounter
As an oversea student in Brisbane, I like travelling around Australia during the holiday. When deciding to travel to Melbourne, I planned to have a road trip. We were going to hire a 7-seat car because there were 6 people travelling together. Prior to the trip, we had booked the car via East Coast's homepage. Before picking for the car, I felt satisfied with the service according to the theory of Flower of Service, like the information was detail including the exact time to pick up the car and the order-taking was easy. Therefore, I was looking forward to this trip because I thought it must be happy. Therefore, my expectation was quiet high. But, as mentioned in Appendix 1, just 30 minutes before the picking time, I was informed that the car was unavailable. That was exactly the service failure. According to the Cognitive Emotional Framework, when a customer experiences a dissatisfying experience, he or she will first assess the significance of the situation to their own well-being (Wirtz, Lovelock & Chew, 2012).
Because of this service failure, what I wanted to achieve was affected. Our plan in the first day was needed to change due to the time limited. After the phone call, my expectation decreased. Honestly, I wanted to complain this late inform. However, I was satisfied with service recovery of East Coast for service failure. The action, or series of actions, a service provider takes in response to service failure (Wirtz, Lovelock & Chew, 2012). East Coast followed the 5 steps of service recovery (Zemke & schaaf, 1989). First step was apology. The employee made apologize to us and explained the situation. Second one was urgent reinstatement.
The employee offered us a solution about two 5-seat cars. Thirdly, the employee showed his empathy to us. He also understood us why we refused his offer and the importance of the 7-seat car for us. Fourthly, he gave us a discount as symbolic atonement to reduce our degree of dissatisfaction. The final step was follow-up. The employee helped us go through the renting formalities in advance and promised us once the car arrived, he would inform us as soon as possible. Even though there was service failure, recovering the failure in a reasonable way could change customers' negative attitudes. Therefore, I was satisfied with this encounter.
In contrast, another satisfactory encounter is reflected in the aspect of employees. As for a customer, encounters with service staff are the most important aspect of a service. In addition, frontline is an important driver of customer loyalty because they build personalized relationships with customers (Wirtz, Lovelock & Chew, 2012). As can be seen in Appendix 2, I felt satisfied with the frontline of Ambient Hotel Colina in Munich. I felt a good relationship with the staff in frontline.
The travelling information was beyond his basic service. According to the cycle of success in managing employee, the employees in this hotel was happier in their work and provided higher quality, customer-pleasing service. For example, the employee in front desk was always with a smile and always willing to helping me even though it was not the hotel service. In addition, the hotel did a good job in communication, adding value through communication content like the travelling information and overcoming the problems of intangibility by tangible cues which made me feel informed and useful.
Overall, the most satisfactory encounter for me was the East Coast Car Rentals experience. In my opinion, as a hotel, out of hospitality, customers deserved the tangible services. In contrast, the solutions of the heterogeneity impressed me most in East Coast. Such a good service recovery, I felt tangibles, reliability, responsiveness, competence and courtesy. I forgot the service failure because of this good service recovery. I was extremely likely to go back to this service firm and recommend to other friends.
III. Least Satisfactory Encounter
As for the dissatisfactory encounter, Ray White Alderley was disappointed (see Appendix 3). First of all, according to the Flower of Service, billing is common to almost all services. Customers are disappointed with the inaccurate, illegible, or incomplete bills. In addition, they do not waste time later with corrections and refunds. In this encounter, Ray White Alderley took me 3 days to solve an easy bill problem. Based on this situation, the service recovery was not efficient. I could not feel the urgent reinstatement from it. Instead of telling me that the system showed I owe the money in the second expansion, I preferred they understood the situation detail by communicating with the colleagues. There was another problem which made me feel dissatisfied. Such a big rental agency, different organizations did not communicate with each other even though they got cooperation.
But also employees lacked of communication within the same organization. Because of this situation, the delivery gap and the communications gap between customers and service encounter would be enlarged. The delivery gap means not delivering service designs and standards. In this encounter, human resource policies were deficient. Ray White Alderley did not deliver the service professional; the problem in switching of the agency cannot be solved for customers. As for the communications gap, it means not matching performance to promises. I felt the problem was serious than before because I was asked to pay the bill 3 times. Last but not least, according to the employee cycle of failure, the front desk employee emphasized on rules rather than service. She focused on the system, the rules of rent payment instead of knowing the situation. In addition, she lacked ability to respond to customer problems and was low service quality. She showed me impatient for solving my problem. That was the serious in the service encounter, as a customer, I was so dissatisfied with it that was not willing to continue this encounter because I felt she was damaging our relationships.
Compared with this encounter, the service encounter of purchasing a TV in Myer was another dissatisfactory experience. I was dissatisfied with its service processes. Processes describe the steps of how service operating systems work and, specify how they link together to create the experience desired by customers (Wirtz, Lovelock & Chew, 2012). As can be seen in Appendix 4, the process of buying a TV was such a badly designed process because of its slow. It took me more than an hour to wait for the product out of storage and pay for it. Furthermore, the human resources management in Myer was a problem as well. There was not enough staff to service the customers. Besides the numbers of staff, the employees should service the customers proactively.
Overall, the least satisfactory encounter for me was the Ray White Alderley experience. In my opinion, bad designed processes are likely to annoy customers because they often result in slow, frustrating, and poor-quality service delivery. The encounter in Myer was slow, which could be improved by developing a blueprint. In contrast, the Ray White Alderley was more serious. There was not a service recovery in the service failure. What is worse, the gap between me and Ray White was enlarged. It was such an easy question about the rent between two agencies; lack of communication, Ray White Alderley took me 3 days to solve it and gave me the dishonor letter without knowing the situation. Therefore, communicating is not only useful for firms to customers, but also within firms. The staff could influence my decision making, without patient, which made me feel disappointed.
IV. Recommendations and conclusions
Recommendation 1 for Ray White Alderley: better service recovery There are some tactics for service recovery. Firstly, Ray White Aldrley should act fast to find out the problem. Finding out the problem should be comprehensive, cannot just focus on the system data. Based on finding out problem, the employee should gather facts to reach a mutually acceptable solution instead of arguing with customers. Ray White could say they should prove it furthermore about the account statement and invite us to analyze the bill together to figure out what is wrong. Then, clarifying the steps needed to solve the problem is significant. Instead of asking me to pay for the bill, as a customer I should be informed of progress and know what is the next steps and why. Because there are numerous benefits of service recovery to the firm, it is important. 1. Customers involved will remain loyal.
2. Improve the overall quality of service delivery as the service occurs 3. Increase customer satisfaction and positive WOM behaviors 4. Improve service quality in the long term
5. Informs service process and design
Therefore, better service recovery is significant for Ray White Alderley to solve the problems caused by intangibility, perishability, simultaneity/inseparability and the heterogeneity.
Recommendation 2 for Ray White Alderley: better employees' management Frontline is an important driver of customer loyalty because it can anticipate customer needs, customize service delivery and build personalized relationships. Therefore, frontline staufff is expected to be cheerful, friendly, compassionate, sincere, or even humble (Wirtz, Lovelock & Chew, 2012). But frontline work is difficult and stressful in some special situations. For example, the misunderstanding in this encounter between customers and even in the company itself was embarrassing for frontline employee. Therefore, Ray White Alderley should be aware of ongoing emotional stress among their employees and make sure that their employees are trained to deal with emotional stress and cope with pressure from customers.
Facing with the questioned by customers, employee could not show impatient for customers. To solve it, a good training is significant. Service employees need to learn organization culture, purpose and strategy, interpersonal and technical skills and service knowledge. In this encounter, the employee in Ray White Alderley should know the knowledge for best solutions to the rent problem. According this encounter, the services marketing triangle of the company and employees, with an internal marketing is beneficial to deal with such problem. Besides the system data, once there was a confused raised by customers, the staff should get more information from different staff to solve the confused for customers. The role of marketing communications is vital.
1. Position and differentiate service
2. Promote contribution of personnel and backstage operations
3. Add value through communication content
4. Facilitate customer involvement in production
5. Stimulate or dampen demand to match capacity
With a good communication between customers and within company and a better training of employee is not likely to cause such a serious Recommendation 3 for Ray White Alderley: better service quality Based on the characteristics of services, quality and productivity need to be considered jointly in Ray White Alderley services. GAP model is a tool to diagnose problems in service design and delivery. Firstly, shortening the gaps between customers and company is important to good quality, especially the perception gap. For example, Ray White Alderley should make service quality tangible and communicate the service quality delivered and provide physical evidence especially the billing problem. In order to let the tenant who owed the rent to pay, a detail bill is necessary to prove to customers, instead of just informing. Ray White Alderley should let customers feel the reliability, assurance, tangibles, empathy and responsiveness.
Reference
Wirtz, J., Lovelock, C. H., & Chew, P. (2012). Essentials of services marketing. Singapore: Prentice Hall.
Zemke, R. & Schaaf, D. (1989). The Service Edge: 101 Companies that Profit through Customer Care, New American Library, New York, NY.
Related Topics